No joke. I waited 31 hours to buy a painting. The above painting, in fact, of an X-Wing fighter. But when I started waiting, I didn't know this was what I was going to buy. I just knew I wanted to buy... something. It's the result of a sick and twisted obsession that I've documented before, but never quite like this.
Three weeks ago, on January 12, the artist Craig Drake had his latest solo show at the Hero Complex Gallery in Los Angeles, California. Drake is a pop culture artist whose very bold, Patrick Nagel-inspired style instantly made me a fan and collector of his work. I'd already purchased about two dozen pieces and prints before this, so—after an incident in 2016 I'll explain more about below—I had no qualms about getting in line for the chance to have my pick of his new work, whatever it turned out to be.
Yes. I waited in line for 31 hours to buy art that I hadn't seen yet. When I first got in line, I didn't even know what most of the pieces were of.
I have no regrets whatsoever, especially after I ended up with the X-Wing painting above. But I do have this record of my thoughts and feelings in the day-and-a-quarter prior to the show's opening at 7:00 pm on Friday, January 12.
G/O Media may get a commission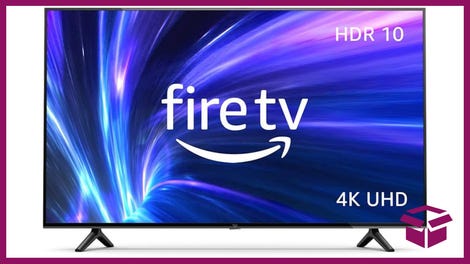 42% Off
Amazon Fire TV 50" 4K Smart TV
---
Thursday, January 11
12:00 pm (31 hours to go)
I have decided to be first in line, no matter how long I have to wait. I've used my lunch break to drive to the gallery where I will be waiting until tomorrow night. This should be more than enough to time ensure my place but... no. I'm not first. A fellow collector by the name of Robert is already here. Beat me by about an hour. How am I not first? Oh, god, it's happening again.
1:00 pm
What do I mean by that? I spend the next hour explaining to Robert why I'm so bummed he's there. You see, back in 2016, Drake had his third solo art show. Despite having dozens of prints, I really wanted to buy an original piece of art from him, so I decided to get in line early in the morning then, too—7:00 am, to be exact. However, when I arrived, there was already someone there, a guy named Steve. Steve assured me he wasn't there to buy any originals and, 12 hours later when the doors opened, he assured me it was still true. However, just as I was about to buy a gorgeous original painting of Ramona from Scott Pilgrim vs. the World, Steve changed his mind and bought it out from under me. I wait 12 hours for basically nothing. Robert poses the same threat.
2:00 pm
After hearing my sob story, Robert assured me he wouldn't be buying any originals, but I've heard that before. He explains he doesn't have the money for it. But, if he's not there for an original, why show up 32 hours early? Well, he just wanted to hang out and get some of the free prints that would be handed out when the doors opened. If I'm crazy, Robert is mental. I like him.
3:00 pm
Through Facebook, I alert Steve—yes, the same Steve from the last show; we've long since buried the hatchet—that I'm already in line and there's already one person ahead of me. And yes, while the 2016 incident has been forgiven, I admit to myself the reason for the insane idea to get to the show this early is explicitly so I can beat Steve and have first pick at anything.
Also, the gallery posts this photo of myself and Robert.
4:00 pm (27 hours to go)
Steve arrives. He's number three in line.
5:00 pm
With three of us there, the discussion, of course, turns to the show itself. It's important to remember that Drake and the gallery haven't revealed the whole show—just a few pieces (these pieces, in fact). Each of us is waiting on a hope and a prayer that there's something we want to buy, that Drake has created a piece based on a franchise or character that we love. After three solo shows and countless other releases, we're all pretty confident about this, but we honestly don't know for sure.
6:00 pm
As time slowly passes, here's a good time for a bit of backstory. You see, this isn't the first time I've waited for art, nor is it he first time I've waited overnight for art. In fact, this is the fourth time I've waited just for Craig Drake's art. I've lined up early for each of his solo shows, but, with each show, the wait gets longer and longer. Each time, though, I've been rewarded with basically a dream piece of art. The first time was a Millennium Falcon printed on metal. The second time was a full size Han Solo in Carbonite, also on metal. And the third time, there was that gorgeous Ramona painting... the one I didn't get. And that's the one that motivated me to really go all-out this year.
7:00 pm (24 hours to go)
With a full day left to go, it's time for dinner. One of the gallery owners, Soua, sympathetic to our plight, orders pizzas for us and explains how the evening is going to work. The gallery is inside an office complex and they're actually going to let us sleep inside the complex in a communal conference room. We'll have access to wifi, bathrooms, and heat. In terms of "camping," this is equivalent of staying in the Ritz-Carlton. My wife, Jayne, joins us for the free pizza just to check in on me as we get ready for the long night ahead. Yes, someone married me. She's a saint.
8:00 pm
By this time, word of the three of us camping for tomorrow's show has gotten out in the collectible poster art community. Most people think we're crazy. Others are asking if we can "PB" for them. "PB" stands for "poster buddy," and, in the hobby, it means buying a poster for someone who isn't there. Normally, this is okay but some people are asking Robert, who is first in line, to "PB" an "OG," a.k.a an "original," the thing I'm waiting for. If he did that, I'd be screwed. But he is open and honest with me and tells the people to piss off. I'm beginning to believe he'll hold up his end of the bargain, even though he beat me there fair and square and doesn't have to.
9:00 pm
The office is locked and we're set up in the conference room for the night. I purchased a reclining "gravity chair" for this occasion, so I change into some sweatpants, push the chair back into a full recline, and get comfortable. I put on a podcast while Steve reads and Robert messes around on his phone. It's going to be a long night.
10:00 pm
A few fellow poster collectors stop by—not to get in line, but just to hang out. There's Brian and Lisa, then Phil and Pete. This is the kind of community the poster people are in Los Angeles, and it's nice to be a part of it. We joke about Robert taking an OG out from under me, speculate about what they could be, and finish the rest of the pizza. Here's a teaser Drake posted earlier in the afternoon, confirming there would be originals in the show.
11:00 pm
We're in trouble. Though the gallery owners let the other tenants in their building know people would be staying there, we're not allowed to have guests, as one of the gallery employees tells me via Facebook Messenger. I apologize and ask my pals to leave. It's time to try and sleep.
Friday, January 12
12:00 am (19 hours to go)
Sleep is difficult. Though I'm warm and relatively comfortable on my chair, it's still a chair and there are still two other guys just hanging with me in the room. I fade in and out all night, basically, while Steve watches TV on his phone and Robert tries to find a comfortable place to rest. (He, unlike Steve and I, did not bring a reclining chair.)
6:00 am
Time to wake up. I've slept about three hours total over the last six hours. Honestly, it's more than I expected. We have to get up now because two new Drake fans from Reno, Nevada, have driven through the night to be next in line, so we let him in. Their names are Mike and Arnold. Now three have become five.
7:00 am (12 hours to go)
Only half a day to go, a big milestone. Phil from the night before shows up making it six people in line. I decide to walk down the street to get a bagel for breakfast. While in line there, a random dude tells me the bagel place has amazing soup. I now know what I'm getting for lunch.
8:00 am
I've take the day off from work, so no worries there. Basically, it's time to just sit around and watch the office employees start to stroll into work. I think one of the other companies does medical billing? I'm not sure. But it sure was nice of them, and the gallery owners, to let us stay inside instead on the sidewalk.
9:00 am
Oh right, did I not clarify that? We're not just hanging out on the sidewalk. The office complex has a nice, outdoor courtyard area complete with chairs, tables and bathrooms. The bathrooms are key, let me tell you. Waiting this long without them would have been much, much worse.
At this point, people start arriving every two hours or so. Next is a collector named Guy, which is great, because Guy has the best stories about meeting people like John Williams. He tells us about the time James Cameron randomly showed up to his friend's house which is amazing and something I 100 percent cannot share. It makes the day go much, much faster.
10:00 am
Drake is posting more teases to his social media about tonight's show. We already knew he did an original sketch of Labyrinth but now he's shown us Akira.
Akira is one of Mike's favorite movies, so he's likely to pick this up. I dig the style, but it's not my thing. I really hope there's something back there that'll make this wait all worthwhile.
11:00 am
I grab lunch a little early and, wouldn't you know it? The guy from the bagel place was right. This soup is excellent. We're all just hanging out now, discussing the geeky news of the day, debating The Last Jedi, fantasizing about the art we're about to see (and buy), and watching the clock.
12:00 pm (7 hours to go)
A few more poor souls have joined the fray and now it's about 10 people waiting. The gallery employees are inside setting everything up and continuing to tease us about what is, and isn't, in the show. One thing they can't hide, however, is that huge, poster sized FedEx delivery that said "Tenenbaum variant" on the side. Seems like Drake did a little Wes Anderson for the show. We're onto you, Hero Complex Gallery. (Here's what it ended up being.)
1:00 pm
Oddly, I'm not that tired. As we get closer and closer to opening, the adrenaline starts to kick in. Which is weird, I know. It's an art show, not a sporting event. But I'm second in line and will theoretically have first pick of anything I want. Instead of the kid in the candy store, I'm the adult in the nerdy art gallery. For Christmas, I specifically asked for money just so I wouldn't really have a limit on what I could spend today. When those doors open, I'll be ready.
2:00 pm
Drake has posted another teaser, and this one is a gamechanger:
It's an original. Of an X-Wing. And it's not a sketch like Akira, it's a painting. This is what I want. This is what I've been waiting a full day for. And the people in line are very quick to joke around with me about it.
3:00 pm (4 hours to go)
One of the fans who arrives in line, Clayton, has brought a shit-ton of Red Bull. Apparently, he works at Red Bull. It couldn't have come at a better time because that adrenaline can only last so long.
4:00 pm
And here comes the beer! Adam, the other gallery owner, has brought out a cooler full of beer for everyone to enjoy. The timing of this, so soon after the tease of the X-Wing (Adam and Drake are well aware that I'm out here waiting for an original and that I love Star Wars) and so close to the show opening feels suspicious. Are they trying to get me drunk to spend more money than I should? Is this some sort of plot by Steve to swindle me out of the X-Wing painting? Why would I even think that? I may be going nuts.
5:00 pm
Steve and I make a friendly bet about how many people will be there at both 6:00 and 7:00 pm. He sets the over-under at 25.5 at 6:00 and 69.5 at 7:00. I take the over and the under respectively, and win both. We don't bet anything, but at this point, every possible poster has been discussed, every geek debate has been had, the beers are still being guzzled, and we'll do anything to pass the time.
Also, my friend Jon swings by to chat and check up on the situation. I tell him everything that happened above and, wow, I realize what I'm doing is insane. But it's almost over.
6:00 pm (1 hour to go)
People are rolling in pretty frequently now. There are about 30 people in line, but it keeps rising as we get closer to opening. There's excitement in the air, especially when Drake himself comes out to say hi. He and his wife live in Japan so he's got friends from all over the world at the show. And, of course, he's got... dedicated fans like myself, Robert, Steve, and Mike. We all chat with him, joke about the long day, pry about what we're about to see. He smiles when we mention the X-Wing, and hands out free stickers (like the Gizmo above) to everyone waiting. It's almost time.
7:00 pm (showtime!)
The doors open. We walk in. Tomb Raider. Gremlins. Kill Bill. Spider-Man. So much awesome stuff. And then there it is, the X-Wing painting. It's perfect, beautiful, I want it, but I have to make sure it's what I want most. I keep walking. There's the Labyrinth sketch. A Cowboy Bebop sketch. The Akira sketch. Prints of Harley Quinn and the Iron Giant. Then, yes, that Tenenbaums print. But wait, there's a Tenenbaums painting, too! Two original paintings in the show! It's my favorite Wes Anderson movie.
Do I buy that or the X-wing? Or both? Not both, that's crazy.
7:10 pm
Robert runs up to me to tell me he lied. He's buying an original. The flashbacks set in. It's happening again. I spent 31 hours for nothing. Death, death and destruction
7:11 pm
But wait! He's getting an original, but not the X-Wing. He's getting the Cowboy Bebop sketch. I'm fine with that. Happy, even. I'm glad the long wait was worth it for him.
And so, it comes to me. The cashier calls my name from the list we've been keeping and I take my credit card out. I buy a few prints (like the Tenenbaums one) but I also buy the X-Wing painting. It's perfect. Better than the Scott Pilgrim/Ramona piece, at least in my eyes.
Drake tells me when he was working on it, he hoped I'd be the one to buy it. It's the most detail he's ever put into an original. I thank him and we take a photo.
In the end, not only did Robert and I both get an original, but so did Steve (the Labyrinth) and Mike (the Akira). The first four in line for Drake's Solo Show Four scored four original pieces. Worth it!
9:00 pm (epilogue)
My wife and I go to get some dinner. It's Taco Bell, unfortunately, because it's nearby, open, and it's already 9:00 pm. I've been "at" this show for 33 hours. We discuss the very real possibility that I would have been able to purchase the X-Wing painting even if I had only waited 12 hours. Or maybe even eight hours.
Yes, it would have been possible. But I didn't want to let fate decide. There will only ever be one of these paintings, ever. It's original. It's lovely and it's mine. In the end, I made my own fate. And in art collecting, it's crazy, but sometimes that's what you need.
That, a lot of time on your hands, and $1,400 burning in your pocket.
Click here to see the remaining pieces in the show.