Over the last few days, I've spent hours churning out posts in front of the "world's largest 3D video wall" at the back of LG's CES booth. Every neuron in my body is exhausted. I may never feel emotion again.
At CES, writers who don't have access to fancy trailers need to find a cozy spot to sit and write after scouring the show floor for new gadgets. I found my spot by the LG wall showing off the company's 3D Cinema technology almost immediately after the show floor opened—it beckoned me with the sound of a booming symphony.
The thing is massive—the takes up an entire floor-to-ceiling wall of LG's booth at CES. Maybe a story tall. I don't know, I'm bad at estimating but it was tall and wide. The screen is made up of an endless number of panels, each of which could be a big screen TV in your house. The wall itself, could be the broadside of a suburban mansion.
I put on the 3D glasses LG provided, and I was blown away at how the objects exploded off the screen. For days, I watched thousands of people stare at the screen in disbelief as they'd reach out to grab the objects that seemed to float in front of their faces.
G/O Media may get a commission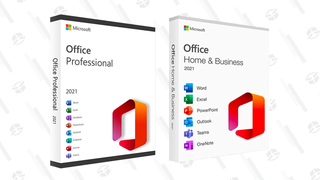 89% off
Microsoft Office Professional 2021 Lifetime License
But whereas everyone else walked away, I just stayed there. And now, the drab colors and non-epic sounds of real life bore me. I just incepted a cooler world into my brain. I will never be free. Thanks a lot, CES.