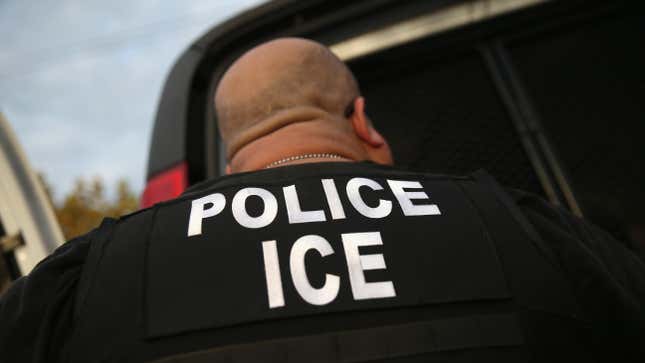 Immigration and Customs Enforcement reportedly used a little-known administrative subpoena more than 100,000 times over six years to request information from schools, abortion clinics, and newspapers, all without first procuring warrants from judges.
The massive database of subpoenas, first revealed by Wired, is just the latest example of ICE and other federal agencies finding creative loopholes to sidestep privacy safeguards. Though details of the requests remain obscure, civil liberty experts and Senator speaking with Gizmodo warned the wide scope of the collection effort risked welcoming in abuse.
"As the son of an investigative journalist, I am particularly troubled that ICE has reportedly used customs summonses to pressure the media into revealing their sources," Oregon Sen. Ron Wyden said in an email to Gizmodo.
The agency reportedly issued 172,679 of the subpoenas, known as 1509 custom summonses, between early August 2016 and August 2022. That comes out to roughly 70 subpoenas per day. The vast majority of those were delivered to telecommunication firms and large tech companies. Of the latter, the majority of the subpoenas were reportedly sent to Meta and Snapchat owner Snap Inc.
"The volume of the subpoenas the agency has been issuing is surprising and troubling," ACLU's Speech, Privacy, and Technology Project Deputy Director Nathan Freed Wessler told Gizmodo in a phone interview.
A Department of Homeland Security spokesperson justified ICE's wide use of the subpoenas in a statement sent to Gizmodo. The spokesperson noted internal policies meant to restrict the agency from unnecessarily impinging on news organizations and cited case law the agency argues grants it authority to use summonses to gather information in child exploitation cases and other investigations.
"HSI has broad legal authority to conduct federal criminal investigations of the illegal cross-border movement of people, goods, money, technology, and other contraband into, out of, and throughout the United States," the spokesperson said.
The spokesperson said those cases could include investigations into cybercrime, child exploitation, war crimes, human smuggling, illegal exports of controlled technology and weapons, intellectual property theft, and trade fraud, among others.
What are 1509 custom summonses, and who received them?
1509 custom summonses are intended to be used in criminal investigations involving unpaid customs duties or illegal imports. Though it's not necessarily uncommon to see those subpoenas directed towards larger tech firms, rights groups expressed reservations over their use by ICE to compel data from schools, abortion clinics, and government bureaus overseeing elections. In order for these subpoenas to be proper, Wessler told Gizmodo they must be related to an investigation into items coming into the country illegally.
"It's hard to imagine all of these are permissible related to that," Wessler added. "We know that the DHS (Department of Homeland Security] has abused this subpoena authority in the past."
The database of requests viewed by Wired reportedly includes demands for surveillance video from an abortion provider in Illinois, data from three boards of elections, and student records from a Georgia elementary school. At least two of the news organizations included in the database were reportedly pressured to hand over data that could reveal their sources. Gizmodo was unable to independently review these cases. Experts said they were concerned over the apparent broad scope of the agency's data collection effort.
"While the Department of Justice has adopted internal safeguards intended to prevent abusive investigations into the media, these rules do not apply to DHS agencies like ICE," Wyden said. "That's why DHS needs to immediately adopt similar guidelines, and Congress needs to pass my PRESS Act so that these protections are written into black letter law."

Matthew Guariglia, a policy analyst at the Electronic Frontier Foundation, meanwhile, told Wired he was concerned ICE's frequent use of the custom summonses could create a situation where the agency could "fully go rogue."
ICE did not immediately respond to Gizmodo's request for comment, however, a former ICE official did caution Wired against rushing to draw too many conclusions about the still relatively obscure data. In the cases of schools, for example, a former DHS deputy chief of staff told the publication that requests like these can be used to aid in investigations involving child sexual abuse material. In fact, one of the schools included in the database reportedly confirmed with Wired it had received custom summons seeking records of an employee involved in a child exploitation case.
"Sadly, there are so many [CSAM] offenders out there," the former DHS deputy chief said.
Similarly, another former high-level DHS official notes that these summonses are reasonable to inspect records from large companies like Amazon but went on to express reservations for the smaller outlier cases
"What possible use or authority would ICE have for subpoenaing records from an abortion clinic?" the anonymous official told Wired "It's like all power. If it's not controlled, it gets abused."
Critics say ICE's use of customs summonses amounts to a 'bulk surveillance' project
ICE has a checkered history when it comes to customs summonses. Last year, Sen. Wyden revealed the agency weaponized subpoenas to collect financial records on money transfers greater than $500 sent to Mexico and certain states. Wyden described those requests, which impacted around six million money transfers, as a "bulk surveillance project," carried out, "without any kind of court supervision." DHS ceased the operation but only after Wyden made the practice public in a letter. Though DHS claimed the records were intended to assist in human trafficking investigations, experts speaking with Gizmodo worry the practices extended far beyond its stated mission.
"Looking at these remittance payments between the U.S. and Mexico has nothing to do with human trafficking," Surveillance Technology Oversight Project Executive Director Albert Fox Cahn previously told Gizmodo. "On the rare occasions we see actual human trafficking it is very rarely international. This is a pretext for anti-immigrant surveillance."
ICE has also come under fire in recent years for turning to private data brokers like LexisNexis to gather data on individuals without a warrant and for turning to facial recognition and other surveillance tech to monitor migrants. Activists and some Democratic lawmakers like Wyden have said some of these practices amount to what looks like a "loophole" by law enforcement to access data normally protected under local laws.
Wessler of the ACLU called on the DHS Inspector General to open an investigation into the newly revealed custom summonses database and said ICE should release copies of the subpoenas along with a full explanation for thier basis.
"The public needs a way to evaluate whether these are proper or whether this is a major scandal involving widespread illegality by a US law enforcement agency," Wessler said.
Update 4/3/23 12:26 P.M. EST: Added comments from ACLU.
Update 4/24/12:33: Added statement from DHS.