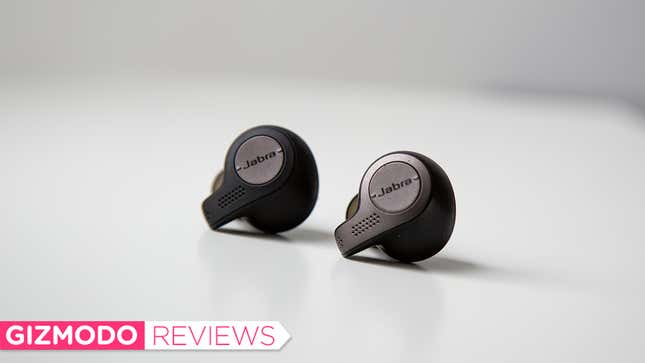 A weird thing about reviewing gadgets for a living is that my neighbors notice. Sometimes they just call me out for getting a lot packages in the mail. Other times, they ask me for advice. One neighbor recently pointed out the $190 Jabra 65t Elite Active truly wireless buds I was wearing in the elevator. "What do you think?" he asked. After taking the earbud out of my head and asking him to repeat the question, I was honest and probably a little bit surprised by my candor. I said, "I love them. You should buy them."
Did Elon Musk Regret Buying Twitter? | Walter Isaacson Interview
This is a rare, direct recommendation for me. It's also not the best advice for everyone. (I'll come back to that fact in a second.) In writing reviews like this one, I'm always confronted with the should-you-buy decision, and my answer is always complicated by a myriad factors that draw from who's buying this thing and why they might want it. The earbuds my neighbor noticed, the Jabras, are simply great for my ears. They fit great. They sound great. They work great. But the kicker—what makes these earbuds really stand out—they're remarkably good for phone calls.
Like I said, the earbuds come from Jabra, a quirky Danish company that got its start making top-notch headsets for businesses and call centers. This bit of company history is the first clue that the microphones on the Elite Active 65t are exceptional. The second clue, I'd argue, is the design.
The Elite Active 65t earbud looks like a slimmed-down version of the Jabra Stealth Bluetooth headset. A little microphone unit extends from the front of the bud and sits just above your earlobe. There are actually four microphones placed around the earbud that also provide wind and ambient noise reduction. The Elite Active earbuds are also rated IP56, which means that they're dust-proof and sweat-proof. They are not, however, waterproof enough to go underwater. Jabra also sells a non-active version of the earbuds called the Elite 65t. These are cheaper at $170 and look almost identical, except for a shinier plastic case. Both have a luxurious battery life of five hours with two more full charges in the included charging case.
The whole setup works on both models of earbuds. I can listen to a podcast as a subway train roars by and not worry about cranking up the volume. I can also hear the person on the other end of a phone call with fantastic clarity—even on busy city streets—thanks to the surprisingly good noise-cancelling. More impressively, they can hear me, too. Results vary. My mom says she can hear me "great," while my dad said, "It sounds like you're in a barrel." Adjusting the position of the microphone fixed that problem, however.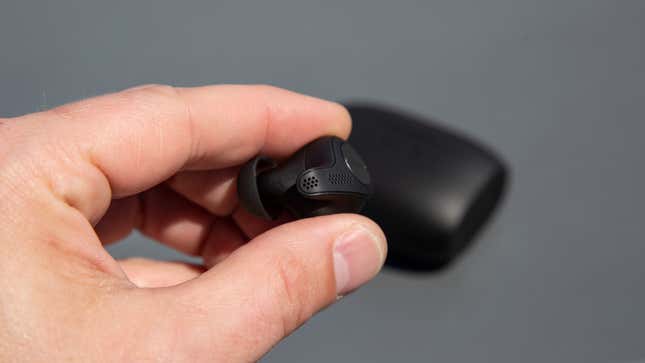 This is some extraordinary shit, in my opinion. I've been using truly wireless earbuds exclusively for well over a year, and for the most part, it's great. Battery life and audio quality is typically good enough that I can listen to music and podcasts quite enjoyably. Truly wireless earbuds are also small enough that I can take them out and easily put them in my pocket when I'm not using them. No more tangle cords or wearing headphones like a necklace. My biggest complaint with every set of truly wireless buds I've tried until now, however, is the simple fact that the microphones suck. The microphones suck on most headphones, to be honest. This means that the promise of making hands-free phone calls is usually supplanted by the reality of making one-handed phone calls.
The Jabras are different, though. I've been testing both the Elite Active 65t and the regular Elite 65t on and off for several months. When I use them, I use them for phone calls without worrying about sounding like I'm underwater. Aside from my dad's jab, I haven't had any complaints for anyone else I've talked to while using the earbuds.
What's especially impressive is that the battery practically never dies. Other wireless earbuds suffer from batteries that last half as long as the Jabras, and that can be a dealbreaker. But five hours typically lasted me an entire day of using the earbuds on and off. The charging case is also small enough that I could carry it around in my pocket in case I think I might run out of juice.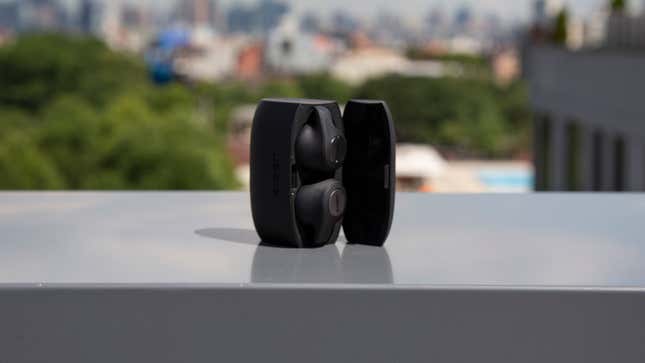 Now, about size. The Jabra Elite 65t earbuds are not for small ears. Most truly wireless buds—like the Bose SoundSport Free or the Sony Experia Ear Duo—put the bulk of the electronics in a module that floats on the outside of your ear. This means you can swap out different-sized rubber attachments to fit more ear sizes. One exception to this trend is the Apple AirPods, which are just a hunk of plastic. If they don't fit in your ears, they don't fit. The other exception is the Jabra Elite 65t. The design includes a big hunk on the backside of the earbud that's meant to fit flush into your ear, while a rubber bud nestles in to your ear canal. If you have small ears, you might be screwed.
I'm in love with the Jabra earbuds, in part, because they fit my ears perfectly. With most of the bulk hidden behind the sleek exterior, it almost looks like I'm not wearing anything to the casual observer. Meanwhile, I'm thrilled by the excellent microphone, incredible battery life, and terrific sound quality. A small-eared person might not get to enjoy any of these benefits due to simple physics. But not me.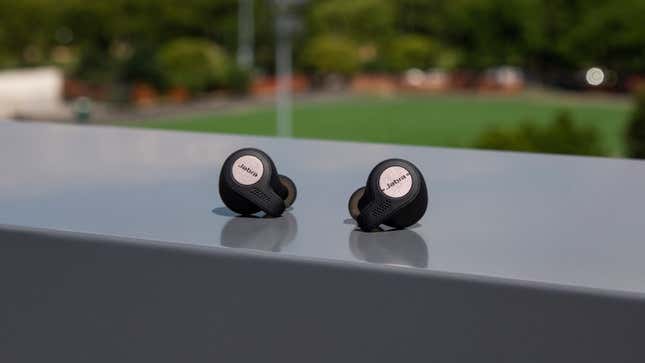 So this is a subjective one if you're worried about fit. That's what I told my neighbor, too, after he asked me about buying earbuds. You should try on the Jabra Elite 65t before committing to them. Jump around, shake your head, and make sure they really fit. This is honestly good advice for buying any set of headphones. If you're going to attach them to your head for several hours a day, you want the headphones or earbuds to fit. And if you can make phone calls with them too, well, you've got something special.
README
Exceptionally good microphone and noise-cancelling for phone calls

Sleek design fits snugly into your head
But that sleek design might be too big for your ears
Amazing battery life, great sound quality