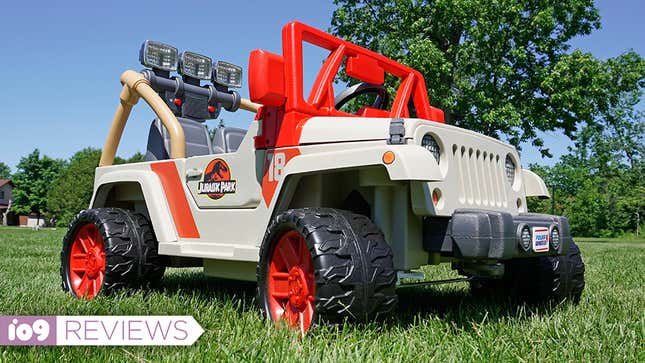 If you're a longtime fan of the franchise, 2018 is the perfect year for another Jurassic movie because it also happens to be the 25th anniversary of the original Steven Spielberg film. The downside? If you can remember being wowed by the first Jurassic Park when you saw it in the theater as a kid, it means there's now an adult version of you who's too big to fully enjoy this Jurassic Park tribute from Power Wheels. That doesn't mean we didn't try.
Vizio's Latest TVs Go All Quantum
As a kid, I remember Fisher Price's electric Power Wheels ride-ons as being one of those luxury toys that always felt out of reach. My bike gave me the freedom to explore my neighborhood and beyond, but a Power Wheels would've allowed the five-year-old Andrew to cruise his hood in style, and without pedaling. I'd drool over the ride-ons at Toys 'R' Us, but wouldn't dare dream big enough to add one to my Christmas list.
But I eventually grew up and reached the age where I got a driver's license and access to a real car. Most kids share a similar experience, and we all forget about Power Wheels until one of two things happens later in life: We have kids and they get obsessed with ride-on toys, or Fisher Price releases a miniature version of the Jurassic Park jeep... and as a devout fans of the franchise (at least some parts of it) we realize we must have it for our dino toy collection. Who cares if you can't actually squeeze behind the wheel?
Before we go on, please enjoy this "commercial" we put together:
Jurassic Park Power Wheels is the Toy You Need
It's designed to look more or less like a tiny replica of the Jeeps that Jurassic Park staffers used to get around the park, and seeing the vehicle stand on its own four wheels when all put together is quite satisfying. But there's a lot of assembly involved to get to that point.
Working by myself it took well over an hour to get the ride-on bolted and screwed together, with a third of that time spent peeling and applying decals with the precision of a surgeon, trying my hardest to make sure every last one was straight and smooth. I deliberately left the Jurassic Park logos on each door to the end, and it was a gratifying last step, but the experience is far from the joys of assembling a Lego set. Tools, patience, and lots of time squinting at instructions are all a necessity here.
Once assembly and stickering is complete, the last step is to charge the Jeep's heavy electric battery, which gets installed under its working hood. It can take up to 12 hours to fully charge the battery the first time around, which might be problematic for Jurassic Park fans with kids who are desperate to hop into the driver's seat and head off into the park... or a real park. Neither kids, nor nerds, are really known for their patience.
Out of the box the Jeep has a top speed of 2.5 miles per hour, but that can be doubled to five miles per hour by removing a single screw that allows the forward and reverse lever to access a higher speed option. The Jeep's actual speed will vary depending on the weight of the passengers (it can support up to 130 pounds) and the terrain. Its 12-inch plastic wheels will have the best traction on smooth pavement, and while it works well on grass, I found there tended to be a lot of wheel slippage. For a vehicle designed to cruise around a jungle-themed dino park, this Jeep instead performs better in an urban environment.
Built mostly of plastic, plastic, and plastic, the feature set on this Power Wheels is bare-bones compared to the 1992 Jeep Wrangler Sahara Edition it's based on, but it's doubtful most kids will actually care, as long as it zooms along. An in-dash radio filled with dinosaur roars and vehicle sounds is a nice touch, as is a working light bar, but the toy's best feature is a set of mirrors featuring the faux reflection of a T-rex bearing down on the vehicle and the warning; "Objects in mirror are closer than they appear."
As collectibles go, with a price tag of $320, there are certainly more expensive items you could add to your Jurassic Park collection than this Power Wheels ride-on. You could drop $750 on a T-rex foot trash can. Or, if you've got tens of thousands of dollars to spend on your obsession, you could buy an actual 1992 Jeep Wrangler Sahara Edition and repaint it to look like it's straight out of the movie. This feels like a more sensible alternative to that.
And if you've got kids, this mini-Jeep is the perfect gateway for helping to spread your love of Jurassic Park to the next generation. Life finds a way!