Sixty years ago, 14-year-old Stephanie Bryan vanished while walking home from school in Berkeley, Calif. Two months later, her belongings were uncovered in an Alameda basement. Suspicious, police made the 300-mile trek to the homeowner's vacation cabin ... and found Stephanie's body stashed nearby.
Burton W. Abbott was a married 27-year-old who was studying accounting at UC Berkeley. His wife, Georgia, discovered Stephanie's purse, books, glasses, and bra buried in the basement of the home where she lived with Burton, their son, and Burton's mother, Elise. When she reported the findings to the police, she never expecting her husband would become the target of a murder investigation. But once Stephanie was found buried in a shallow grave a few hundred yards from a mountain cabin owned by the Abbotts in Hayfork, Calif., authorities believed they had their man.
In rapid succession, Burton Abbott was arrested, tried, convicted, and executed. But the case, which quickly became a media sensation, was not as cut-and-dried as it seemed.
How is that possible, you ask? All of the evidence against Abbott was purely circumstantial. The accused, who pointed out that his basement had been used as a busy polling station (implying that Stephanie's killer could have taken the opportunity to plant her belongings there), called the crime "a monstrous frame-up."
Therefore, the trial had to be orchestrated very, very carefully:
Fully aware of the shortcomings in the state's case, yet determined to secure a death verdict, District Attorney Frank Coakley opted for emotion over evidence. He ran into immediate opposition. Prosecution efforts to introduce a particularly gory photograph of the victim brought defense counsel Stanley D. Whitney to his feet, protesting that it was presented "for no other reason than to inflame the jury and raise prejudice against the defendant." Judge Wade Snook sided with Whitney on this point but did allow Coakley to show clothes taken from the dead girl's body. The stench from these unwashed clothes, which had been kept in a closed box, was so bad that several spectators hurriedly vacated the courtroom. The jury, denied any such opportunity, was forced to endure the ordeal, but the effect on them was palpable.
G/O Media may get a commission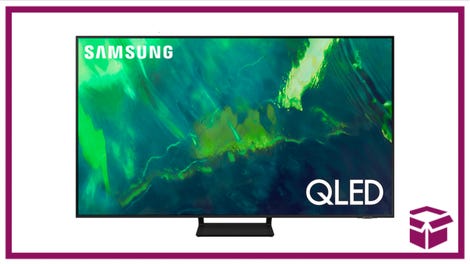 35% off
Samsung Q70A QLED 4K TV
Save big with this Samsung sale
If you're ready to drop some cash on a TV, now's a great time to do it. You can score the 75-inch Samsung Q70A QLED 4K TV for a whopping $800 off. That knocks the price down to $1,500 from $2,300, which is 35% off. This is a lot of TV for the money, and it also happens to be one of the best 4K TVs you can buy right now, according to Gizmodo.
After 47 days of flailing fetid clothing around, arguments, and testimony—including from Abbott himself, who was on the stand for four days; and the last person to see Stephanie alive, her friend Mary Anne Stewart (pictured above with Stephanie's mother)—the prosecution reiterated its theory that Abbott was a "sexual psychopath" (based on ... nothing; the body was too decomposed to prove a sexual assault had happened) who had "dropped clues like a 'trail of corn' that led to his arrest."
Above, Berkeley police officers R.T. Sherry, left, and William Robinson stand over the spot near the Abbott family cabin where Stephanie's body was found.
After seven days of deliberations, the jury found Abbott guilty, and the death sentence was imposed. He awaited the results of his appeals in San Quentin until March 15, 1957, when he was walked to the gas chamber. His end was just as dramatic as the trial that had led him there:
Abbott, a man The [San Francisco] Chronicle called "one of the most perplexing figures in the age-old annals of crime," died in the gas chamber of San Quentin slightly more than 13 months after he was convicted.

Even his last moments took an amazing turn. "There was complete silence" in the gas chamber, wrote The Chronicle's George Draper, who was an eyewitness. "... the silence was broken by the mechanical clank of the device that drops the fatal pellets. Abbott took a deep breath before the pellets dropped and held it as long as he could. The next breath he took killed him."

The emergency phone rang.

Gov. Goodwin Knight had decided to give Abbott a last-minute stay, and his secretary called San Quentin to stop the execution. "He asked whether we had started," said warden Harley Teets. "I said, 'Yes.' He asked whether or not we could stop it. I said, 'No.' "
Abbott's mother, Elise, devoted herself to clearing his name, even after he took that last fatal breath. She had a theory about who'd done the deed and planted evidence to frame Burton: her brother, a truck driver who lived in the Bay Area.
She died in 2004 at the age of 100, maintaining until her final days that Burton was innocent. And 50 years later, the legal significance of the case lives on:
This case demonstrates the set of confused legal procedures in place regarding appeals. The federal law allows an attorney 90 days to file for a writ of certiorari after a State Supreme Court's refusal of a rehearing.

However, the State Court set the date for Abbott's execution for two weeks before the 90-day limit. Thus, Abbott was executed with the writ still on file and, therefore, the possibility still existed that Abbott might have won a new trial.

The case also renewed the debate over the death penalty, especially when it is based on circumstantial evidence alone.
From top: items belonging to Stephanie Bryan are displayed by police, July 18, 1955 (AP Photo/Ernest K Bennett); Mrs. Charles S. Bryan, left, mother of Stephanie Bryan, and Mary Anne Stewart, friend who last saw the slain girl alive, wait to testify before the grand jury, July 27, 1955 (AP Photo/Clarence Hamm); Bryan gravesite, July 21, 1955 (AP Photo); Mrs. Elsie Abbott, left, mother of Burton W. Abbott, reacts after hearing her son's death sentence, Jan. 25, 1956. (AP Photo/Robert H. Houston)