All of her life, Ava has been tormented by her own personal demon. A malevolent creature whom only Ava can see, the demon has spent the last few years trying to convince Ava to end her life. But when Ava finds herself on the precipice of death, she learns the truth behind the demon's motives and is offered a second chance at life, one that means binding herself to the demon's and accepting a mission that might mean interplanetary war.
Michelle Czajkowski's webcomic Ava's Demon is a luminous blend of space opera and fantasy, set in a universe of spaceships and advanced medical science in which certain inhabitants have god-like powers. Ava is a teenaged girl who has never been able to fit in among her classmates. She is constantly tormented by a vile demon, one who can briefly possess her and make her scream violent insanities. Ava knows that the demon is intent on convincing her to end her life, but she refuses to give in.
But when a strange series of events places Ava on the verge of death, the demon finally reveals her true nature. In fact, the demon Wrathia is far more than a demon, and she's willing to give Ava a second shot at life, but there's a catch: Ava must bind herself more closely to Wrathia than ever before, and help Wrathia defeat a being who has imposed his brand of order on numerous followers. It seems an impossible task, but Ava and Wrathia may not be in it alone; other people have demons of their own, although not every demon remembers their mission.
G/O Media may get a commission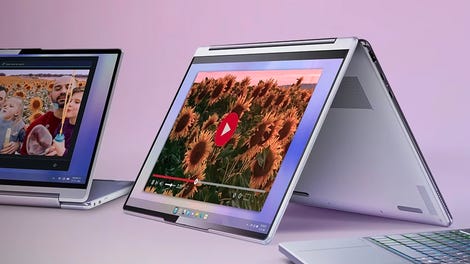 up to 70% off
Lenovo Spring Clearance
Although Czajkowski is planning a print edition (look for a Kickstarter campaign at the end of May), Ava's Demon utilizes its digital medium in a way few webcomics do. In addition to peppering the comic with the occasional animated frame, Czajkowski also uses single panels advanced by the "next" button to give her comic a rhythmic, almost animated quality. And certain key scenes are punctuated by more elaborate animations, played over music on Vimeo videos.
This makes Ava's Demon more than just a pretty face among webcomics. The multimedia experience does much to complement Czajkowski's well timed sense of humor and let us sit back and enjoy the more surreal aspects of her storytelling. But even without its more animated components, this comic promises to be a funny and gorgeous epic.