It's a fittingly peaceful end to a place that was testimony to a long and bloody conflict. The once-secret underground bunker of Marshal Tito, hidden beneath a rural house, is about to become a giant, bizarre art gallery.
The bunker is in the tiny country town of Konjic, 25 miles south of Sarajevo. In the second picture below, you can see a soldier standing outside the unassuming garage door entrance to the facility. The bunker is 920 feet underground, and is designed to house 350 people for six months in the event of an attack on what was then Yugoslavia.
Its long corridors are shaped like a giant U, and the 70,000 square-foot bunker is fitted out with bedrooms, generators, large food store rooms, a fresh water basin, air conditioning, and fuel tanks. It took 26 years for engineers to build it, in an effort that mirrors the magnitude of the NORAD facility in the United States, located under Cheyenne Mountain in Colorado. The engineers who built Tito's facility also built five more, for Saddam Hussein.
But Tito never had occasion to use the facility, and war didn't come to the region until a decade after he'd died. According to AP:
When [the Bosnian War] was over in 1995, the former republics were independent countries and Tito's bunker was a huge white elephant owned by Bosnia's armed forces, eager to hand it over to someone to get rid of the maintenance costs.
Enter Edo Hozic and other artists from Sarajevo, who in 2007 had the wild idea to transform the bunker into a gallery. They knew the Army found no use for it and authorities in Konjic had no idea what to do with it "except perhaps to grow mushroom in it," he said.

Artists are to visit the bunker throughout the year, come up with concepts and costs and present them to the Council of Europe. The opening is scheduled for May 27 and if there is enough interest, it may become a permanent gallery.
G/O Media may get a commission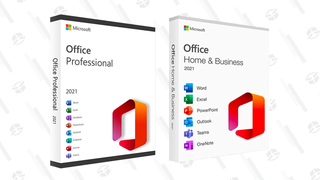 89% off
Microsoft Office Professional 2021 Lifetime License
via AP News
AP Photos by Amel Emric and Sava Radovanovic