Look at that cover art above! Archie! KISS! Sabrina the Teenage Witch! Jughead! I'd accuse somebody of going inside my head and stealing my mental fan fiction, but there's no appearance by David Lee Roth as a pyrokinetic centaur! It's fair game! Without further ado, the comics in stores tomorrow!
Is AI Moving Too Fast? | Future Tech
First Issues
First off, there's Felicia Day's The Guild: Zaboo, which you can read a preview of right here. DC is also reprinting Bill Willingham's Batman: Urban Legend and the wacky alternate universe anthology Elseworlds 80-Page Giant.
The Witch Doctor: Resuscitation one-shot provides a jumping-on point for Brandon Seifert and Lukas Ketner's supernatural medical procedural series. Garth Ennis' Cross: Badlands - Opening Salvo offers a preview at the upcoming Crossed ongoing series.
G/O Media may get a commission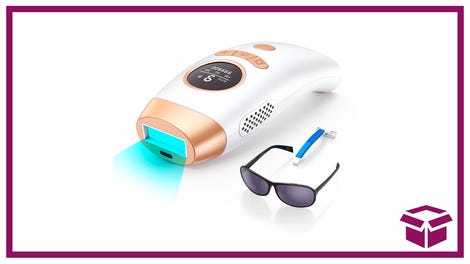 58% Off + Coupon
IPL Hair Removal Device
Grab Bag
There are new issues of Spaceman, FF, Unwritten, Star Trek, Warren Ellis' Secret Avengers, Avengers: Children's Crusade, Angel And Faith, All Star Western, Flash, Fury Of Firestorm: The Nuclear Men (read a preview here), I, Vampire, Justice League Dark, American Vampire, Kick-Ass 2, and Uncanny X-Men.
Additionally, Brian Wood pens the final, seventy-second issue of DMZ, and — in what is 100% the most important comic of our time — Archie has been hanging with KISS in his own title.
I am ashamed that I missed the first issue of this arc. As we all know, KISS and comic books mix like phallic firearm metaphors and enjoying bacchanalias when the sun comes up. Archie keeps the best company. Also, Paul Stanley's stage banter, apropos of nothing, is pure magic.
Graphic Novels
DC Comics collects Dan Curtis Johnson and J.H. Williams III's superhuman government agent series Chase in trade paperback. Roots of Swamp Thing republishes Len Wein and Bernie Wrightson's early marsh hero tales. Mike Carey's alternate universe story Age of X is out in trade paperback, as is the hardcover of Jason Aaron's X-Men Schism.
Finally, there's the first volume of the Superman's Girlfriend Lois Lane Archives, which were published at a time when Superman was a right prick. And as usual, here's the list of everything being released to comic stores tomorrow, and you can find your nearest comic retailer here. Happy reading, gang!