It's quiet end-of-summer week for new comics—but hey! Look at the sweet mustache on Howard the Human (née Duck), the latest wacky addition to Marvel's Secret Wars event. But that's not all this week—there's near future political thrills, secret love, super-powered murder, and much, much more.
Deadly Mississippi Tornado Kills More Than 2 Dozen | Extreme Earth
Dark Horse
Trade Paperbacks
Resurrectionists: Near Death Experienced - Framed architect-turned-thief Jericho Way and his crew of modern-day tomb robbers aren't born knowing they've been trying to pull off the same heist for three millennia. First, they have to wake up—and put themselves in danger as they go on the run from a corporation that's been hunting them for just as long. Written By: Fred Van Artists: Maurizio Rosenzweig, Moreno DiNisio
G/O Media may get a commission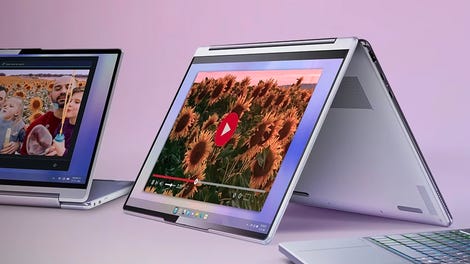 up to 70% off
Lenovo Spring Clearance
DC Comics
Trade Paperbacks
Gotham by Midnight Volume One - Jim Corrigan leads a group of very unlikely detectives against supernatural forces in Gotham City—but when an Internal Affairs officer starts looking into their work, it may take divine intervention to keep him alive. Written By: Ray Fawkes Artist: Ben Templesmith
The Names - Kevin Walker is a successful New York trader. He has it all, until the mysterious man called the Surgeon walks into his office. It's a visit that ends with Kevin Walker's suicide—and now, Katya, Kevin's wife, must find out who killed her husband. Written By: Peter Milligan Artist: Leandro Fernandez
IDW
Single Issues
Teenage Mutant Ninja Turtles: Amazing Adventure #1 - The wacky hijinks of Leonardo, Michaelangelo, Donatello and Raphael, based on the Nickelodeon animated. Written By: Landry Quinn Walker, James Kochalka Artists: Chad Thomas, James Kochalka
Trade Paperbacks
TMNT: Mutanimals - When someone close to the group is kidnapped, the Mutanimals end up on an adventure more wild and dangerous than they could have imagined. Written By: Paul Allor Artist: Andy Kuhn
Image
Trade Paperbacks
Oemnibus - A collection of seven stories from across Image Comic's 15 year history. Written By: Michael Avon Oeming & Various Artists: Michael Avon Oeming & Various

Marvel
Single Issues
House of M #1 - In a tied off region of Battleworld, the House of Magnus rules all. But can Magneto hold on to control when there's nothing left to conquer? Written By: Dennis Hopeless Artist: Marco Failla
Howard The Human #1 - Howard the Duck has been transformed into a human, and thrust into a world of animal people! But there's still work to do, and Private Investigator Howard is on the case. Written By: Skottie Young Artist: Jim Mahfood
Secret Wars: Secret Love #1 - When worlds collide in Secret Wars, can Marvel's greatest love stories survive? Kamala Khan, Matt Murdock and more star in this romance anthology series! Written By: Various Artists: Various
Trade Paperbacks
Guardians of the Galaxy: Best Story Ever - Once again trapped in prison, Star-Lord must buy time so his fellow Guardians can rescue him—by regaling the inmates with the story of the Guardians of the Galaxy's greatest triumph... or so Peter Quill says. Written By: Various Artists: Various

Collections
Ms. Marvel Volume One: Kamala Khan is just an ordinary teenage girl from New Jersey. But when she discovers she has the power of the Inhumans, she decides to add another heap of problems to her life beyond school and her family: racing into action as the new Ms. Marvel! Written By: G. Willow Wilson Artists: Adrian Alphona, Jake Wyatt
Others
Single Issues
Oxymoron: The Loveliest Nightmare #1 (Comixtribe) - An afflicted detective hunts a serial killer obsessed with contradiction, who is painting a bloody canvass of carnage with the entrails of politicians and power brokers in the corrupt city she calls home. Written By: Tyler James, John Lees Artist: Alex Cormack
Young Terrorists #1 (Black Mask Studio) - The daughter of an assassinated globalist kingpin breaks out of an internment camp and leads her fellow escaped prisoners in a battle against an elitist conspiracy of shadow governments, megabanks, and military juntas. Written By: Matt Pizzolo Artist: Amancay Nahuelpan
Graphic Novels And Collections
Graphic Novels
8-Bit Zombie: Full Byte (Antarctic Press) - When digi-villain Zilla scores his own video game as the hero after a game-jumping adventure, his buddy Zombie decides to do the same. Unfortunately, the trip leaves him hungry, and other games' characters can't shake off his zombie virus once they're bitten. Written By: Fred Perry Artists: Zechary Gray, David Hutchison
Zagor: Terror from the Sea (Epicenter Comics) - Responding to a friend's desperate call for help, Zagor comes face to face with a threat of colossal proportions: Dagon, an ancient God of Abyss. Written By: Mauro Boselli Artist: Stefano Andreucci
Collections
The Last Broadcast Volume One (Boom!) - When a group of scavengers in a futuristic San Francisco discover a secret bunker belonging to the long-vanished 1930s stage magician Blackhall the Incredible at the same time a young illusionist receives a mysterious package involving Blackhall's death in 1934, both groups dive into the mystery, not yet realizing it's about the change their lives forever. Written By: Andre Sirangelo Artist: Gabriel Iumazark
Annihilator Volume One (Legendary Comics) - Washed-up Hollywood screenwriter Ray Spass is out of luck and one failed script away from fading into obscurity. Little does he know he's about to write the story of his life—as his imagination runs rampant, Ray must join forces with his own fictional character Max Nomax on a reality-bending race to stop the entire universe from imploding. Written By: Grant Morrision Artist: Frazer Irving
---
Want to see what else is out this week? You can see the full list here - and find out where your nearest Comic Book Store is here!