They say good artists copy, while great artists steal. But aspiring artists? They trace, and the new transparent Boogie Board, which we first covered back at CES, is finally hitting the market with an accompanying tablet app and activity packs letting kids practice their penmanship, or just doodle.
Arriving just in time to pop up on endless holiday wish lists, the $30 Play n' Trace Boogie Board features a transparent LCD screen that can be written on using an included stylus or a child's finger, and instantly erased at the push of a button. You know how you're never really supposed to poke at an unprotected LCD screen? Here you're encouraged to.
Shaped like an artist's palette so it's especially easy for kids to handle, the Boogie Board Play n' Trace will work for about five years on a single pair of included AAA batteries, and is a far better alternative to drawing with crayons and markers—unless you really love scrubbing walls.
G/O Media may get a commission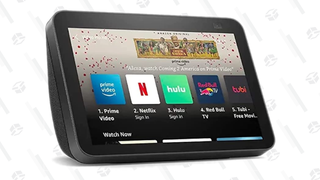 The free accompanying tablet app includes activities tailored to kids as young as three or as old as ten, and secretly turns the Play n' Trace into an educational tool covering important developmental areas like numbers, shapes, and letters.
But if you'd rather not hand your tablet over to your kids, there are also a series of accessory packs available for the Play n' Trace starting at $13 that include images for tracing, the alphabet for penmanship practice, and even additional brush styli for expanding your child's creative repertoire. [Boogie Board]
---
Toyland: We love toys. Join us on Facebook or follow us on Twitter.