North Korea remains a grim enigma — a lone totalitarian state that few outsiders manage to visit. We glimpse military parades and marvel at the colorful propaganda, but we seldom get much of a sense of what it's like to live there. But these Instagram photos give a remarkably vivid look at ordinary life in North Korea.
The huge planetarium that looks like Saturn called the Three Revolution Exhibition Hall, Pyongyang, January 2013
Students in coats and gloves, working at computer connected to the local Intranet in The Grand People's Study House, Pyongyang, January 2013
G/O Media may get a commission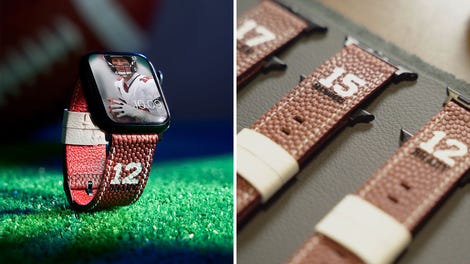 Official NFL PRODUCTS
Official NFL Apple Watch Bands
A doctor and a bank of video monitors inside a Pyongyang hospital, February 2013
An apartment block stands above the schoolyard playground equipment of a Pyongyang kindergarten, March 2013
A North Korean soldier helps a boy aim during an arcade shooting game at Pyongyang Fun Fair, April 2013
A North Korean woman sits next to models of military weapons at the "Kimjongilia" and "Kimilsungia" flower exhibition in Pyongyang, July 2013
Korean War veterans enter a cemetery for their deceased fellow war veterans in Pyongyang, July 2013
A North Korean soldier mans his guard post at the gate to the mausoleum where the embalmed bodies of the late leaders Kim Il Sung and Kim Jong Il are lying in state, July 2013
Inside the new Korean War museum in Pyongyang, tiny models in a glass case depict U.S. Army Major General William F. Dean, the highest ranking American captured during the Korean War, July 2013
Bananas in a hotel, Pyongyang, July 2013
A manual titled "Every Aspect Of Using A Computer". Lessons inside include how to draft and send an email, the basics of Excel, how to connect a printer, and how to create a holiday calendar with family photos, August 2013
A park swing made to look like the North Korean Unha-3 rocket, stands in a park in Pyongyang, September 2013
A funicular railway at Mount Paekdu, September 2013
Maize drying, September 2013
A cartoon showing a military tank offensive plays on a TV inside a daycare center in Pyongyang, September 2013
North Korean men work to fix a public trolly bus in Pyongyang. On the street is a grid of painted white dots used to mark the marching steps during mass parades on Kim Il Sung Square, September 2013
You can see political propaganda posters and billboards everywhere, but there are a few commercial advertisements, too: here is a billboard for the North Korean car manufacturer named Pyeonghwa Motors, photo taken in September 2013
A hotel at Myhyang Mountain on the Fall of 2013
Three North Korean soldiers on a motorcycle with sidecar, October 2013
On the way to Wonsan, October 2013
In a factory, Pyongyang, October 2013
Children in Kilju, November 2013
A gas station in Hamhung, November 2013
Riding a truck like a boss, November 2013
A covered piano in a corner, Rason, November 2013
Outside Pyongyang's bowling alley called Golden Lane, December 2013
A water cooler and covered cabinet of drinking cups at a factory in Sonbong, December 2013
Weapons painted on the walls inside a newly built pediatric hospital in Pyongyang, December 2013
Residents of Pyongyang walk by a mosaic of the late leader Kim Jong Il in the 2nd anniversary if his death, December 2013
The yet to be completed, and often photographed, 105-story Ryugyong Hotel in Pyongyang, December 2013
A North Korean nurse studies in a hallway at a pediatric hospital in Pyongyang, December 2013
These playing cards, made to raise awareness about sign language, were designed by deaf North Korean children. The partner for these kids is the German registered Disable Persons Organization and the cards are meant to be a greeting from the DPRK to the international deaf community, December 2013
A pre-school playground set, shaped like the North Korean Unha rocket near Pyongyang, December 2013
North Korean Unha rocket launch, a preschool hallway wall decoration, December 2013
Spaceship play structure in the lobby of the Pyongyang Children's Palace, December 2013
A living room inside one of many newly-built apartment blocks provided to North Korean scientists near Pyongyang, December 2013
Pyongyang, January 2014
Tractor, wagon, & bicycle in the North Korean countryside, January 2014
A bottle of vodka with Dennis Rodman's name in Korean and the images of Rodman and North Korean Leader Kim Jong Un, January 2014
Vans used to cruise the city and broadcast propaganda are parked in a line in, January 2014
Playing volleyball outside Kim Il Sung Stadium, Pyongyang, February 2014
Mobile phone shop, February 2014
Pizza home delivery in Pyongyang, February 2014
An animal sculpture near Mount Kuwol (Kuwŏlsan), February 2014
Holiday fun at Munsu Water Park, February 2014
Apartment blocks, March 2014
___
All the photos came from the Instagram feed of Eric Talmadge, Pyongyang Bureau Chief for the Associated Press, David Guttenfelder, AP's chief Asia photographer, tour managers of Koryo Tours, a Beijing-based tour company, specialized to North Korea, and Will Scott, Adjunct Professor at Pyongyang University of Science and Technology in 2013 .