New Atom chips from Intel means better netbooks, right? Sorta. Here's the skinny on the new netbook brains.
Pine What?
Okay, so one of the big things about the new Atom chips is that for the first time, it integrates a graphics core and a memory controller directly onto the same die as the processor. This whole platform, that is, the processor, graphics and memory controller is "Pine Trail," while the processor by itself is "Pineview."
G/O Media may get a commission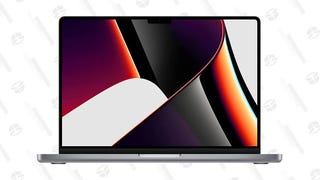 Save $300
2021 14" 1TB MacBook Pro
More specifically, the graphics core is 45nm die shrink of Intel's GMA 3100, redubbed GMA 3150, that runs at 400MHz. So, not only does it still suck, it also doesn't hardware accelerate H.264 video as AnandTech points out, meaning it's completely useless for Flash video, even with all of the new Flash acceleration hotness Adobe is delivering next year.
Instead, netbook makers will still have to bundle, at the very least, an "HD decoder" that accelerates H.264 for decent Flash playback, and it's not anywhere near Nvidia's Ion in terms of graphics performance. (This chip from Broadcom, to be precise.) And, not that you'll be pushing 1080p video out of your netbook, but video res is capped at 1366x768 out of the HDMI and DVI ports. Bottom line, Intel's stock offering still blows goats when it comes to video, and we're still waiting to see what Nvidia's going to do about it, given that they can't plug in Ion the way they used to. (Anand speculates they might just tack on through a PCi Express port.)
These are the three chips Intel's launching today, only one, the N450, is for netbooks, and as you'll notice, it's 1.66GHz single core chip (Intel thinks that's just fine) and supports just 2GB of RAM. The improvements you'll see with the N450 over the current Atom chips aren't exactly explosive—they mostly come from faster memory, and even Intel admits they're incremental.
Sure, it's 20 percent more efficient than the last Atom chips, but if you want remotely decent video performance in a netbook right now, it looks an Nvidia Ion-based system is still the way to go, even with Intel flashing new silicon. If you can stick it out for another month, it might be worth seeing what's a little further around the bend. [Intel]