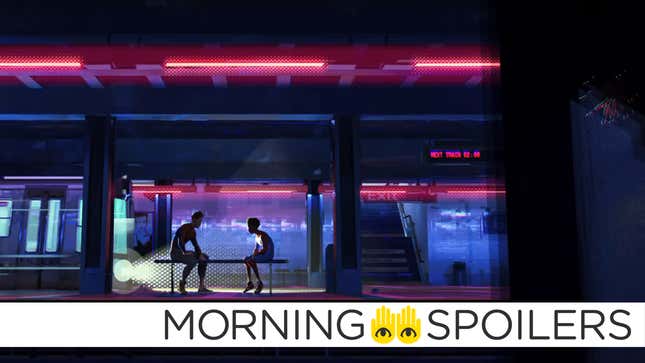 We've got a very bizarre early look at X-Men: Dark Phoenix's new comics-inspired uniforms. A wild rumor suggests the Alien franchise could come to television. Plus, more behind-the-scenes on Ant-Man and the Wasp, and both the cast of Arrow and Riverdale discuss prison stints for their respective leads. To me, my Spoilers!

Twitter Is Shifting Right | Future Tech

Spider-Man: Into the Spider-Verse
Discussing Film reports Nicolas Cage (who recently became Superman) has joined the film, playing Spider-Man Noir, the 1930s gun-toting Spider-Man from an alternate timeline.
---
X-Men: Dark Phoenix
Contrary to recent rumors, Dark Phoenix has not been pulled from Fox's release schedule and is still slated to hit theaters February 19th, 2019. [Screen Rant]
Meanwhile, newly revealed movie theater drink toppers give us our best look at Jean, Scott and Hank's New X-Men-inspired costumes.
---
The Meg
A TV spot including new footage of the Megalodon cresting the surface with an entire bathysphere in its mouth implores audiences to "swim faster."
---
Ant-Man & The Wasp
Microscopic fragments of new footage can be found in this new featurette on the film's action sequences.
---
Cold Skin
Ray Stevenson plays a WWI-era Arctic explorer warring with a race of aquatic merpeople in the trailer for Cold Skin, which receives an official U.S. release this September.
---
Scooby-Doo! and the Gourmet Ghost
The gang visits Fred's uncle, world-famous chef Bobby Flay in the trailer for Scooby-Doo's latest direct-to-video feature. Giada de Laurentiis co-stars in this new mystery surrounding a haunted cooking competition.
---
Titans
Actress Minka Kelly, who plays the Dove half of superhero duo Hawk and Dove in the series, confirmed that the show will launch Warner Bros.' DC Universe platform this Fall:
DC Comics is launching their own streaming service and they will be launching it with this show. We just wrapped our first season a couple weeks ago.
---
Alien: The Series
Omega Underground reports FX may be developing a TV series based on Ridley Scott's Alien franchise.
...take the following as a rumor.

Back in April, a reliable source revealed to us that a series set within the "Alien universe" was being considered behind the scenes. I was able to reaffirm the rumbling with another source located in another country that was able to support some of the basic info.

What they couldn't connect on is where it could land be it FX or a streaming platform, Hulu and Netflix were ruled out at the time.
---
Arrow
Stephen Amell debunked a new rumor suggesting Green Arrow will only be in prison for a meager three episodes next season.
---
Riverdale
Speaking of incarcerated leads on CW comic book adaptations, finally TV Line asked the cast of Riverdale who we can expect to see visit Archie during his own stint in prison. Short answer: everybody.


---
Banner art by Jim Cooke.