Shopping for the highest of high-functioning alcoholics can be a tricky proposition. Novelty bottle openers and 12-packs of Pabst don't cut it. For the the guy (or gal) with a sophisticated drinking problem, these gifts are guaranteed to please.
1. Brandy Smuggler Walking Cane, $69
Stumbling home after a night of debauchery is for amateurs. Stay noble with a walking cane—preferably one that accommodates booze. The Brandy Smuggler can hold ten delicious ounces of it! This fetching walking stick is forged from black anodized aluminum and measures 36-inches tall. It also hides five 2oz flasks—enough to get (or remain) charmingly inebriated. [Homewetbar.com]



G/O Media may get a commission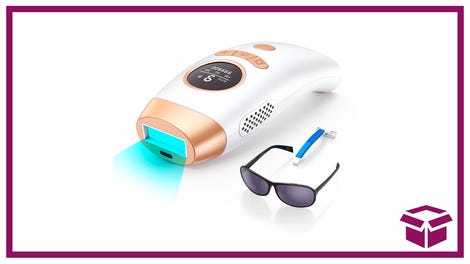 58% Off + Coupon
IPL Hair Removal Device
2. Mixologist, $1
There's a reason Mixologist is the best bartending app for iOS. This one-stop reference guide will give a cocktail connoisseur access to an enviable list of drinks. Search for libations based on your current supplies or roll the dice and let the app find you random recipes based on your liquor, mixer, and glassware situation. Best of all, when you run out of booze, you can use it to find the nearest liquor store. [iTunes]



3. Kenton Bar Cabinet, $799
Being a dignified drunk means having a proper grown-up bar. It doesn't get much better than Crate and Barrel's Kenton. This cabinet is made of solid mahogany and includes a storage drawer, shelving for 12 wine bottles and three stemware racks. The top even slides open for quick access to the sauce.
[Crate and Barrel]



4. Pernod Absinthe, $65
When the evening calls for a touch of the exotic, breaking out a bottle of Pernod Absinthe is never a bad idea. Based on the original 18th century Pernod Fils absinthe recipe, this light-green liquid has a balanced taste and insanely high alcohol content. Hey, it was good enough for Picasso, Baudelaire and Van Gogh. [Pernod]



5. Whiskey Stones, $20
Ice (and water) can ruin the complexity of a single malt scotch. Instead, use some Whiskey Stones. These square soapstones will sufficiently chill your drink without diluting it. Just stick em in the freezer for a couple hours and plop them in your favorite drink. Stone cold classy. [ThinkGeek]



6. Taisin Ice Ball Mold, $198
Ice isn't always the enemy. And for those occasions when a cube or two is in order, the Ice Ball Mold will make any stiff drink more appealing. Why balls? Why not. Also, spheres of ice have a smaller surface area, which means they'll melt slower. Simply heat the mold in hot water, place some good-quality ice in it, and wait for the drink-chilling results.
[Japan Trend Shop]



7. Ruckl Crystal Engineering Glasses, $275-640
With collection names like splined shaft, basic quatation, and involute, you won't find a fancier set of glassware than Ruckl's Engineering Glasses. Each unique piece is named for its etched designs, dimensions and specs. Better drinking through precise engineering. [Unicahome]


The burning sensation that comes from holiday shopping isn't from rubbing against the unwashed masses at malls: It's trying to pick out presents for everybody on your list. Gizmodo's daily gift guides are the all-natural, non-smelly cure.