PULLING AN ALL-NIGHTER | Tristyn Pease captures a quiet moment at Hogwarts. See more of her delightful Harry Potter fanart here.
---
G/O Media may get a commission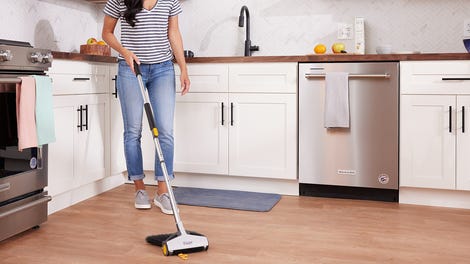 BOGO 50% Off
Flippr - BOGO 50% Off
Happy Earth Day, you disgusting mass of consumers! What better way to celebrate than with a round-up of the worst eco-friendly, lecturing movies? We also include a few "green" films that won't make you feel bludgeoned by a tree. More »
---
J.J. Abrams is "the guardian of Star Trek," including on television
Don't count on a new Star Trek show coming to your screen any time soon. Pushing Daisies creator Bryan Fuller has talked to X-Men director Bryan Singer about pitching one - More »
---
The humpback whale is one of Earth's largest creatures, with an average weight of around 40 tons. But as it turns out, this gigantic creature is vulnerable to the toxins of a much smaller living thing: More »
---
Watch bubbles inside bubbles inside bubbles inside space!
Take a look at the International Space Station, where Don Pettit constructs what can only be called Russian Nesting Bubbles - a series of thick-rimmed bubbles inside other bubbles, all of which center themselves. More »
---
On Supernatural, ghosts have Alzheimers and all the rules are thrown out the window
Last night's episode of Supernatural, "Of Grave Importance," demonstrated all the best and worst aspects of this season's take on monster-of-the-week episodes. More »
---
All parents love to take photos of their children, but photographer Jason Lee goes one step further, manipulating photos of his two daughters to create magical scenes. More »
---
This week we welcome Adventure Time back to the lineup and include the Avatar spin-off Legend of Korra for the first time. We've got some great clips from South Park (including a live action spot), a wedding on My Little Pony. More »
---
The spooky TV movie that caused post-traumatic stress disorder
On Halloween 1992, years before The Blair Witch Project, the BBC aired Ghostwatch, which claimed to be a live on-air investigation of a real haunted house. More »
---
Fringe has been teasing us for ages with hints that Peter Bishop and Olivia Dunham are super important - and that their romance could have universe-shattering (or saving) consequences. More »
---
While some architects are out to create lofty skyscrapers, Polish firm Centrala is shooting for the world's narrowest home. The house will be wedged between two larger buildings, and will sit just 133 centimeters at its widest spot. More »
---
Tom Hiddleston returns to his role as the villainous Loki in The Avengers, and he couldn't be happier. While some people may argue that superhero movies are cinematic fluff, Hiddleston argues that the roles offer serious challenges for serious actors. More »
---
Do you think you could survive a few hours in a zombie-infested mall with a rifle and a few buddies? The British company Wish.co.uk lets you test out your zombie killing skills with an airsoft course set inside an abandoned mall, filled with shambling actors. More »
---
In the Ancient Greek afterlife, souls that went to Tartarus drank from the pool of Lethe, whose waters caused them to forget the lives they'd shed. More »
---
You may have your home stocked with survival tools for the apocalypse, but what happens if disaster strikes while you're at work? Never fear, Jörg Sprave is here to teach you how to make slingshots and pickaxes from ordinary office supplies. More »