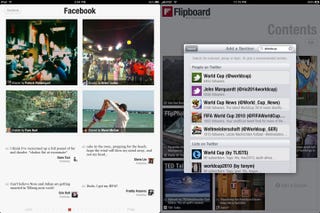 Flipboard: If one app had the internet on fire this week it was Flipboard, which culls users' Twitter and Facebook feeds for links and arranges them into a pretty little magazine. Everyone realized how awesome the idea was, rushed to try it out, and subsequently no one was able to actually plug in their Facebook or Twitter info to use the thing. That was the first bummer. Then Joel wondered if they were scraping a little more information than they were allowed to scrape. Could be! But in terms of what we've seen so far, FlipBoard looks like a very promising way to beautify all those retweets. Free.

ABC News: Did you know that news is just the plural for new? And there are new things all the time, so you can never have too many ways to keep up with it all. ABC News' new iPad app has a kinda-swanky, kinda-gimmicky globe feature to navigate through stories, but definitely worth checking out for news junkies and globe lovers. Free

Sky Writing HD: It's kind of one of those party trick apps, but it pulls it off well enough to be worth a mention—Sky Writing provides a number of international skyscapes (the sky above the Statue of Liberty; the sky above the Eiffel Tower; the sky above Big Ben) and lets you draw an airplane trail message that slowly wafts away just like a real cloud. $3 is pretty steep for the novelty, but it is uniquely soothing. $3

Green Eggs and Ham: It's the good Dr. Seuss' timeless classic, updated superbly for the iPad. The drawings look great, the text is read aloud, and you can choose background audio for each scene. If you can even conceive of a time in which your iPad will be close proximity to a small child, it's probably worth plunking down $4 to make their 21st Century day. $4

Zenbe Lists: Says Jason, who is prodigiously organized:
Zenbe has become my de-facto todo list-beating Google's and any sort of Apple solution-for two reasons: Ease of use and cross-platform compatibility. I can make grocery list on the computer and check them off on the iPhone at Safeway.

And, if you already have the iPhone version, you get this for free. It's $3 for both otherwise.