Trainyard: Rosa's a full on addict. All aboard:
Trainyard may be a simple iPhone game, but it's one of my latest addictions. Folks who are nuts about logic and puzzle games-as well as those who adore Flight Control or ColorBind-are very likely to love it, too.

The game's currently on sale for a buck, but normally priced at $1.99. If you're not absolutely certain that you'll like it, you can always try Trainyard Express which is free, but contains far fewer puzzles.
$2. And you know you always wanted to be a conductor.

Take Five: It's a common occurrence. You're listening to music, you put it on pause, and you end up listening to yourself breathe for an hour. Take Five offers relief, pausing your music for a while and then automatically resuming playback later.
It's super simple. If you're listening to music and need to focus on something else, instead of hitting the iPod app's dumb pause button, you just fire up Take Five. It'll pause your music for five minutes-you can set it to countdown from 30 minutes or just a few seconds-and when the time is up, no matter what you're doing on your iPhone, your music starts again. Ahhh. $1
G/O Media may get a commission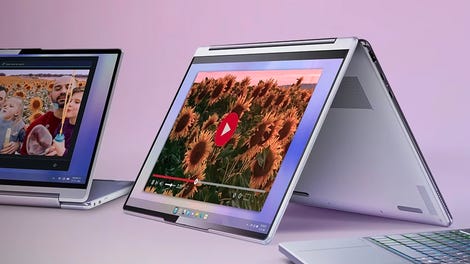 up to 70% off
Lenovo Spring Clearance

Amazon Mobile: Barrett, compulsive shopper, says:
True story: when I'm out shopping, before I make an impulse by I compulsively check what Product X goes for on Amazon. Which is why being able to scan bar codes from the Amazon app is a major time-saving win.

I know, I know, there are bar code scanning apps that I could use to price compare. But Amazon's consistently as or less expensive than just about anywhere, and more importantly I trust them, as a vendor. No more typing in product names! Lots more pointing my phone at random objects in stores.
Free.

Real Pizza of New York: Jeff Orlick knows pizza. (If you don't believe me, check out his 5-boro pizza test; if you don't want to check out the test, just trust me.) Now he's distilled that pizza knowledge down into a bite size pizza app that has all the best New York pizza joints—both classics and some under the radar spots—and lets you sort through them with a number of filters, including the ever-useful "nearby." $1

Sonic 4 Episode 1: Having a real hedgehog in your pocket would be uncomfortable. Thankfully, the first episode of the long-awaited Sonic 4 is now available, letting you spin, dash, and spin dash your way across some heartwarmingly familiar levels.
Sonic 4 Episode 1, the first of four installments, has four zones, each with three acts and a boss. After mashing on that d-pad all those years back, the virtual controls take a little bit of getting used to, and sometimes I found that I had to be pretty deliberate about, say, sliding my thumb over to move Sonic mid-jump. Generally, though, things are just as you remember them—familiar levels, familiar music, familiar hectic Sonic action—aside from a new jump attack that locks onto targets when you're in mid-air and a new kinda-nauseating flourish of rotating the camera when you're going through a loop.
TouchArcade says the app holds up pretty well on older devices, though it'd be nice to see Retina Display support and an online leader board to see how my Time Attack times stand up against others. Probably not very well.
Sonic 4 is downloadable with some extra levels for Wii, PS3 and Xbox 360, and the iOS version is live in the App Store now for $10, so spin dash to it.

GyroSynth: The iPad's expansive touch screen has made for some very neat music-making apps, but the iPhone 4's gyroscope adds an interesting new element to the mix. GyroSynth follows your iPhone's roll, pitch, and yaw and translates them into squeaky synth giggles and gurgles. It's not an exact science—I'm not sure you'd be able to play Stravinksy—but with a little practice you can get some semblance of a melody going. And it's a hell of a lot of fun. $1

Menu Pages 2.0:
MenuPages, the excellent complete-menu app for New York, San Francisco, LA, Philly, Boston, Chicago, DC and South Florida, now allows those menus to luxuriate across your iPhone's entire screen and lets you save favorites to your MenuPages.com account. Yum.
The app is free, the lunch, unfortunately, is not.

StarDunk: Jason, jam on 'em:
Playing basketball in space is not a new idea, with Jordan's Space Jam and Futurama's space globetrotters already exploring the concept of weightless dunking quite well. But have you tried it?

The video shows what the gameplay is like. The concept is similar to Fruit Ninja, another game we love. There's basically one thing you do in the game, and the trick is that you want to do it well for more points. You can also compete against other people online in a global (universal) contest. There's no Jordan mode, like in 2K11, but, in a sense, the whole game is a Jordan mode.