UFO On Tape: A simple but compellingly packaged new game in which your iPhone acts as a camera (thanks, gyroscope) with which you have to film a UFO fly-by. That's the whole game—keeping the little UFO in the frame—but the presentation and the production of the app make it different than pretty much anything in the App Store. $1

Google Goggles: Talk to us, Barrett:
The wait for Google Goggles-the crazy good visual search app-to hit the iPhone was shorter than we thought. Today, it's finally been added as part of the Google Mobile App.

Once you're in the Google app, just click the camera to activate Goggles. From there, you can identify and search for info on landmarks, logos, books, DVDs, etc. And as Google continues to tweak the function-it's still in Google Labs-you'll eventually be able to identify animals, foods, and whatever else Mountain View's mad scientists cook up.
Free
G/O Media may get a commission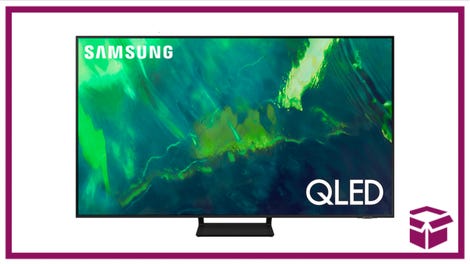 35% off
Samsung Q70A QLED 4K TV
Save big with this Samsung sale
If you're ready to drop some cash on a TV, now's a great time to do it. You can score the 75-inch Samsung Q70A QLED 4K TV for a whopping $800 off. That knocks the price down to $1,500 from $2,300, which is 35% off. This is a lot of TV for the money, and it also happens to be one of the best 4K TVs you can buy right now, according to Gizmodo.

Instagram: Everyone loves snapping photos with their iPhone but sharing them over email and MMS can be a hassle. Instagram is a social photography app designed to solve that problem. First you take the photo and dress it up with one of the supplied filters. From there, you can share it over the usual suspects—Twitter, Tumblr, Flickr, etc.—or, and here's the interesting part, over Instagram's built-in social networking service. When you first fire up the app you create a username and from there can follow other Instagram users, look through a feed of their photos, see what photos are popular on the service, etc. It's new and ambitious, so there's a few weird rough spots, but it's free so that's OK by us.

Meebo: Meebo, the king of iPhone messaging apps, just got a new update bringing fast app switching and support for the iPhone 4's Retina Display. And it's still free! So go chat with someone already.

Modern Combat 2: Black Pegasus: The latest from the Willy Wonka app megafactory Gameloft, Modern Combat 2 is basically Modern Warfare 2 on your iPhone. So while they lose points for creativity, they gain points for generally awesome terrorist-hunting gameplay, gorgeous graphics, customizable controls, and some of the most fun, comprehensive multiplayer modes you'll find. $7

Nike+ GPS 2.0 The 2.0 update for the Nike+ GPS app brings a unique new feature called "Cheer Me On" that lets you make a Facebook post when you're about to go for a run and doles out encouragement every time someone comments on your status. Useful if you, like me, don't have enough personal conviction to work out but have been known to respond to the shame and scrutiny of others. Also it's still a pretty fantastic fitness app all around, well worth the $2.

Pic Bubbler: Let's hear it from Bubbling expert Jesus:
Perverts rejoice, for someone has released an iPhone bubbling app. Its name is Pic Bubbler, and it allows you to see anyone naked by using an optical trick and your twisted brain. I tried it. It works.

Pic Bubbler is very easy to use. First, you load an image of someone in their swimsuit-woman or man-from your photo album. The program then applies a transparent layer, which can be punctured using your finger. Just click anywhere you want to open a hole, making sure the hole never shows the clothing. To change the position of the hole, just use your finger. To scale it, pinch in or out.

The controls are good. I'd recommend you use your two fingers to scale and move the hole around at all times. That way you will have more control and compensate for the iPhone's small screen. When you are done, you just have to save your image (either to your photo album or to the application's own storage area, which saves the active bubbles so you can get back to your masterpiece later.

Sadly, the application is not perfect. The iPhone's screen size feels to small. This should have been a universal application, running on the iPad's big screen at full res. It also doesn't handle horizontal pictures well, transforming them into vertical pictures with blank bands on top and bottom, like this capture shows.

But most importantly-and developers better listen up-I and everyone in the planet want this to be an automatic filter. Manual hole punching? Come on! Humanity hasn't spent billions of dollars and hours in artificial intelligence and image recognition research so you go on and release a manual bubbling application!

Make this to be completely automatic. Or at least semi-automatic. No excuses. Get to work. Now.
$1

Cut the Rope: A charming and addictive new physics puzzler in which you must slice ropes to feed candy to a little green monster. Some are hailing it as a successor to Angry Birds—need I say more? $1

Fast Society: A slick new app for organizing teams of friends, who you can then easily text message en masse; conference call; view on a map, etc. It's easy to set up and nice to look at, though it's a bit strange that there's such an emphasis on the temporariness of the groups. In any event, pretty useful if you want to group text, very useful if you and your crew are engaged in a large-scale scavenger hunt this weekend. Free, friends not included.