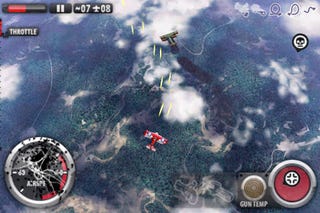 1951 - World War One: A truly beautiful 3D, top-down shooter, 1951 lets you maneuver, feint, and barrel roll for some classic dogfighting action. There's a backstory that lets you know why World War One is happening in 1951, but I have not clicked it, such is my impatience to zoom past the loading screens and into the game itself. $2

Osmos: My favorite game for the iPad is now available, in smaller form, on iPhones and iPod Touches—Osmos, an at-times-frantic, at-times-meditative romp as a tiny little mote trying to move your way up in the mote world, loses a little bit of its magic on the smaller screen, but it's still an undeniable achievement in giving a full, immersive gaming experience. $3

Zombie Guide Survival Scanner: Have your iPhone turn your friends into zombies…before your friends actually turn into zombies. Released by Random House as a supplement to Zombie Survival Guide, you can scan friends, determine their level of infection, and post their zombified photos to Facebook. Free, and gruesome.

Vonage Mobile For Facebook: Vonage, the VoIP company with the head-whacking commercials, has a new app for Android and iOS that lets users make free calls to Facebook friends over 3G and Wi-Fi. Finally, your reward for cultivating that extensive friends list.
Logging into Facebook with the free Vonage Moible For Facebook app will indicate which of your friends also have the app installed, prompting you call them with a touch of your finger-that means no new contacts to add and no phone numbers or user names to remember. Free, and nice!

Trailhead: It's made by the North Face, so you know it'll be high quality (or do serious outdoorsmen despise the ever-trendy brand?) Anyway, Trailhead, powered by EveryTrail.com, shows you location-aware bike routes, hikes, and more, tracks your distance, speed, and elevation on those routes, and, obligatorily, lets you post any snapshots you might've taken along the way to Facebook or Twitters. Oh, and it'll always let you find the nearest North Face dealer. But still, for the type that likes to compensate their app addictions with actual time outdoors, Trailhead's definitely worth a look. Free.

NanoStudio: Complex apps walk a fine line between functionality and usability-there's nothing more frustrating than a feature-laden app imprisoned behind an inscrutable interface. NanoStudio pulls off this tightrope act gracefully, packing everything you need to tap out drum loops, tweak synths, record and edit your own samples, and sequence and master it all, right on your iPhone.
At $15, it's a bit expensive for just noodling around with some synths, but if you suspect you'll ever have the hankering to get a little more ambitious-to get your sounds just right, or to start to pile tracks and takes on top of one another-NanoStudio's just the ticket.
The basic idea of DateMate is that it allows you to enter details about your partners-birthdays, contact information, silly things that you should recall-and track your encounters with them. The app offers a calendar so that you can keep track of whose bed you were in on which night and a way to rank the dates and create notes about them. Once you've got a bunch of dates under your belt, you can even generate graphs of your activities and compare frequency, quality, and progress.

DateMate may seem a bit sleazy to those of us who prefer monogamy, but it appears to be a well-designed app that might make life easier for those who have somewhat open arrangements with their partners.
$3 and a certain amount of dignity.

iDisk: Apple's official iDisk app got backgrounding support and controls for music streamed from one's iDisk. Not a huge deal, necessarily, but anything we can do to convince ourselves that Apple's slowly but surely working on their ass-kicking entry in to the cloud is enough to get us a little hot. Free, though MobileMe is required.

CNET News: Our pals over at CNET got themselves a slick new iPhone app—nothing too crazy, just a nice, easy way to check up on CNET's news and blog postings and share them with friends and colleagues. It's free, and thus definitely worth checking out for fans of the site.

Adidas miCoach: Sam, big time workout buff, says:
MiCoach uses your phone's GPS to monitor your speed keep up with a targeted pace.
After assessing just how sad of a state your body is in, the free app will whip you into shape with personalized daily running or jogging workouts of varying speeds. The "virtual coach" (read: creepy computer voice that yells at you) will let you know when to speed up or slow down to stay on pace.
After each workout you'll received an analysis of your run, including distance and calories burned, and your data will be stored on the MiCoach site so you can track your progress. The app is free, though it does say it "tracks your shoe usage with wear alerts," in the hopes that you will burn through your soles and right into your local Adidas distributor.