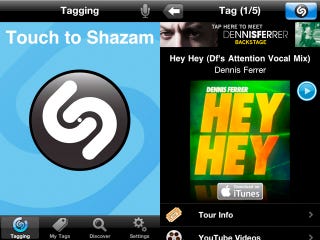 Shazam: Shazam, probably the best known app for figuring out the names of tunes you're listening to, just got a shiny update to 3.0.0, bringing all sorts of good stuff with it: iOS4 optimization, tag on startup, 30 second iTunes previews of the songs you tag, and more. There's regular old Shazam, which is free but has some ads and tagging restrictions, and Shazam Encore, which is $5 but lets you tag anything and everything you come across.

InCrowd: Rosa, who is definitely part of the in crowd, says:
What good is the slightly annoying and creepy Facebook Places feature if you can't turn it into some sort of competition? Well, with the InCrowd iPhone app, you can do just that.

The app allows you to create a little avatar who can interact with nearby friends' avatars and allow you to earn popularity points by fist bumping, winking, and high-fiving your way through the virtual crowd.

The whole thing looks silly and cute enough to lure you into using Facebook Places for at least five minutes.
Free.

TeuxDeux: Do you know about TeuxDeux.com? The well-designed, super simple, type it out and strike it through web-based to do list? Well, if you've ever felt distracted just looking at all the options you get with Things and Omnifocus, Teux Deux might be a good thing to put on your To Do list, and it's iPhone app, recently updated for the Retina display, is a wonderful complement to the snappy, snazzy website. $3

Spider-man: Total Mayhem: Shrinking an entire beloved comic book universe down to an iPhone game is a dangerous prospect, but that's just what Spider-Man: Total Mayhem does, allowing you to swing from buildings, battle baddies, and hone your spidey senses on your iPhone.
We haven't gone in deep with Total Mayhem yet, but Matt got a chance to try it out at E3 and says it was "great," and "felt like the console games, but translated."
Early reviewers of the massive game-almost 500MB of Spider-man goodness!-tend to agree, noting that the graphics were silky smooth (befitting of the hero himself). We'll be back with our thoughts once we're done saving New York and crouching pensively on the Chrysler building. $7

Percolator: I'm a sucker for simple apps that do simple things, and Percolator, which uses a coffee metaphor for making nice bubbly versions of photos on your iPhone, is just such an app. There aren't a ton of settings for adjusting how your shots look, but the effect is pretty neat nonetheless. $1.

Mirrors Edge: One of my first favorite games on the iPad, EA's femme fatale running game Mirror's Edge has made its way to the iPad, and it's still as fun as ever. It's like Canabalt but way more involved, including various levels and maneuvers that you can send your runner into with a flick of your finger. Looks great on the iPhone 4 and there's plenty of game play, and narrative, to savor as opposed to Canabalt's 'run as far as you can and then try again' model. $5

Waitlist: Our brothers from a different mother at LifeHacker say:
If you want to know how long you'll be waiting for your next table or how long it'll take to gain access to a club, just search for your destination on WaitList and find out.

Thank The Onion's A.V. Club for this one. If your iOS device has a GPS signal you can find all sorts of places near you. If not, you can always search for what you're looking for or just navigate to the area on the map. When you find one, if it's reporting a wait time you'll see a number in it's little map pin/bubble. If not and you head there anyway, WaitList lets you report wait times.

Clicking on a location gives you a little more information, see the wait times people are reporting, and report a wait time of your own. Probably because WaitList is pretty new (or because I checked after most places were closed), I wasn't able to find any reported wait times (at least in Los Angeles and New York). At the moment the app is more useful in theory than it is in practice. It's also the sort of app that's made useful by its users, so until restaurants and bars start reporting their own wait times through WaitList you can help make it more functional by contributing.
Free.

Blancspot: For iPhone users who don't spend the day with their nose in their RSS reader, there are some ways to check out the news that are slightly more visually appealing than, say, CNN. Blancspot takes a Pulse-esque model for news delivery—presenting stories with big, poppy pictures. There aren't many options for customization to speak of, but the idea is a promising one. $2.