Personally, I have never been big into phone cases. They can be bulky, flimsy, and having one clipped to your belt makes most people look like a tool. I prefer to let them hang out naked and free—as nature intended. Still, iPhones don't come cheap, and if you dropped all that cash on one you are certainly justified in wanting to protect it from the elements. That is why I have put four major iPhone cases (the Case-mate leather collection, the Otterbox Defender Series, the Ivyskin Xylo T2 Touch-Thru Case and the iShield Mirror) to the test in an effort to determine whether or not they will truly fit your needs.
The case-mate leather collection:
G/O Media may get a commission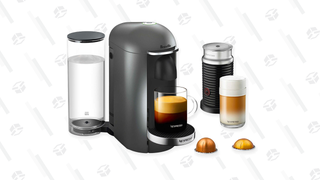 40% off
Nespresso by Breville VertuoPlus Deluxe Coffee and Espresso Maker Bundle


The leather collection from Case-mate comes in both a variety of styles and colors that include line leather, croc-embossed leather and carbon fiber leather versions (the Black Croc-Embossed Leather iPhone Case/Holster Combo is pictured here). They are branded as luxury models with prices to match (line leather $49.99, croc-leather $59.99 and carbon fiber $69.99 for combo versions). All of the cases include a holster, screen protecting film and a design that features leather wrapped around an impact-resistant plastic shell—which makes them basically the same in terms of shape and protection. So, if you dig this style of case, the decision is going to come down to the leather used.
I found that all of the versions lived up to their luxury status in terms of materials and craftsmanship. Protection is going to be good but not great considering that the top is completely exposed and the screen is protected by nothing more than a simple scratch resistant film, but it should do the job for normal wear and tear. That holster is a friggin' beast though, so if you don't need to clip this to your belt you are better off saving a little cash and purchasing case-only. Case-mate's Naked Case was also tapped for this review, but units are hard to come by. Look for a stand-alone review soon.
Otterbox Defender Series:


Out of all the cases reviewed, the Otterbox is going to offer the highest degree of impact, dust, scratch and water resistance. It features multiple layers of protection with a hard-shell case that covers the body of the phone, a thin plastic membrane that covers the screen, camera and Apple logo, and a rubber jacket. It allows access to all of the iPhone's controls (except the silence switch) and if you lead an active, rugged lifestyle, the Otterbox should stand up to punishment—just don't expect this thing to be completely waterproof. While the rubber layer does fold into the iPhone's open ports and there is a mesh over the speakers and microphone, it is not designed to be submerged in water.
Naturally, with the plastic case covering the screen itself, you are going to have to deal with the occasional air pocket, touchscreen command error and blurry photograph—but these issues do not represent much of a problem. However, I did manage to rip the rubber outer casing inside the first day of using it, so I have my doubts about the long-term durability of that layer. It is also very bulky, but that is to be expected with a case that offers this type of protection. All in all I would say that the Otterbox's $50 price tag is a little steep—if only for that issue with the rubber outer layer. Also available in a yellow version.
Ivyskin Xylo T2 Touch-Thru Case:


Ivyskin is heavily touting their Surface Xylo Wave (SXW) technology as a "breakthrough" given the fact that it allows for normal touchscreen operation through a hard-shell case. But, to be honest, I found that the Otterbox, the Xylo and the iShield mirror are all basically the same in this respect. The plastic covering the skin on all three cases is extremely thin and offers protection that will hold up to scratches and light impacts. I would say that the screen on the Xylo is the thickest of the bunch, but I doubt that it will offer a substantial increase in protection over the other two devices. They also deliver the same amount of accuracy with the touchscreen—that is to say you will occasionally find yourself double-tapping to type or open up a link, but it does not represent much of a problem. When it comes right down to it, the technology works well.
As for the case itself, the Xylo T2 is made of a basic polycarbonate, which is like wrapping the phone in a form-fitting jewel-box. It will provide adequate protection against minor damage, but don't expect it to withstand a jarring impact. However, if you are looking for full protection against everyday wear and tear it will do the job with a design that does not add a ton of thickness to the phone itself. Not bad for $34.99. Also available in a variety of colors.
iShield Mirror:


Finally, the iShield Mirror is basically the same case as the Xylo T2 but the plastic covering the touchscreen is thinner, and it offers a gimmicky film on the surface that allows it to function as a mirror when the phone is not in use. To be honest, the images in the mirror end up being too distorted to make it functional, and the film renders the screen image fuzzy in low light and nearly invisible in the sunlight. So, if you are looking for a case of this type, I suggest getting over yourself and ditching the mirror functionality for the Xylo T2—especially since it will only cost you $5 more.
Conclusion:
With the exception of the iShield Mirror, I can confidently recommend all of these cases. I found myself using the Xylo T2 the most in everyday situations because of its small form factor and complete screen coverage and the Otterbox while I was out mountain biking on the trails. But the Case-mate leather collection was the most physically attractive option by far. In the end, it will really boil down to the lifestyle you lead, how much you are willing to spend and your personal preferences. [case-mate and Ivyskin Xylo T2 and Otterbox and iShield Mirror]