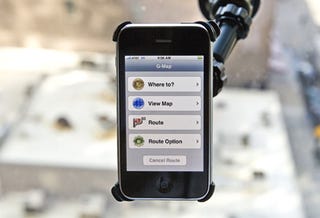 XROAD's G-Map, the iPhone's well-reviewed first turn-by-turn navigation app, has been pulled from the App Store. UPDATE: It's because they were naughty and violated the App Store's terms.
Update: Some developers have told us that the reason G-Map has been pulled is that by including turn-by-turn navigation, it violated the terms of agreement—which is why it was the first turn-by-turn app to come out. So don't expect to see it back in the store. Just another case of something slipping through the wide cracks of Apple's app review processor.
The sole official explanation lies on the XROAD site, that "G-Map U.S. East and West are being reviewed for improvement and will be back in the App Store soon." But as we know, the iPhone 3.0 OS revealed yesterday has baked in turn-by-turn for navigation apps, so the timing is notable.
Is this the first app that's a casualty of the iPhone's new features (you know the landscape keyboard and MMS guys all wept during the presentation, and not with joy like most of us)? Wonder what the improvements are? Hopefully something to keep the coming flood of turn-by-turn apps at bay. [Kicking Tires]