J.J. Abrams wants Benicio del Toro to play the villain in his Star Trek sequel... but he's not saying who that villain is. We've heard recent rumors of Klingons... but the latest inside source suggests it might be a certain genetically-engineered superhuman after all.
Plus does a behind-the-scenes Dark Knight Rises photo tease one of Bane's most famous moments?
Helena Bonham Carter confirms her interest in Akira and reveals why Dark Shadows is unsellable.
Get the first look at Wrath of the Titans, Hansel and Gretel: Witch Hunters, and Neighborhood Watch.
Steven Moffat says David Yates's proposed Doctor Who movie definitely isn't happening...well, probably.
G/O Media may get a commission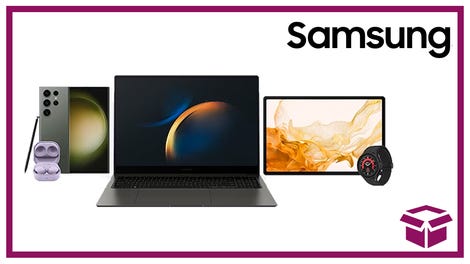 24 hour deals
Discover Samsung - Daily Deal
Spoilers from here on out!
Top image from Doctor Who.
The Dark Knight Rises
Here's a behind-the-scenes photo of Tom Hardy in costume as Bane with a crew member, and he certainly appears to be reenacting Bane's most famous version from the comics - the titular moment from "The Man Who Broke the Bat" in which Bane broke the back of a prone Batman. You can see a comparison of photo and frame at the link, but of course none of this is actually indicative of that particular back-breaking moment actually being in the film. It's entirely possible that this simply means Tom Hardy is aware of his character's most iconic moment from the comics - which you'd really expected him to be - and reenacted it, quite possibly just for fun. So I wouldn't draw too many conclusions from this. [Yidio]
---
Star Trek 2
An inside source is claiming that Benicio del Toro will in fact play Khan Noonien Singh in the sequel. Reached for comment, J.J. Abrams simply responded with a two-word statement: "Not true." Oh, and just to complete the infinite loop of rumor and speculation, that same inside source said to expect Abrams and company to deny everything. So, really, we're no further along than we were before this news broke, except I guess there's more chatter about del Toro playing Khan than there was before... but that probably doesn't actually mean anything, so I'd just take all this with a massive grain of salt and move on. [IGN]
---
John Carter
Here are some new images. [IGN]
---
Akira
Helena Bonham Carter confirms she's received the script for the westernized, live-action remake, and she says it's "intriguing", but she hasn't made any decisions about what she's going to do next or whether she should take the role. [MTV]
---
Dark Shadows
Bonham Carter also discusses her husband Tim Burton's big-screen adaptation of the 1970s supernatural soap opera, in which she plays Dr. Julia Hoffman, a live-in psychiatrist:
"It's going to be unlike… I think, I mean it's dangerous to say that, but it's very original and it's kind of like uncategorizable. It's going to be impossible to sell, frankly, because it's a soap opera but it's very, very subtle. We'll see. I don't know. It's a ghost story, but then it's an unhappy vampire story. It's a mixture of so many different things. And a real ensemble piece, and hopefully it'll be funny."
Oh, and while we're on the subject, you probably should just forget about inviting her to your original Dark Shadows viewing party:
"I might as well call out the original for being a piece of junk! It was actually a really bad, hilariously bad soap opera. And because it's so bad, [Burton] felt he had to make a hugely expensive movie."
[IGN]
---
Neighborhood Watch
Here are the first promo photos of stars The IT Crowd's Richard Ayaode, Ben Stiller, Vince Vaughn, and Jonah Hill in the new comedy by Seth Rogen and Evan Goldberg, in which they play a bunch of bored suburbanites who decide to form a neighborhood watch group...and then promptly stumble upon an alien plot to destroy the world. [FirstShowing.net]
---
Hansel and Gretel: Witch Hunters
Here's the first promo photo of Jeremy Renner and Quantum of Solace's Gemma Arterton in a movie about... well, I think the title already explained it pretty clear. In an attached interview, Arterton explains that this movie does continue the story from the original fairy tale:
Yes, it continues it. You see a series of flashbacks with their experience of killing that first witch, which is brilliant. I remember being on set for the final few days of that. The candy house, and the witches are really repulsive and quite frightening. The makeup is out of this world. It's this bone-chilling scene. Very dark. The girl who plays my character is brilliant, with the horrified expression she has...This one in particular is about abandonment and being lost and parents leaving you. The heart of it is that these kids grow up to be bloodthirsty witch hunters. It's a bit tongue-in-cheek, really. What would Hansel and Gretel be in 15 years time?

Though it's comedic, deep down it's about abused kids becoming kind of hyper-responsible?
But it's also very, very dark, and bloodthirsty and there's a lot of cursing. It's kind of got a [Quentin] Tarantino feel, really.
She also explains what sets the siblings apart:
Gretel is much more in tune with her spiritual side. Hansel is a typical action hero, cheeky, funny, a womanizer. She's much more of a thinker, intense, internal and bit more open-minded than he is.
[EW]
---
After Earth
M. Night Shyamalan has tweeted that his sci-fi epic starring Will and Jaden Smith as father and son searching for each other on a post-apocalyptic Earth has changed its title from One Thousand A.E. to After Earth. [FirstShowing.net]
---
Wrath of the Titans
Here's the first promo photo of Sam Worthington in the Clash of the Titans sequel. Here are some spoiler-y details from the accompanying text, including a "massive" one courtesy of the film's director, Battle: Los Angeles director Jonathan Liebesman:
In the Greek-gods-run-amok sequel Wrath of the Titans (out March 30), Perseus (Sam Worthington) must journey into the underworld after his dad, Zeus (Liam Neeson), is kidnapped by Hades (Ralph Fiennes). The trident is but one of several celestial weapons Perseus has to bring together ''in order to create an über-weapon,'' says director Jonathan Liebesman (Battle: Los Angeles). "'But that's probably a massive spoiler. I haven't practiced being spoiler-proof yet."
[EW]
---
Last Man Standing
Orphan writer David Leslie Johnson is reportedly adapting the graphic novel by Daniel LuVisi. Here's a plot summary:
The story, set 600 years in the future, follows an invincible soldier created to help Earth win a war against Mars. After becoming a celebrity hero, he's framed for a heinous crime by a terrorist organization. After a nine-year prison sentence, he escapes and sets out to even the score.
[Variety]
---
Miss Peregrine's Home for Peculiar Children
Kick-Ass and X-Men: First Class writer Jane Goldman is reportedly in negotiations to write the adaptation of Ransom Riggs's novel about a mysterious orphanage full of children with strange powers. As you could pretty much assume from that premise, Tim Burton is in talks to direct. [Deadline]
---
Hidden
Warner Bros. has reportedly bought a spec script by twins Matt and Ross Duffer, which is "an elevated horror-thriller about a family hiding in a bomb shelter after escaping a mysterious outbreak." The project will reportedly start filming in 2012. [Variety]
---
Doctor Who
Here are some promo clips from this year's Christmas special, "The Doctor, the Widow, and the Wardrobe."

And here are some more promos for the Christmas special. [SpoilerTV]
Matt Smith says he doesn't know how long he will remain in the role, but strongly implies that he will remain in the role through the fiftieth anniversary special:
"It depends on your physical and mental state at the end of every shoot. I just take it year by year, but I'm quite excited by the coming year – it's the 50th anniversary, which'll let us be even bigger and bolder than ever."
Steven Moffat continues to deny David Yates's supposed plans for a Doctor Who movie in the strongest terms possible, tweeting the following:
"Movie thing: David Yates, great director, was speaking off the cuff, on a red carpet. You've seen the rubbish I talk when I'm corner...To clarify: any Doctor Who movie would be made by the BBC team, star the current TV Doctor and certainly NOT be a Hollywood reboot."
So, that's about as categorical a denial as it gets.[Den of Geek]
However, Moffat sent in an email to The Register, in which he somewhat softened the position and at least left open the possibility that a reboot could actually happen:
"There simply are no developed plans for a Doctor Who movie at the moment. It's an incredibly exciting idea to get that magic blue box flying across our cinema screens, so stand by for further developments. If, and when, the movie happens it will need to star television's Doctor Who – and there's only ever one of those at a time. And it would need to come out of the same production operation that makes the series. Doctor Who is a vitally important BBC brand with a huge international audience and not even Hollywood can start this one from scratch. So sorry if there's been any confusion, but on the plus side it has reminded us all what an exciting prospect this could be. Whatever happens, the BBC and BBC Worldwide will work together to ensure that we don't just get a movie, we get the movie that everyone wants. Keep asking me about it -– maybe I'll surprise you with an answer!
---
Fringe
Here's a casting call for episode thirteen:
[DR. OWEN FRANK] Male, 60s to 70s, open ethnicity. A brilliant former scientist now wheelchair bound in a retirement home. Officious and arrogant. Guest Star.
---
The Walking Dead
Here are some casting notices for episode nine. The episodes have already filmed, but we don't know who has been cast in these roles yet:
[DAVE] 30 to 45. Male. Any ethnicity. A charming, friendly guy from a city in the Northeast (very different from our Southern folk). He's the kind of guy you'd like to have a beer with and has probably spent a significant amount of time in low-rent bars. He's able to disarm with a smile, but can quickly turn dangerous. Guest star.

[TONY] 25 to 35. Male. Any ethnicity. Please submit heavy-set character actors. Dave's younger friend with whom he is traveling. Tony is quick tempered and doesn't present himself as intelligent as Dave. He likes women and food and guns. He is from a city in the Northeast (very different from our Southern folks). Guest star.
And here's one for episode ten. Michael Zegen has already been cast in the role:
[RANDALL] 19 - 20 years old. Male. A skinny, earnest Southern kid (slight Southern accent) who is thrown into a set of unusal circumstances, given what has happened in our world. Actor must a have a deep well of emotions to access with the ability to project fragility, inexperience and ultimately strength and courage. This is NOT a handsome Hollywood leading man. Guest star. Recurring. 4 episodes.
---
Terra Nova
Here's a description for the season finale, "Occupation/Resistance":
THE COLONY MAKES A LAST STAND TO FIGHT THE FUTURE ON THE SPECIAL TWO-HOUR SEASON FINALE OF "TERRA NOVA" MONDAY, DECEMBER 19, ON FOX

In the two-hour season finale, the 11th Pilgrimage arrives in Terra Nova and the mysterious Phoenix Group in 2149 makes its move to pillage the past with the help of Lucas and Mira. Meanwhile, Jim and Taylor team up in a last stand against the Phoenix Group, a colonist makes the ultimate sacrifice and a decision is made that will change life in Terra Nova forever.
---
Once Upon a Time
The midseason finale that will close out 2011 will reportedly involve a character beginning to remember the fairy tale reality. [The TV Addict]
---
Grimm
Here are some promo images for episode seven, "Let Your Hair Down", which airs December 16. [KSiteTV]
---
The River
Here's a promo for ABC's upcoming big mysterious "found footage" horror/fantasy show.

---
Supernatural
Here's a promo for episode eleven, "Adventures in Babysitting," which airs January 6, 2012.

---
American Horror Story
Here are some promo photos for this week's episode, "Smoldering Children." You can also check out a sneak peek here. [multipleverses.com]
---
Neverland
Here are two trailers for Syfy's Peter Pan origin story, the second part of which airs tonight.

---
Being Human (US)
Syfy has released a sneak peek for season two, which premieres Monday, January 16. You can see it here.
---
The Vampire Diaries
Episodes ten, eleven, twelve, and thirteen will reportedly be called "The New Deal", "Our Town", "The Ties That Bind", and "Bringing Out The Dead", respectively. [SpoilerTV]
Here's a set photo from the filming of episode thirteen. [SpoilerTV]
---
Teen Wolf
Here's a set photo and script page from season two. [SpoilerTV]
---
Additional reporting by Marykate Jasper and Charlie Jane Anders.