Hours before President Trump will reportedly sign an order preventing most refugees from entering the US, the Department of Defense tweeted a compelling story about an Iraqi refugee who served in the US military. It leaves us wondering: Hey, is the Department of Defense subtweeting the president?
Is AI Moving Too Fast? | Future Tech
Last night, Reuters reported that Trump will sign two executive orders today relating to immigration, as part of his "big day" for national security. One would "ban for several months the entry of refugees into the United States, except for religious minorities escaping persecution, until more aggressive vetting is in place," echoing one of his campaign promises. Another "will block visas being issued to anyone from Syria, Iraq, Iran, Libya, Somalia, Sudan and Yemen."
Then, at 8am this morning, the Department of Defense tweeted a link to a story on the official Marine Corps site about Cpl Ali J. Mohammed, a refugee from Iraq who joined the Marines in 2014.
G/O Media may get a commission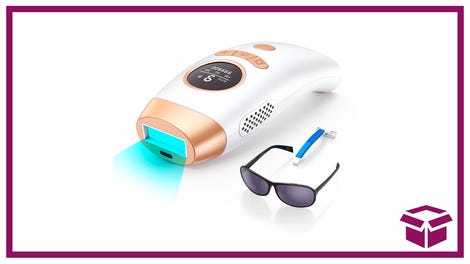 58% Off + Coupon
IPL Hair Removal Device
The story details Mohammed's journey from Iraq to the US and back again:
Mohammed was born and raised in Baghdad, Iraq, until the age of 16. When most teenagers are busy preparing for prom or heading to cheer on their high school for Friday night football, Mohammed and his family were forced to leave the only home they knew. After his family received numerous threats from extremists for their role in supporting the U.S., Mohammed and his family chose to move to the United States.
The story quotes Mohammed as saying that his "biggest motivation right now is to help drive these extremist groups out of my home land, and being able to do that as a United States Marine is the most rewarding thing I could have asked for."
The tweet came two days after another Department of Defense tweet, which noted that "Social media postings sometimes provide an important window into a person's #mentalhealth." While this was clearly a statement about the ongoing issues of mental health in the military, as the linked post indicated, some questioned whether it was intended as a dig at Trump.
Whether or not the Department of Defense was subtweeting Trump this morning, the tweet itself serves as a strong example of the dedication and courage of a Middle Eastern refugee. And as we know, Trump gets very upset about tweets. Let's hope it spoils his Big Day.
Reached by phone, a Department of Defense spokesperson did not immediately comment. We'll update our post if we hear back.
Update 1/25/2017 4:33pm EST: Department of Defense spokesperson Laura Ochoa provided the following statement to Gizmodo:

"It was an opportunity to highlight the unique story of one of our US marines and his service to our country. Hopefully, if anything came out of this, it was that folks got to learn a bit more about the US marines."