Though it didn't garner as much attention as the never-ending string of nor'easters, the biggest weather story of 2018 so far was Kauai's epic deluge earlier this month. According to a preliminary analysis, the storm could've set an all-time record for the U.S.
In the span of just 24 hours between April 15-16, 49.69 inches of rain fell on the north side of the island. Yes, that's more than four feet of rain. In 24 hours.
The National Weather Service announced on Wednesday that it was declaring it a preliminary record for the most rainfall ever recorded in a 24-hour period anywhere in the U.S. Now scientists will begin the tedious process of determining if it can officially be entered into the record books. Three lucky researchers will be in charge of that process, under the banner of the National Climate Extremes Committee.
Deke Arndt, the chief of the monitoring branch at the National Center for Environmental Information (NCEI) who heads the committee, told Earther that he and the two other scientists on the committee will look at three factors to vet the record: its plausibility, the observing conditions, and if the metadata can be processed properly in NCEI's database.
"[The process] is basically a manifestation of all the things we've seen go wrong with big rainfall values before," he said. "We want to make sure that since we're pushing into new territory, that it's legitimate."
G/O Media may get a commission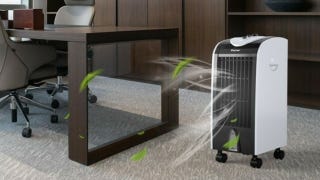 Save $10
Evaporative Portable Air Conditioner Cooler with Filter Knob
If their analysis shows the data is accurate, it would displace the current title holder of Alvin, Texas, which saw 43 inches of rain over a 24-hour period from July 25-26, 1979, during Tropical Storm Claudette. That record itself is the subject of what Arndt called a "colorful" report.
But don't expect the record to become official anytime soon. It takes months to analyze all the data. The plausibility part of the analysis is pretty straightforward. It rained a ton in Kauai earlier this month, inundating fields, washing away cars and causing dramatic bison rescues (seriously).
The committee will look at the observing site and type of rain gage used to measure the record. The Alvin record, for example, was just a bucket survey, which is exactly what it sounds like. Arndt said the committee is still waiting for information on the gage and whether anything like downed tree branches could've altered the observing site, and thus, the record.
But beyond the immediate wow-factor of four feet of rain falling in a day, Arndt said verifying the data is also hugely important to society. Knowing how extreme extreme weather can get—and if it's changing—affects where it's safe for people to live, and what infrastructure looks like.
But also, damn, four feet of rain is crazy.