You heard me; Peter Parker is staging a last ditch effort to take back control of his body from Doctor Octopus. Plus there's heavenly hit men, fascist architecture, samurai sushi chefs and Big Bird, all in this week's comics!
New Issues
Dark Horse:
• Mister X: Eviction #1: Only one man can prevent the fascist rulers of Radiant City from controlling the minds of its citizen through "psychetecture," and that man is the mysterious architect Mr. X.
• The Victories: Transhuman #1: Michael Avon Oeming's superhero team faces new evil and their own demons in this new tale which Dark Horse bills as "Super Fucked Up."
• Other releases: 47 Ronin #4, Abe Sapien: Dark & Terrible #2, Star Wars: Dark Times: Fire Carrier #4.
G/O Media may get a commission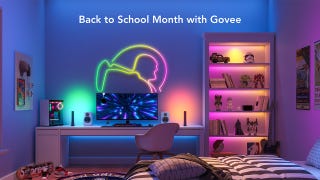 Back to School
Back to School Month with Govee Sale
DC:
• The Movement #1: The "super-powered disenfranchised" band together to fight… well, presumably DC's The Green Team, featured in a comic of the same name coming out later this month.
• The Wake #1: Batman's Scott Snyder pens this scifi horror tale of a marine biologist sent to an underwater oilrig where something terrible has awakened.
• World's Finest #12: I'm sure it's a coincidence that Power Girl's first full issue back in the boob window outfit is "World's Finest," but…
• Other releases: Action Comics #20, Ame Comi Girls #3, Animal Man #20, Batwing #20, Detective Comics #20, Dial H #12, Earth 2 #12, Fairest #15, Green Arrow #20, Legends of the Dark Knight #8, The Phantom Stranger #8, Stormwatch #20, Swamp Thing #20.
IDW:
• Mars Attacks #10: Tommy Bailey may be able to stop the Martian invasion, but at what cost?
• Colonized #2: The ATF battles aliens, the zombies the aliens have created, and a traitor in their ranks.
• Other releases: Dungeons & Dragons: Cutter #2, Joe Palooka #6, TMNT Color Classics #10, Transformers Spotlight: Hoist #1.
Image:
• Ten Grand #1: A mob enforcer is killed along with his wife, and an angel makes him a deal in J. Michael Straczynski's much-anticipated supernatural noir. If he becomes a different kind of enforcer, every time he's killed again, he can spend five minutes with his wife in heaven.
• Epic Kill #10: In the series conclusion, Song avenges her uncle's death in a manner befitting the comic's title.
• Mind the Gap #10: Hoodie is revealed! I don't know what that means, but Image seems very excited about it!
• Other releases: 68 Jungle Jim #2, Activity #12, Artifacts #27, Blackacre #6, Invincible Universe #2, Mice Templar IV: Legend #2, Savage Dragon #187, Snapshot #4, Son of Merlin #4, Spawn #231, Super Dinosaur #19.
Marvel:
• Superior Spider-Man #9: Two minds enter Peter Parker's head, and one mind leaves — permanently.
• Thanos Rising #2: The origin of Thanos continues, as Thanos meets his highschool sweetheart Death.
• Age of Ultron #7: Because the Age of Ultron universe is so terrible, two heroes decide to just make a new universe. Oh, Marvel. Never change.
• Hawkeye #10: Here's Marvel's summary: "Who pulled the trigger? Where have you seen him before? Have you seen him before? Maybe. But not like this. It's murder, mayhem, and greasepaint make-up for the money, kids — and that means playtime is over, Monsieur Hulot. Caw caw." Caw caw indeed!
• Other releases: All New X-Men #11, Indestructible Hulk #7, Iron Man #258.1, Iron Man #9, Iron Man: Coming of Melter #1, Red She-Hulk #65, Ultimate Comics X-Men #26, Winter Soldier #18, X-Factor #255, X-Men: Legacy #10.
Other:
• Suicide Risk #1: The plethora of supervillains are causing heroes and cops alike to die at a horrifying rate, and one cop has had enough.
• Black Bat #1: Another '30s pulp hero returns. When the mob blinds their attorney for refusing to kill somebody, he stumbles upon a covert agency that prepares him to get vengeance.
• Sesame Street #1: Somehow, this is the first Sesame Street comc ever. That seems impossible, but I'm glad it's finally here.
• Other releases: Archie #643, Army of Darkness #13, Charismatic Vol. 2 #1, Dan the Unharmable #12, Fashion Beast #9, Game of Thrones #14, Harbinger Wars #2, Miss Fury #2, Polarity #2, Red Sonja Unchained #2, Wasteland #44.
Trade Paperbacks and Hardcovers
Dark Horse:
• Korak, Son of Tarzan Archives Vol. 1: Son inherits the family business of wandering around jungles with a monkey as his best friend.
DC:
• Get Jiro: Acerbic chef and TV personality Anthony Bourdain created this tale of a dark future where restaurants rule. It's like Yojimbo, if Yojimbo were a sushi chef who murdered people for dipping their sushi in soy sauce.
• World of Warcraft: Dark Riders: An all-new WoW tale, in which a mage whose son is accused of murder seeks a magical artifact stolen by the Dark Riders.
• Other releases: The Girl with the Dragon Tattoo Vol. 2, Jack Kirby Omnibus Vol. 2, Action Comics Vol. 2: Bulletproof.
IDW:
• Dungeons & Dragons: Drizzt Vol. 1: Neverwinter: The most hilariously dark/tragic/overpowered/Gary Stu of the Forgotten Realms kills a lot of bad guys and mopes about it.
• Teenage Mutant Ninja Turtles Vol. 5: Chronicling the Turtles' first battle with the alien Krang.
• Other releases: Jack Davis EC Stories Artist Edition, Magic: The Gathering Vol. 3: Paths of Vengeance, Transformers: Regeneration One Vol. 2.
Image:
• Great Pacific Vol. 1: Trashed: Heir to an oil company, Chas Worthington abandons his family and declares the Great Pacific Garbage Patch his own sovereign kingdom.
• Bedlam Vol. 1: A homicidal maniac has been cured of his psychoses and wants to help the city he once terrorized, but can he be trusted?
• Other releases: Bedlam Vol. 1, G-Man Vol. 3: Coming Home, Graveyard of Empires.
Marvel:
• Cable and X-Force Vol. 1: Wanted Now: Cable forms a new X-Force to battle threats that haven't happened yet and no one can ever know about — even if it makes them criminals. Which it totally does.
• Other releases: Iron Man: War Machine: Hands of Mandarin, Kick-Ass (hardcover), Avengers: Earth's Mightiest Heroes Digest Vol. 3.
Other:
• Fubar Vol. 3: American History Z: The cult favorite alt-history series continues as America's Founding Fathers fight a very different revolution against the living dead.
• Feynman: The graphic novel biography of the Nobel-winning quantum physicist, adventurer, musician and genius.
• Other releases: Army of Darkness Vol. 1: Hail to the Queen Baby, Astronaut Academy: Zero Gravity, Bloody Monday Vol. 10, Chinese Life, Fairy Tail Vol. 25, Gogo Monster, Holiday Wars, Lone Ranger: Snake of Iron, Shame Vol. 2, Pursuit, Sherlock Holmes: Liverpool Demon, Twilight Saga: New Moon (hardcover), Zebrafish.
As usual, here's the list of everything being released to comic stores tomorrow, and you can find your nearest comic retailer here.