Trump is, to put it mildly, oversensitive. From the bully pulpit of Twitter he lays into the source of any perceived insult, be it a union leader, Saturday Night Live, or a teenage girl. Similarly, his organizations are known for their willingness to threaten legal action. In concert, that's what made a story about a teenage girl targeted by Trump's lawyers for her viral cat site so believable. But the facts don't add up.
To recap: On Tuesday, the New York Observer's Sage Lazzaro reported that a teenage girl, referred to only as "Lucy," received two cease and desist letters from The Trump Organization for her site poking fun at the president with animated cat paws. According to Lucy, the site was originally hosted at trumpscratch.com but was moved to kittenfeed.com after she received the first legal threat. The story was picked up by a number of sites, including The Hollywood Reporter, New York Magazine, Marketwatch, and yes, Gizmodo. We're sorry, and we'll do better.
The Observer reports that Lucy received the first C&D for trumpscratch.com "three weeks after the site went live," a date she gave to The Hollywood Reporter as March 1. Based on ICANN's official records, however, three weeks after "the site went live" will fall in mid-April, because trumpscratch.com was first registered on March 22, the day after the first article about the site was published. (Historical ICANN records confirm that this was the date of the domain's original registration, and it has not changed hands.)
To put it plainly, you can't send a cease and desist over a website that doesn't exist. To put even more plainly, March 22 is after March 1. The Trump Organization called the allegations "completely false" and told Gizmodo in an email, "no such letter was ever sent by us."
G/O Media may get a commission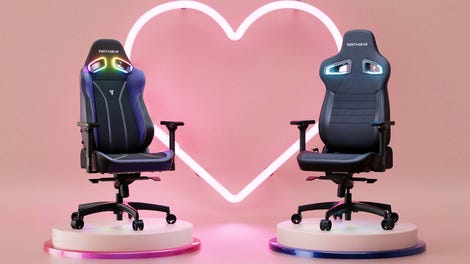 Up to $150 off
Vertagear Gaming Chairs
Stranger still, kittenfeed.com—the domain Lucy supposedly had to move her Trump game to—was registered before trumpscratch.com. The domain's original owners let the registration lapse around 2014 and it wasn't bought up again until "Lucy" (or the person claiming to be her) nabbed it around March 2. Trumpscratch.com now redirects to a cut-rate porn site.
While any usable contact information was scrubbed when the domains were registered, there is one element of the barebones kittenfeed.com site that suggests it's the work of trolls. The site auto-plays Rick Astley's "Never Gonna Give You Up." It's a meme older than dirt, and a classic internet bait-and-switch: deceptive text or a disguised link would lead credulous people to the forgettable '80s jam instead of whatever they were looking for. It's hard to say what's really going on, but it sure looks like an opportunist who wanted their site to go viral managed to troll the Observer, the Reporter, and, in the end, us.

We reached out to Lazzaro, who declined to comment, as well as Reporter writer Ashley Cullins. We will update if we hear back, but the only one who can really put this to rest is "Lucy" him or herself. If you happen to be reading this, Lucy, please get in touch.
Update 3/24/17 1:03pm: "The Hollywood Reporter now has significant doubts about the authenticity of the letter that was initially provided to media outlets by Lucy"a statement on its website claims. Snopes currently lists the story's veracity as "undetermined."