With only three astronauts and three spacecraft, the station seems awfully empty. About the most exciting activity was garbage day, with the Progress M-24M that kicked off from the station in late October finally burning up during a destructive reentry.
Deadly Mississippi Tornado Kills More Than 2 Dozen | Extreme Earth
Top image: Progress M-24M probably looked very similar detaching from the station in October as it did approaching the station in July. Image credit: Oleg Artemyev
With the end of Expedition 41, the Space Station is currently home to just three astronauts as they await the arrival of the final trio of Expedition 42.
G/O Media may get a commission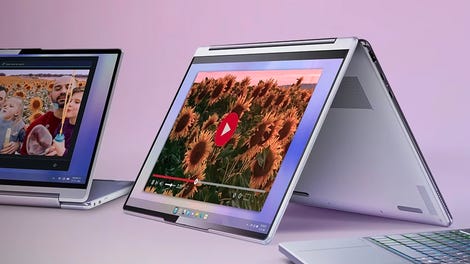 up to 70% off
Lenovo Spring Clearance
It's been unnervingly quiet on the station all week, with a few updates about cool fluids experiments and the 3D printer getting up and running, but without a stream of excitable chatter from astronauts documenting every little thing to share with us, it's feeling very quiet. Trash day is relatively exciting, even if it technically started in October!
×
The Russian cargo craft launched on July 24th, carrying assorted cargo including 45 snailnauts up to our astronauts in orbit. It spent a total of 95 days attached to the station, its cargo unloaded and replaced with trash to incinerate during reentry. It undocked on October 27th, stretching its total time in space to 119 days before burning up in a destructive reentry on November 18th.
Cargo carrier Progress M-24M blasting off on July 24, 2014 en route to the International Space Station. Image credit: Roscosmos
After it left the station, astronauts started loading trash into the next spacecraft scheduled for destructive reentry, ATV.
Although I'm sure we'll see some great photos once they wind their way through NASA's social media machine, right now I'm feeling the loss of astronauts Alex Gerst and Reid Wiseman no longer being in orbit to instantly document everything in real-time for our viewing pleasure. Instead, they're here on Earth getting reacquainted with gravity. While Russia's Oleg Artemyev snapped a photo of Progress on its way up to the station last summer, he hasn't uploaded any end-of-life photographs for the cargo craft. Similarly, while NASA's Butch Wilmore is taking photos that are later put online by the social media team, it doesn't look like monitoring Progress' destruction was part of his activities.
Noctilucent clouds above the launch pad prior to Progress M-24M blasting off in July. Image credit: Roscosmos
Luckily, this dearth of tweeting astronauts will hopefully be short-lived. All of the trio launching this weekend have active online presences, particularly ESA astronaut and barer of the much-anticipated coffee-maker, Samantha Cristoforetti.
A new Progress cargo run already arrived at the station in the narrow window of time between when M-24M detached and disintegrated. The station currently holds Progress M-25M, the European cargo craft ATV, and a Russian Soyuz crew transport spacecraft. This is a far cry from the days earlier this year when every currently-usable port was packed with spacecraft.