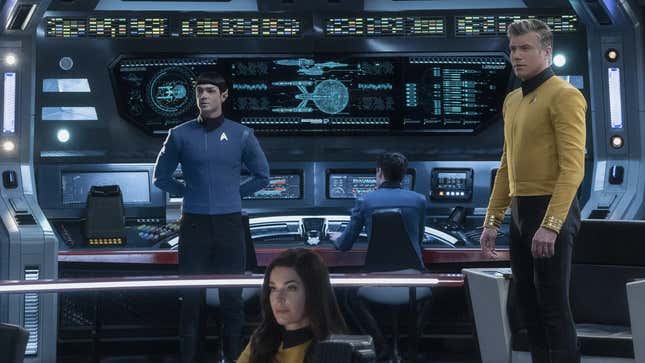 Sorry, Star Trek: Enterprise was already taken. Welcome aboard, Star Trek: Strange New Worlds.

Meet Microsoft's New Surface Laptops
CBS has given a series order to Star Trek: Strange New Worlds, a brand new series that will be set aboard the original U.S.S. Enterprise and follow the adventures of Captain Pike, Spock, and Number One as they explore the galaxy. Anson Mount, Ethan Peck, and Rebecca Romijn, who brought the characters to life on the second season of Star Trek: Discovery, will reprise their roles.
While CBS wouldn't commit just yet as to whether or not Strange New Worlds will be set before or after the Enterprise encountered Discovery, the series is simply described as being set "in the decade before Captain Kirk boarded the U.S.S. Enterprise, as they explore new worlds around the galaxy." The news was followed up by a very adorable video featuring the three actors confirming the show:

Talk of a spinoff focusing on this modern re-imagining of the Enterprise has been abuzz ever since Discovery's second season came to a conclusion, largely predicated on the excellent performances of Mount, Peck, and Romijn in their time interacting with the crew of the latter ship. A recent set of Short Treks minisodes gave fans a little hit of a few more stories with this incarnation of the Enterprise bridge crew, but the question has always lingered of just when a seemingly inevitable spinoff would happen.
Now it has, and we can't wait to boldly go with them on some more adventures. Star Trek: Strange New Worlds will be based on a story by Akiva Goldsman, Alex Kurtzman, and Jenny Lumet, who will also serve as executive producers in alongside Henry Alonso Myers, Heather Kadin, Rod Roddenberry, Trevor Roth, Aaron Baiers, Akela Cooper, and Davy Perez.
We'll bring you more on when to expect it to beam onto CBS All Access as and when we learn it.
---
For more, make sure you're following us on our Instagram @io9dotcom.