Last winter may have been one of the wettest in California's history, but you wouldn't know it today. Especially not if you're in Southern California, where it hasn't really rained since October.
Los Angeles and San Diego have both seen less than 1 percent of their normal rainfall since the start of the water year, which turned over on Oct. 1. And forecasts don't show any sprinkles, showers or spritzes through the New Year. Instead, it's sunny skies and warm temperatures (though thankfully quieter Santa Ana winds, which should let firefighters get a further handle on the Thomas Fire).

What seem like good fortune to those of us freezing our asses off in most other corners of the U.S. is liable to give Californians cold sweats and PTSD. The conditions are reminiscent of the drought that plagued the state from 2011 until last winter, when heavy rains and mountain snows eradicated it.
The cause of that run of dry winters was a ridge of high pressure that camped over California, shunting storms to the north and south. It also cranked up the heat, drying out soil like a food dehydrator dries out banana chips or jerky or whatever else you toss in those damn things. UCLA climate scientist Daniel Swain coined the weather pattern "the ridiculously resilient ridge," or "Triple R," for both its strength and persistence.
G/O Media may get a commission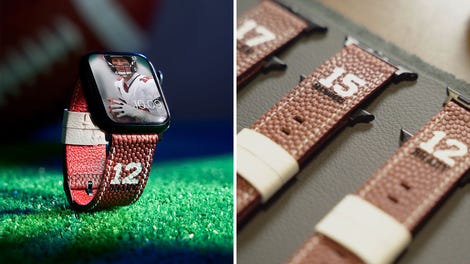 Official NFL PRODUCTS
Official NFL Apple Watch Bands
While the current dry conditions may bring up memories of almond milk shaming and billions of dollars in agricultural losses, it's too early to say if the Golden State is locked into a dry pattern all winter.
"We're not in Triple R territory quite yet, but we're getting close," Swain wrote on his blog earlier this week. "We have certainly witnessed the return of resilient ridging near California, but I don't think we've yet reached the 'ridiculous' level of multi-month persistence that occurred during the height of the recent California drought."
Of course, a Double R is still bad news. The ridge helped make the Thomas Fire the largest wildfire in California history by locking in warm, dry weather. The dry weather will keep wildfire risks high and local water supplies in Southern California low. More immediately, ski areas could see a damper on holiday revenue, due to snowpack hovering around 28 percent of normal for this time of year.
The National Oceanic and Atmospheric Administration is forecasting that drought conditions are likely develop across the southern third of the country, including California, this winter. It's a telltale sign of La Niña—a climate oscillation in the eastern Pacific that alters weather around the world—that officially formed last month. But an increased likelihood of drought does not equal a drought apocalypse.
Swain wrote that he'll be revisiting his assessment of the ridge in January to see if it officially crosses the ridiculous threshold, so please hold your almond milk shaming until then.