Spoilers rule! J.J. Abrams did a shot-by-shot analysis of the Star Trek trailer, and wound up giving away tons of plot details — including who's spying on Uhura as she undresses. Meanwhile, Isabel Lucas fueled speculation about her mysterious character in Transformers 2. There are half a dozen clips from Monday's Heroes episode, plus the producers name two characters you'll see again. Summer Glau makes you a promise about Terminator, and John Simm drops an intriguing Doctor Who hint. Oh, and there are spoilers for Fringe, Pushing Daisies, Supernatural, Smallville, The Survivors and Chuck. Innoculate yourself against life's crazy surprises — with spoilers. Transformers: Revenge Of The Fallen: Does Isabel Lucas play a robot in disguise in the new movie, with an evil tongue? She doesn't say, in a new interview. She does say, however, that she doesn't do a lot of stunts in the film. But the stunts which she does perform involve being put in a harness and lifted over the rooftops. Also, there's a pic of her getting out of Bumblebee. [IESB] Star Trek: Director J.J. Abrams sat down with Empire Magazine and commented on some screencaps from that new trailer. (Roughly the same screencaps we analyzed the other day.) Kid Kirk driving a Corvette off the cliff is the actual start of the movie, and J.J. wanted a beginning that felt "different and sort of grounded," and didn't scream Trek. And then the futuristic cop suddenly drags us into the future. Some sequences happen in Iowa, some in San Francisco. Nero kills both of Kirk's parents, who are serving aboard the U.S.S. Kelvin. The young Kirk is aimless and full of squandered potential, because he doesn't know how to use his power. The movie is the story of how he becomes the guy we expect to see. Despite the fact that there's a lot of urgency in the film and not a lot of time for sexing up, Kirk is very single-minded in his pursuit of nookie. Meanwhile, Kirk and Spock have "a rocky beginning and a lot of conflict." Meanwhile, that now-famous bit where Uhura takes her top off? In that scene, Kirk is hiding in her room watching her undress, and she "quickly realizes he's there." (How on Earth do Kirk and Uhura have a professional relationship after this?) And it sounds as though the shot of Kirk looking under a woman's bed is Uhura's room as well. Kirk is in his underwear at this point. Sulu fences the Romulans with "an extendable pocket katana." Nero, the villain, was being held in a Klingon prison, so those are Klingon guards under their funny masks and purple leather trenchcoats. His weird shadowy vessel manages to take down 47 Klingon warbirds single-handed. You wouldn't be surprised to learn that the weird red snow monster that Kirk fights was designed by Neville Page, who designed the Cloverfield monster. It's one of two great monsters in the film. As you might have gleaned, the Enterprise arrives at Vulcan and then gets ambushed by Nero, and engages Nero's ship in battle. (Abrams says people might expect Trek to be low-energy, so he wants to prove them wrong with the fighty shooty.) And then Nero drops a "red matter bomb" into the core of Vulcan, which builds a singularity inside the planet. And that's when Spock evacs his parents, while Kirk, Sulu and the redshirt Olsen freefall towards the drilling platform burrowing into the planet. Final thought: "This is a treatment of Star Trek with action and comedy and romance and adventure, as opposed to a rather talky geekfest." [Empire] Doctor Who: John Simm, who rules my world the more of the UK Life On Mars I watch, put a stop to rumors that he could take over as the Doctor, but hinted that he might be back otherwise. "I'm the Master. Simple as that. I don't want to be Doctor Who. I might be the Master again... I'm not allowed to say." [PlanetGallifrey] Terminator: The Sarah Connor Chronicles: Here's a new featurette called "Girl Power," in which Summer Glau reveals that her nice Terminator character will never be the same after that car bomb, and we'll get more moments where we're not sure if Cameron can feel something or not. Plus Brian Austin Green did an interview on Good Day L.A., including a new clip from Monday's episode. [Sarah Connor Society]
Click to view Heroes: Here are a whopping six clips from Monday's episode, plus some behind-the-scenes footage crammed with Seth Green goodness. Whopping! And a spoilery new Canadian trailer. [Heroes Television and Heroes Television]
Also on Monday, Seth Green plays Sam, proprietor of Sam's Comics in Lawrence, KS. Breckin Meyer is Frack, Sam's most loyal customer. Hiro and Ando come into the store looking for Daphne. (Although didn't they already go there this week, looking for education?) Sam and Frak flip out, because Hiro is the protagonist of 9th Wonders!, that comic book. And comics by several Heroes writers make cameo appearances. Sam's Comics is a chain with multiple locations, so we'll see another location next spring. And Green and Breckin may reappear. [TV Guide via SpoilerTV] The show's producers answered your questions: The "Villains" arc ends with buildings blowing up, but won't necessarily end in a clear-cut victory by the heroes. We haven't seen the last of Usutu the Austrafrican aborigine. By falling out the window when he did and distracting Claire from going inside the Pinehearst building, Peter either "averted or delayed" the evil future where Claire goes to work for Pinehearst. We'll find out if Adam has any descendants, but not this season. If Arthur dies, the people whose powers he's stolen don't get their powers back — so it won't be that easy for Peter to recover his. In episode 12, "Our Father," someone will restore someone's lost memories by healing them. (Claire's blood, maybe?) Doyle, the puppeteer guy, will turn up in episode 13, "War," and also make an appearance at one point during next spring's "Fugitives" arc. [Comic Book Resources] Fringe: Joshua Jackson did a couple of TV interviews, and revealed that the Observer's name is September. (Or is that just an internal codename on the show?) [FringeTelevision] Jackson also tells E! Online that Peter does have a relationship with Olivia: "We work together. Romantic? Not so much." [E! Online]
Supernatural: EW's Michael Ausiello got hold of this image from tonight's new episode. [EW]
Smallville: Erica Durance says Lois is sensitive to the fact that Lana is Clark's first love, and she's very important to him. Lois is a fighter, but she knows sometimes you have to be patient. And you know that Lois and Clark will wind up together, so the "joy" is seeing how they get there. [TV Guide] The Survivors: In the remake of the classic 1970s plague series, the virus becomes more a part of the ongoing storyline. Instead of just setting up the plot and then vanishing, the virus keeps being an important part of the story, says producer Adrian Hodges. The new version will explore the reasons for the virus and what it means, as it goes along. We might even learn who was behind the plague, especially if the show gets a second season. [Sci Fi Wire] Chuck: Here's the official synopsis for "Chuck Vs. Santa Claus," the Christmas episode:
Christmas Eve does not go as planned when an amateur criminal on the run from the police crashes into the Buy More and takes Chuck (Zachary Levi), Ellie (Sarah Lancaster), Awesome (Ryan McPartlin) and the rest of the Buy More gang hostage. In order to protect Chuck's cover and the safety of the other hostages, Sarah (Yvonne Strahovski) and Casey (Adam Baldwin) secretly go in to the store to remove Chuck, but the mission quickly falls apart when Chuck refuses to leave his friends and family behind.
(We reviewed a huge chunk of this episode's script here.) [SpoilerTV] And here's a new promo for Monday's episode:
Pushing Daisies: Here are some stills from episode 2.09, "Candle On The Water." [SpoilerTV]
G/O Media may get a commission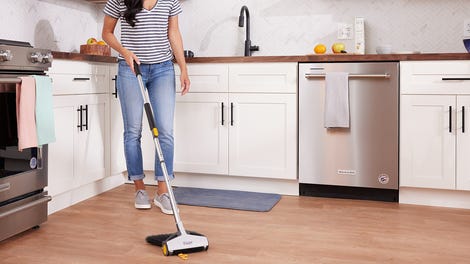 BOGO 50% Off
Flippr - BOGO 50% Off
Additional reporting by Katharine Duckett.