This week saw the introduction of two vastly different concept cars running engines powered by people love hydrogen and since that's a pretty innovative deal, let's take a moment and walk through the technology behind these two technological wonders-on-wheels, and the two diametrically opposite ways they address bringing hydrogen fuel cell power to the people. How could two hydrogen systems be so different? Well the first one, by the 'merican Revolution of Chevy, is a fully hydrogen-powered system and the other, by the German luxe powerhouse of BMW, is a gasoline-and hydrogen-powered system. What are the chances of success of either or both of these technologies in actually making it to market? Will they be fuel efficient? Will they look cool?
Is AI Moving Too Fast? | Future Tech
Jump!


Monday saw the first announcement, of the Chevrolet Sequel — an entirely hydrogen-powered and petroleum-free vehicle (except for, and we're only guessing here, but there's probably motor oil in it). The Sequel, originally introduced in 2005 at the Detroit Auto Show, was the first concept car to integrate a hydrogen fuel cell propulsion system and match it up to a bunch of cool gadgety goodness — like steer-and brake-by-wire controls, wheel hub motors, lithium-ion batteries and a lightweight aluminum structure. The Sequel's also got a crossover SUV form factor (the "CUV" appears to be the new hotness of form factors) with a range of 300 miles between fill-ups as it pulls fuel from three carbon composite high-pressure tanks for hydrogen which it's got mounted and sandwiched into the chassis in order to protect it from damage in case of a crash.
The BMW, announced on Tuesday, is a "hybrid" in that it uses both a gasoline-and hydrogen-powered drive. The BMW Hydrogen 7 is based on the BMW 7 Series (duh!), and is powered by a 260 hp twelve-cylinder engine and features a dual-mode power unit — controlled at the touch of a button — that can switch from the 17.6 lb. hydrogen fuel tank (125 miles worth) to the 16.3 lb. conventional premium gasoline tank (300 miles worth). The premium gas gives it some fuel economy issues, the Hydrogen 7 gets 15 mpg in the city and 22 mpg on the highway — but by providing both drive units, it's able to get a range of more than 400 miles. It also makes certain the car will still drive even if it isn't in range of a hydrogen fuel station. For some strange reason, finding one seems to be a problem for anyone but the Jetsons. The Hydro-7's got the same creature comforts as the regular 7 Series, with electric seats (now with lumbar support!), ISOFIX child seat fastenings (you know, for kids!) and interior mirrors with something called "automatic anti-dazzle" (we've no friggin' idea!). BMW's producing 100 of them to test as a concept, with around 30 of them coming stateside — and no, you'll probably not be able to drive one or buy one anytime soon. Neither car seems to have any performance issues requiring Levitra, with both getting 0-60 times of sub-ten seconds and top speeds of around 140 mph.
But what's funny about hydrogen power is yet again GM's finding itself actually ahead of the curve with a vehicle ahead of its time — like the electric car some accuse it of killing — and competitors nipping at its heels, coming out with half-steps hybrids. We'll have to see if GM's gonna have the balls to push the Sequel to, and keep it at, market — or will they let BMW become the hydrogen version of Honda or Toyota as GM goes on to star in a documentary sequel called "Who Killed The Hydrogen Car." We guess only time will tell.
G/O Media may get a commission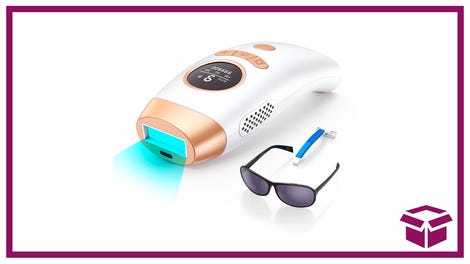 58% Off + Coupon
IPL Hair Removal Device
A Whole Different Kind of Fuelie: GM's Sequel to Be a Chevrolet [Jalopnik]
Burning the Midnight Liquid Fuel: BMW Reveals Hydrogen 7 [Jalopnik]