Kate Winslet might be in the latest Hunger Games imitator, because Kate Winslet can do as she damn well pleases. Fringe's Seth Gabel previews his Arrow guest spot. Plus Warwick Davis discusses meeting the Cybermen on Doctor Who, and more!
It's spoilers all the way down!
Top image from X-Men: First Class.
The Wolverine
Director James Mangold makes it clear the Tokyo-set Wolverine movie won't just be going to that one part of Tokyo where everyone inexplicably speaks perfect English the whole time — and indeed, that's crucial to making this distinct from other X-Men movies:
There is a significant amount of Japanese spoken in the movie, and the cast is almost entirely Japanese. So there is this wonderful sense of cross-pollination between a very Western character and a far Eastern culture, and I think it's very cool and something we haven't seen so far. I think there is a lot of ways that Japanese film, Japanese fighting, Japanese martial arts have had an effect on this movie. And certainly the movie is dripping with Japanese tradition both cinematically, fighting-wise and philosophically as well...We've given Logan a new haircut, a shorter haircut that I think is a more handsome haircut. The wonderful opportunity for me with this film is that 90 percent of it takes place in Japan, and even though other elements remain constant from the other pictures, namely Hugh Jackman, we kind of got our chance to reboot the tone and go a little darker and a little deeper than they've gone before with this character. That was exciting for me."
Also, on the all-important question of whether Wolverine will be in a bad mood in this movie, Mangold confirms that, yes, Wolverine is in a pretty bad mood, all things considered:
"The whole point is not about violence or rating; it's about intensity. I wanted to make a film that in a way captures the intensity of his character. One of the things that has always been a feature of Wolverine in the comics is that he has a berserker rage, that he has anger and some of his abilities are driven by something more primal. Honestly, to get really pissed off — not cute pissed off, not quippy pissed off, not funny pissed off or cigar-chomping pissed off, just pissed off — that can then help drive the fighting, drive the combat. That is interesting for me and then for the character, some of the jet fuel underneath some of the combat in the film.
G/O Media may get a commission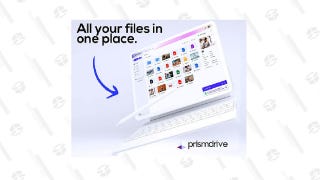 Save 97%
Prism Drive Secure Cloud Storage: Lifetime Subscription
[MTV]
---
X-Men: Days of Future Past
Despite Hugh Jackman's promise that everyone who has ever worn spandex will show up in the X-Men: First Class sequel, it sounds as though everyone might not include Mad Men star January Jones, as she's not at all sure she'll be back as Emma Frost:
"I don't know that I'm in it, I don't think Emma's in this one. Well they haven't told me if I am (laughs). I wouldn't put it past them though, I got the script for the first one on the airplane on the way there. It's called Days of Future Past I think, and I think it's more about James [McAvoy] and Michael [Fassbender] and then Patrick [Stewart] and Ian [McKellan], and I think it's gonna go back and forth with those so I don't think Emma's in those bits. I don't know, I really don't know."
[Collider]
---
Iron Man 3
Here's a set video from the recent Los Angeles reshoots.

---
Divergent
Kate Winslet is reportedly close to signing on for the planned three-part adaption of Veronica Roth's young adult sci-fi series. The books imagine a future world in which the world is strictly regimented into five wholly separate factions, which is supposed to prevent war and fighting but obviously doesn't because it's clearly bullshit. Anyway, The Descendants actress Shailene Woodley — otherwise known as the next Mary Jane Watson in the Amazing Spider-Man sequel — is already on board to play protagonist Beatrice Prior, who rebels against her own particular ultra-aggressive faction. It's not known which role Kate Winslet would play in the film, but it will probably involve adding a touch of class to the dystopian proceedings. [Variety]
---
G.I. Joe: Retaliation
Director Jon M. Chu explains why the movie was delayed for months, categorically denying the rumor that it was all about adding more Channing Tatum to the proceedings:
"I didn't want to answer any of the crazy rumors that were happening, at that time, but the reality was the 3D. We were told they wanted it turned into 3D, and luckily we had the time to do that. It just so happens that the March date was a date that they could do it in, and that gave us enough time to focus on it. We didn't reshoot anything. We didn't go in and [add] Channing. I'm not going to say what happens to Channing in the movie. You have to watch the movie. But, there wasn't any of all that crazy stuff, so we just ignored it. It's funny, when the new trailer came out, everyone was like, 'Oh, Channing is in it way more!' I just didn't want to say anything, but it was very interesting. There were rumors that we shot more things, but we literally didn't shoot anything. We had done some reshoots a couple days before all that, in January, that were just some pick-up things, but that's pretty much it."
[Collider via Comic Book Resources]
---
Doctor Who
Warwick Davis — I'll be kind and not refer to him as Life's Too Short star Warwick Davies, even if that show's failings weren't really on him — has a guest role in the upcoming Cybermen episode from Neil Gaiman, who previously penned "The Doctor's Wife." Davis offers some general thoughts on what to expect from the episode:
"[The Cybermen] "were always scary to me. I was one of those kids who hid behind the sofa, so I know they are scary. But the Cybermen that I saw were awesome and yeah I think it'll be scary. I mean, it was an exciting moment to come face-to-face with one of those dudes. Seriously, it was a great thrill. I mean, it was a great thrill to be in Doctor Who. A career ambition. But to be in an episode written by Neil and to have Cybermen in it, was for me the jackpot. Matt Smith is amazing. These guys, they work so hard on that show. And Matt. He learns lines so fast. Scripts are given to him last minute and they'll go straight from one episode to the next one the next day and he's remembered it. But he's so full of energy and spark and imagination. You read the scene on the page and you think, that's a good scene, but Matt gets hold of it and it's like, 'Wow, that's incredible.'"
[SFX]
---
Once Upon a Time
John Pyper-Ferguson, who played Stanton Parish on the dearly departed Alphas, has reportedly been cast in the guest star role of Ben, described as "a widower who wants nothing more than to help his young son heal from the loss of his mother." The character will appear in the seventeenth episode. [EW]
---
Touch
Here's a preview of what to expect from the upcoming second season. [E! Online]

---
Supernatural
Here's the description for episode fourteen, "Trial and Error":
KEVIN DECIPHERS THE TABLET - Kevin (guest star Osric Chau) deciphers the tablet and figures out how to close the gates of Hell. He tells Sam (Jared Padalecki) and Dean (Jensen Ackles) that according to the tablet one person must face a series of three tests designed by God. The first one – kill a hellhound. Sam and Dean argue over who should complete the trials.
---
Arrow
Seth Gabel, best known as Fringe's Lincoln Lee, previews his upcoming guest role as the villainous drug dealer Count Vertigo:
"The character doesn't have any super powers to start with but any superpowers that the comic book character had get manifested in the form of a drug called Vertigo that I sell on the street. I'm a street drug kingpin, and I'm flooding the street of Starling City with Vertigo. I found that at the end of the day, [he's] obsessed with power and money and whatever it takes to get that is what he's willing to do. [He wants] to ride to the top and be one of the most powerful people in Starling City. So to have the opportunity to take on the Arrow character and prove himself to himself and to the rest of the city is everything he wanted and more."
[EW]
Here's the description for the fourteenth episode, "The Odyssey", featuring Spartacus costar Manu Bennett as Deathstroke:
MANU BENNETT ("SPARTACUS") GUEST STARS AS SLADE WILSON - After Oliver (Stephen Amell) is shot, he turns to a surprising person for help – Felicity (Emily Bett Rickards). Diggle (David Ramsey) is stunned when he sees Felicity walk through the front door of the lair dragging a dying Oliver behind her, and the two team up to save Oliver's life. As Oliver (Stephen Amell) hovers between life and death, he flashes back to a seminal event on the island – a daring escape attempt with his new friend Slade Wilson (guest star Manu Bennett). Katie Cassidy, Willa Holland, Paul Blackthorne and Susanna Thompson also star.
---
The Vampire Diaries
Costar Kat Graham teases a major, major character death coming up:
"There are huge deaths coming up, one in particular. It's one of the most amazing scripts I've read; I actually cried when I read it! It's actually one of the biggest deaths since the beginning of The Vampire Diaries. It'll change the nature of the series; it'll change the nature of the characters going forward; it'll change the dynamic; it will completely alter everything."
[TV Guide]
Here's the official synopsis for episode fourteen, "Down the Rabbit Hole":
CHARLIE BEWLEY FROM "TWILGHT" GUEST STARS AS ONE OF THE FIVE HUNTERS - On the island, Damon (Ian Somerhalder) has an ugly run-in with a Hunter named Vaughn (guest star Bewley), and realizes he is one of The Five. Stefan (Paul Wesley) confesses his true feelings about the possibility of becoming human again to Elena (Nina Dobrev). When a stunning new piece of information about the cure is suddenly revealed, it changes the stakes for everyone. Jeremy (Steven R. McQueen) helps Bonnie (Kat Graham) recognize what is real and what is an illusion, and Shane (guest star David Alpay) is comforted by a woman from his past, Caitlin (guest star Camille Guaty, "Prison Break"). Back in Mystic Falls, Caroline (Candice Accola) and Tyler (Michael Trevino) find that their attempt to translate the code on the Hunter's Sword is futile without help from Klaus (Joseph Morgan), who has his own reasons for solving the puzzle. Claire Holt also stars.
---
American Horror Story
Ryan Murphy talks generally about what to expect from the third season:
A mixture of both [season one actors and season two actors] and then I'm meeting new people. I'm meeting new actresses. I'm meeting some really cool people. I think the story is good and so far has attracted a great interest from people because of what it's about which is fun.

You had said you wanted a younger romance in season 3. Would Taissa Farmiga, who's in talks to return, be part of that?
Yes. There's a romantic element. I think the whole season I want to be funnier, romantic. But make no mistake, just when I think it's gonna be a little lighter, I find this great, true-life character that's the most horrible woman ever created.

Is that character the main villain?
Um kind of. I think Jessica is going back to be in that Constance-vein. She's gonna go back to her evil roots, Jessica Lange.
He also says the third season will be shot on location in three different cities. [EW]
Sarah Paulson confirms she will be back for season three, but your guess is almost as good as hers in terms of what's in store:
I know jack shit. If this year is any indication, I certainly know that if there's any person I'm going to go into something blindly with, it would be Ryan. He trusts me to show up and do the best to honor what he's written. I don't know what he has in store for me but I'm ready to roll up my sleeves and get in the muck.

He always has people play the opposites each season.
Right. I was thinking about that so I was thinking I might not be a very nice person. I might be a perpetrator of horrible things as opposed to being perpetrated.
[EW]
---
Beauty and the Beast
Here's a promo for next week's episode and eleventh overall, "On Thin Ice." A description is below:
VINCENT'S IDENTITY IS THREATENED - Vincent (Jay Ryan) is torn between his new feelings for Cat (Kristin Kreuk) and his old memories with Alex (guest star Bridget Regan). J.T. (Austin Basis) learns that Evan (Max Brown) is planning to propose a task force to catch the beast and must figure out how to stop him. Meanwhile, Tess (Nina Lisandrello) investigates the mysterious skydiving death of the wife of a billionaire adventurer, while Cat remains off duty until she recovers from being shot. Also starring Brian White.
[KSiteTV]
Here's the description for episode thirteen, "Trust No One":
VINCENT MAKES AN ATTEMPT AT ROMANCE AND CAT IS CAUGHT DESTROYING EVIDENCE - Cat (Kristin Kreuk) and Vincent (Jay Ryan) are unsure if they can trust Alex (guest star Bridget Regan) with the truth about his past. Evan (Max Brown) realizes that Claire (Kelly Overton), the woman he is dating, is hiding things from him. Heather (Nicole Gale Anderson) meets and falls for Joe's (Brian White) younger brother Darius (guest star Christian Keyes), and Vincent tries to win over Cat with romantic gestures for Valentine's Day.
---
Additional reporting by Amanda Yesilbas and Charlie Jane Anders.