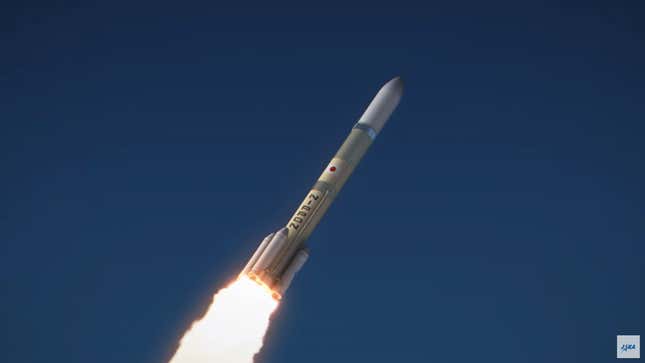 The H3 remains on the ground following a launch abort at seemingly the last possible moment. Ground controllers said the main engine ignited, but not the solid rocket boosters. The cause is not yet clear, nor when JAXA might re-attempt the launch.
A JAXA update states that, "during the automatic countdown operations, an anomaly was found in the first stage system and ignition signals for SRB-3s were not sent." We're waiting for further clarity on the matter, but that doesn't sound good.
We'll continue to update this story as we learn more.

Original article follows.
Should all go as planned, the H3 medium-lift rocket will blast off within a brief seven-minute launch window that opens on Thursday, February 16 at 8:37 p.m. ET (Friday, February 17 at 10:37 a.m. JST). JAXA's broadcast of the launch, available at the livestream below, is scheduled to begin at 7:45 p.m. ET (or 9:45 a.m. JST on Friday morning).
This will—knock on wood—end a countdown that effectively began in 2013, when JAXA approved the project. The firing of the rocket's new LE-9 engines will only barely muffle the sighs of relief that will inevitably be heard throughout the space agency's Tanegashima Space Center. The rocket was supposed to fly in 2020, but tests of the engine exposed serious problems, thereby kickstarting a series of delays that hopefully end today.
Despite this being a flight test, H3 will attempt to deliver its 4-metric-ton payload, the ALOS-3 advanced Earth observing satellite also known as "DAICHI-3."
H3 is important for Japan. It's no SpaceX Falcon 9, but nothing is. JAXA is positioning the fully expendable launch vehicle as its flagship rocket and as a way for Japan to have continuous access to space. H3, which is poised to replace the agency's H-IIA and H-IIB rockets, is propped atop three design pillars: flexibility, reliability, and cost-performance. JAXA teamed up with Mitsubishi Heavy Industries to design and build the next-gen launch vehicle.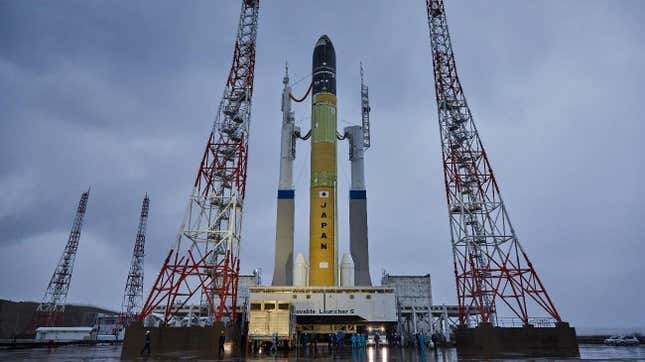 The plan is to launch six H3 missions each year for the next 20 years, with a target launch price starting at around $38 million (5 billion yen). This should prove attractive to both public and private customers, including those hoping to join in on rideshare missions. Excitingly, JAXA is hoping to leverage the rocket as a means for delivering cargo to the Moon, including components that will eventually make up the planned lunar Gateway space station. The rocket is also highly modular, featuring four different flight configurations and more planned.

The two-stage fully liquid propellant launch vehicle runs on a mixture of hydrogen and oxygen. It also features an innovative expander bleed cycle engine. In this type of engine, some of the hot gas is bled off and used to cool down the engine itself, which prevents it from overheating. This is where the term "bleed cycle" comes from. Overall, an expander bleed cycle engine is meant to be highly efficient, reliable, and powerful.
Japan's next era of spaceflight should begin later today, but there's no guarantee of a launch or a successful deployment. Space, as the saying goes, is hard. Just ask the Indian Space Research Organization, which recently managed to pull off a successful launch of its Small Satellite Launch Vehicle on its second attempt.
More: India's Small-Lift Rocket Succeeds During Do-Over Launch to Orbit