The smartphone came along and singlehandedly replaced countless devices we used to fill our pockets with—cellphones, cameras, MP3 players, and more. So why shouldn't we be demanding the same level of multi-tasking from other devices? JBL's Bar 1300X soundbar seems like a good start. It will replace a surround sound setup's spiderweb of wires and all the Bluetooth speakers scattered about your home.
We're very much in support of the recent trend in consumer electronics of attempting to replace complicated surround sound setups—numerous speakers located around a room—with a single soundbar positioned beneath a TV or projector screen that uses fancy audio tricks to bounce sound waves off ceilings and walls to make them seem like they're originating from all around a room. We say, "attempting to replace," because the surround sound effect from a single soundbar still isn't as believable as what you get from a collection of individual speakers around a room.
The JBL Bar 1300X is a compromise between those two approaches. It's a 15-channel Dolby Atmos and DTS:X 3D surround sound solution that uses six up-firing drivers in the soundbar to bounce sounds around a room, but pairs that with a dedicated 12-inch subwoofer, and a pair of detachable speakers that can be temporarily placed behind viewers to create a far more convincing surround sound experience.
We may not be completely convinced about the effectiveness of surround sound soundbars, but we really like what JBL is doing here, especially given that the Bar 1300X connects to the subwoofer and detachable speakers wirelessly, and those two speakers feature built-in rechargeable batteries good for about 10 hours of sound before they need to be re-attached to the soundbar for charging. (The subwoofer does need access to a power outlet.)
G/O Media may get a commission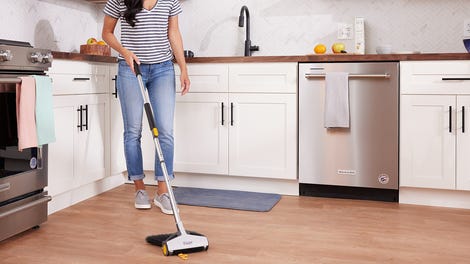 BOGO 50% Off
Flippr - BOGO 50% Off
The JBL Bar 1300X can also be connected to various music streaming services over wifi, and can also be controlled by third-party smart assistants like Google Assistant, Amazon's Alexa, or Apple's Siri to access content without having to hunt down a remote. Those detachable speakers even double as portable Bluetooth speakers that can be taken around the house and directly connected to other audio sources wirelessly.
There will be three versions of the JBL Bar available in February that feature detachable rechargeable speakers:
The 5.1.2, 620-watt JBL Bar 700 with a 10-inch subwoofer that lacks the DTS:X 3D support for $899.95
The 7.1.4, 880-watt JBL Bar 1000 that also includes a 10-inch subwoofer for $1,199.95
And the 11.1.4, 1170-watt JBL Bar 1300 with the 12-inch sub and all the features and functionality mentioned above for $1,699.95.