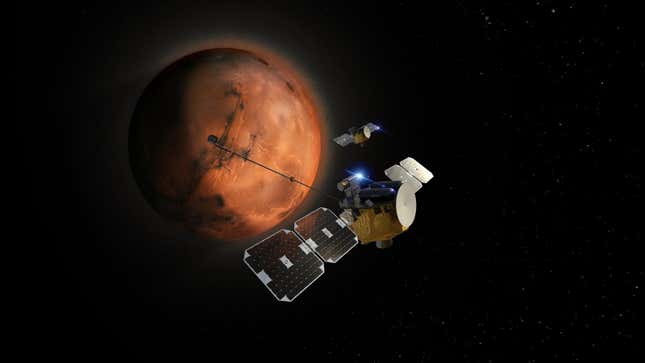 NASA's interest in sending missions to Mars and beyond continues as the agency just tapped private space company Blue Origin to help it reach the Red Planet.
Under the contract announced yesterday, Blue Origin, owned by Amazon-founder Jeff Bezos, will be providing a New Glenn launch vehicle for the administration's Escape and Plasma Acceleration and Dynamics Explorers mission, also known as ESCAPADE. NASA has kinda sorta worked with Blue Origin in the past, but never before have the two teamed up for a mission to Mars. ESCAPADE is scheduled to launch aboard a New Glenn rocket in late 2024 from Space Launch Complex-36 at Cape Canaveral Space Force Station in Florida.
"ESCAPADE follows a long tradition of NASA Mars science and exploration missions, and we're thrilled NASA's Launch Services Program has selected New Glenn to launch the instruments that will study Mars' magnetosphere," said Jarrett Jones, Blue Origin's senior vice president of the New Glenn, in a statement.
Following an 11 month-journey, ESCAPADE will arrive at Mars to study the planet's magnetosphere. ESCAPADE consists of two identical spacecraft, which will collect data on how the planet's magnetosphere interacts with the solar wind and how plasma and energy move through the planet's magnetic field. Both probes will carry three instruments: a magnetometer to take measurements of Mars' magnetic field, an electrostatic analyzer to measure the behavior of ions and electrons, and a Langmuir probe to measure the characteristics of plasma in the Martian magnetosphere. The ESCAPADE twin probes are being developed by RocketLab in partnership with the University of California Berkeley Space Science Laboratory.
The New Glenn carrying ESCAPADE is expected to launch in January 2024. The Blue Origin-built rocket features a reusable first stage, which the company claims can withstand 25 missions, and seven reusable BE-4 engines. These BE-4 engines are fueled with liquified natural gas and an oxygen-rich pre-burner. Blue Origin has delayed the launch of New Glenn several times, with an initial launch scheduled for 2020. New Glenn's most recent delay pushed the inaugural launch to sometime in 2023, after a scheduled 2022 launch didn't come to fruition.
NASA is therefore banking on a rocket that has yet to take flight. Should the inaugural launch of New Glenn not go well, that would not bode well for the ESCAPADE mission. Indeed, the pressure is on for Blue Origin, as the company has never launched a rocket to orbit. Blue Origin has made some successful and widely publicized suborbital flights, but no company spacecraft has ever made it to orbit—a fact that Bezos's competitor Elon Musk takes great relish in pointing out.
Blue Origin and NASA have worked together before on other matters, including a 2020 contract for the space agency to use New Glenn for future launch services. In 2021, Blue Origin, along with SpaceX, Dynetics, Lockheed Martin, and Northrop Grumman, were awarded contracts to develop lunar lander concepts for the Artemis 3 mission. NASA ultimately chose SpaceX and its Starship design. Additionally, Blue Origin and Sierra Space are currently working on commercial space station concepts for NASA, as the space agency and its international partners prepare to retire the International Space Station in 2030.

That said, the relationship between the two parties has not been without its kinks. After losing the lunar contract bid to SpaceX, Blue Origin sued NASA, in a case it ultimately lost.
More: NASA Hatches New Plan for Troubled Water-Hunting Lunar Probe