Airports. Hotels. Cabs. Ugh. There's a class of wayward wretch who's condemned to spend more time in these horrible places than in his own home. This is the man in a suitcase. These gifts will help him survive his Sisyphean labor even when the final destination is nowhere in sight.
1. Tumi T-Tech Presidio
The man in a suitcase will need a suitcase. It's his namesake. It's a calling card. It has been said, that his suitcase will be sturdy, spacious, and carry-on sized. If it catches the eye of an airline stewardess in the Captain's Club—all the better. This overhead compartment-ready bag will hold all the suits he needs for a trip across the country with room to spare for souvenirs on the way home. $295 [Tumi]
---
G/O Media may get a commission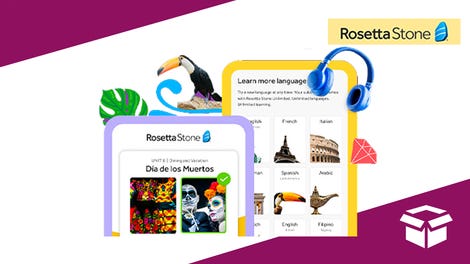 Extra 20% off
Rosetta Stone Lifetime Subscription - All Languages
2. Energizer iSurge Travel Charging Station
Gadgets solve problems, yes, but gadgets with dead batteries are dead weight to the man in a suitcase. This ingenious charger will keep him from having to leave an ailing gadget for dead in a forlorn conference room. The charger does it all. It has a built-in 30-pin dock on top, three outlets, and a 2.1 Amp port for USB charging. There's even an itty-bitty nightlight that will keep your friend company when the road wears him weary. $60 [Amazon]
---
3. Kiva Designs Aircraft Toiletry
The man in a suitcase is able to live his life out of a suitcase because he's secretly really anal. When that suitcase gets disorganized, it's not just his luggage that's out of order, it's his whole life. Help him keep all of those little 4oz toiletries, nail clippers, and oodles of sanity-sustaining pills and elixers organized inside this toiletry bag. The zip-off clear compartment is ready for the keepers of the most arduous security checkpoints. $30 [Kiva Designs]
---
4. Braun Mobile Shave M-90
Have you ever tried to shave in turbulence? Not advisable. But just because the man in a suitcase is on the move doesn't mean he has to sacrifice the comforts of a motorized shave. This pint size shaver gets 60 minutes of shaving out of two AA batteries, and it weighs just under seven ounces. The man in a suitcase needs not spite his face: He can sharpen up his look at 30,000 feet without cutting his nose off. $30 [Braun]
---
5. InCase Travel Kit Plus
Thanks to the iPad, the man in a suitcase can now play solitaire without his laptop, and he can pretend he's going to read Tolstoy without lugging around a tome. Phew! But do you know what will drive him insane? The mess of cables, travel documents, salted peanuts, and other sundries that he's stuffed into the seatback pocket in front of him. This handy little iPad attaché helps keep all of that miscellany buttoned up in a compact package. $60 [Incase]
---
6. Rickshaw Commuter Backpack
A suitcase is one thing, but a tough, rugged rucksack with plenty of storage space is absolutely essential both in the airport and in the wild landscapes of foreign townships. Rickshaw bags are handmade in San Francisco and are amongst the best out there right now. This ergonomic, slim-profiled bag is perfect for porting the man in a suitcase's 15" laptop and a day's worth of tools and provisions. $170 [Rickshaw Bagworks]
---
7. Hamilton Khaki Navy GMT
The man in a suitcase's arrival in Topeka has been foretold by the oracle of airlines, but what the hell time is it in Topeka right now anyway? Yes, his smartphone may hold the answers to this questions, but if this travel-burdened man is the classier type—or simply wants his timezone related prophesies strapped to his wrist—this Hamilton watch allows him to keep time in two timezones. $526 [Amazon]
---
8. Sennheiser CX 300-II
White Apple earbuds are for the nomadic plebs in line at Starbucks—they sound like crap and provide zero isolation from the dragon-like roar of jet engines. You can't find a better set of journey-proof headphones than these German jewels. The in-ear design creates a seal that's naturally noise canceling and makes for beefier bass performance. But maybe the smartest design feature of the CX 300-II headphones is the asymmetrical cables, which allows you to drape one of them behind your neck so that the buds stay securely in place while keeping pesky wires out of your way. $80 [Sennheiser]
---
9. Microsoft Bluetooth Mobile Keyboard 6000
Sooner or later, the man in a suitcase will have to complete Herculean labors of the most onerous kind. Tis the purpose of his journey. Bummer. This ergonomic bluetooth keyboard cannot force the man in a suitcase to devise genius schemes, but it can make typing in virtually any situation less of a pain in the ass. Thee keyboard pairs with damn near every device, it's flat enough to toss in a backpack, and the keys have a delicious click fit for the mightiest office warrior. The auxiliary number pad is optional, and we suggest leaving it at home because numbers are math and math is hurty. $90 [Microsoft]
---
10. Pantech 4G LTE USB Modem UML290
Only the most foolish apprentice relies on airport Wi-Fi. The man in a suitcase cannot be a slave to the benevolence of hotels and coffee shops. He needs an LTE dongle—and not just because the word dongle is funny. It's very very funny. But LTE data speeds are no jester's trick. Plus, as LTE coverage expands across the country, the man in a suitcase will be the laughingstock at his next meeting of minds if he's begging for a Wi-Fi password. Help him save face. As the great leader once said, "you can't put a price on reliable connectivity." $100 + 2-Year Contract [Verizon]
---
Still haven't found the right present? Don't worry, we're here all month with a new gift guide every day—right up until the last minute. To see 'em all, head on over to #GiftGuide.