The casting of a new Doctor on the BBC's Doctor Who is pretty much a top-secret operation—especially so when, as was the case with the latest incarnation of the Time Lord, the casting was a major upheaval to over half a century of the show. How secret? So secret that new Who star Jodie Whittaker practically went straight from her reveal to the set.

Speaking to Doctor Who Magazine about the day the world discovered the 13th Doctor, Whittaker revealed that due to the utmost secrecy of her casting, she had been kept away from the then-ongoing filming of Peter Capaldi's swan-song episode, the 2017 Christmas special "Twice Upon a Time," to avoid prying eyes around BBC Wales' studio, Roath Lock. So when the trailer that announced her casting aired on July 16, the very next day Whittaker was escorted onto the set to film her half of Peter Capaldi's regeneration scene:
As soon as they made the announcement I was in the studio. I think the announcement happened so they could get me to the TARDIS set to do the regen without it being leaked. If I'd been seen in Cardiff, being taken to Roath Lock, it would have been very obvious that I was playing the part! So they announced it the day before.
Aside from the series of auditions she'd done to earn the part in the first place and the announcement video itself, it was the first time Whittaker actually got to properly play the Doctor—and all she had was a single script page and some advice from Who's new showrunner, Chris Chibnall:
I mean, it was the first time [Chibnall had] seen me as the Doctor in costume, on the set, but we'd rehearsed, and before that I'd been through a few months of auditions. So Chris' main note was to trust my instincts – they've been right so far, and they've got you here today. Just remember that...

I didn't read the rest of the episode because I was only given a page to go from, which was the moment that I become the Doctor. In a way I had one of the easiest jobs, because all the hard work had been done by Rachel [Talalay, director of "Twice Upon a Time"], the art department and the rest of the crew.
G/O Media may get a commission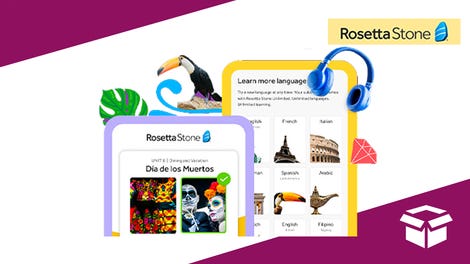 Extra 20% off
Rosetta Stone Lifetime Subscription - All Languages
And she only had to memorize one word, which probably made it even easier. That's one hell of a way to kick off your new job!
[Doctor Who Magazine via Radio Times]