A few years ago we had the pleasure of reviewing a pair of odd, conical, ceramic speakers by California-based designer Joey Roth. They were spectacular. Now Roth has built out the system with a beautiful ceramic subwoofer.
What Is It?
A ceramic subwoofer with a 6.5-inch active driver. It comes with a 50-Watt amplifier that doubles as a stand.
Who's it For?
People who want something more than a throwaway audio system and have the money to pay for nice design.
G/O Media may get a commission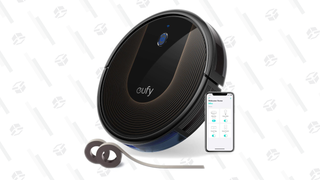 48% Off
Eufy BoostIQ RoboVac
Design
Elegant and simple, the ceramic sub is designed for people who want something craft-made that's still polished and easy to use like contemporary consumer electronics. The sub is a big ceramic cylinder about the size of pro football, and it sits on a combination amplifier stand. According to Roth, he chose ceramic because it's got nice visual aesthetics, and when you layer it thick enough, it's acoustically dead like plastic. So the sub has some heft, and you imagine that it'll fair better than pottery if you drop it, but it still feels fragile.
Using It
The subwoofer is designed specifically for use with Joey Roth's pair of ceramic speakers, but theoretically, they could work with any speaker system. Plug your source into the RCA inputs on the amp, and then send it to a pair of stereo speakers from RCA outputs.
The sub's amplifier has a built-in crossover. You can set the "crossover frequency" from 40Hz to 200Hz. Turning it up higher makes it voicier and more musical in your mix, turning it down makes the effect very subtle. The dial doesn't have individually labeled positions, and it'll take you a little tinkering to figure out right where you should set it. I found I was happiest between ten o'clock and two o'clock on the dial.
The Best Part
It's beautiful, yeah, but I can't get over how lovely this thing sounds.
Tragic Flaw
For reasons of fragility and cost, ceramic speakers probably won't find themselves into most people's lives.
This Is Weird...
If you've ever had a home theater or computer sound system with a subwoofer, you're used to buryng big subs in a corner on the floor. Roth's ceramic sub is designed for front and center display.
Test Notes
Tested in the den-like meeting room at GizHQ. I tested this system using high-quality audio files played from my computer. I played the music both directly out of the computer's headphone jack and from a USB DAC.
The ceramic sub captures some really wonderful overtones and resonances even when you've got the crossover frequency turned all the way down. To give you an idea of its frequency response, the sub captures little pieces of male voices, but doesn't do much with female vocals.
With the crossover turned all the way up the ceramic sub does an incredible job reproducing the punchy hollow overtones produced when you play drums. They're so present that it feels like you're sitting at the kit playing the drums yourself.
Uhhhh, ceramic and my tiny crowded apartment probably won't mix. The top speakers feel like they're not gonna stay put on their little wooden stands. The sub feels similarly precarious on its stand. That said, I didn't actually experience any problems with the setup as designed.
The packaging of this object is really smart: People want to have nice audio products, but hi-fi audio systems with lots of components are too impractical for most people these days. Very few people care enough. Joey Roth's ceramic system is both high-quality and discreetly packaged.
Should You Buy It?
If you can afford it, and you promise not to break it, do yourself a favor and buy!
• Price: $700 (subwoofer alone) $1100 With two speakers
• Gizrank: 4