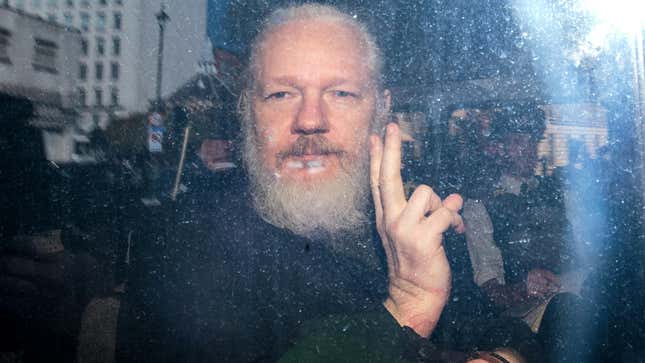 Julian Assange, the WikiLeaks founder and notorious whistleblower, lost another appeal challenging his extradition to face legal charges in the United States Friday. Now his lawyers say Assange, who previously spent seven years seeking refuge in an Ecuadorian embassy, is "dangerously close" to spending the rest of his life in an American cell.
Assange faces 18 criminal charges in the US including an alleged violation of the 1917 Espionage Act and computer hacking. WikiLeaks published thousands of classified documents and cables, some of which showed US soldiers killing civilians in Iraq.
This week's appeal rejection by a UK High Court judge was the latest in a years-long legal battle to bring the WikiLeaks founder back to the US. The judge, according to a ruling seen by CNN, said none of Assange's four grounds for appeal "raises any properly arguable point." Assange's legal team, according to The Guardian, has tried to convince courts that the US' reasoning for extraditing him is politically motivated.
It's been a dramatic few years for Assange. The WikiLeaks founder was forced out of Ecuador's central London embassy and arrested by local police in 2019. Since then, he's resided in London's Belmarsh Prison fighting efforts to extradite him. Assange's supporters, as well as a psychiatrist who has interviewed him over a dozen times in prison, warn he's at a "very high risk" for committing suicide if extradited and subjected to long stretches of solitary confinement. A UK judge actually cited those concerns and previously rejected an extradition request under the grounds it would be "oppressive" to Assange's health. Another UK appeals court disagreed with that assessment, though, and overturned the ruling in late 2021.
"That risk [of suicide] is in our judgment excluded by the assurances which are offered," Chief Justice Lord Burnett previously said.
What happens now?
Assange's wife Stella Assange said her husband will make a renewed appeal to a High Court in the UK next week. After that, Assange's case will be discussed in a public hearing with two new judges.
"We remain optimistic that we will prevail and that Julian will not be extradited to the United States where he faces charges that could result in him spending the rest of his life in a maximum security prison for publishing true information that revealed war crimes committed by the U.S. government," Stella Assange said.
Supporters of Assange warn his prosecution and imprisonment in the US would deal a blow to journalistic protections and freedom of expression. The Freedom of the Press Foundation (FPF), which released a statement condemning the UK High Court's recent extradition refusal, say Assange's prosecution would make it more difficult for reporters to discuss or share classified information on consequential information in the public interest.
"The idea of Assange or anyone being tried in a U.S. court for obtaining and publishing confidential documents the same way investigative reporters do every day should be terrifying to all Americans," FPF Director of Advocacy Seth Stern said.
Though Assange still has several legal avenues he can pursue, the FPF said it seems "increasingly likely" the final call on his freedom could come down to a pardon from US President Joe Biden.