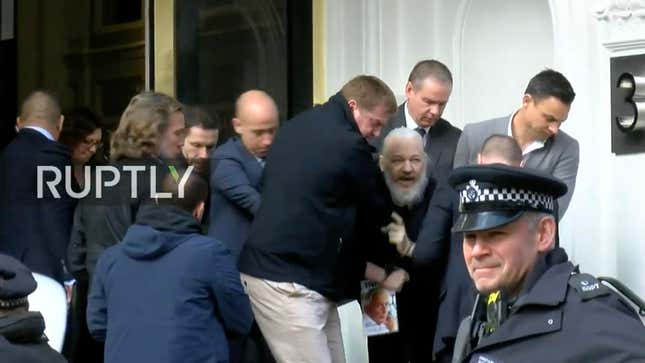 Julian Assange has been arrested by police in London after almost seven years in the Ecuadorian embassy. The WikiLeaks founder was dragged out of the embassy at approximately 10:35 am local time, 5:35 am ET. Assange was formally charged by the U.S. Department of Justice (DOJ) this morning with, "conspiracy to commit computer intrusion for agreeing to break a password to a classified U.S. government computer."

Apple's Vision Pro Seems Powerful, But Who Is It For? | Future Tech
Assange did not leave of his own free will and could be heard shouting "UK must resist, you can resist!" as he was physically moved out of the Ecuadorian embassy by several men. The arrest was livestreamed over YouTube on Russian news channel RT.
According to the WikiLeaks Twitter account, Assange was removed against his will. The organization said that the Ecuadorian ambassador "invited British police into the embassy" to arrest the bearded WikiLeaks founder. As you can see from the video, British police seemed to be smirking as he was loaded into a large police vehicle.
British Foreign Secretary Jeremy Hunt thanked Ecuadorian President Lenin Moreno in a tweet shortly after Assange was arrested.

"Julian Assange is no hero and no one is above the law. He has hidden from the truth for years," Hunt tweeted. "Thank you Ecuador and President @Lenin Moreno for your cooperation with @foreignoffice to ensure Assange faces justice."
Assange applied for asylum at the London embassy in June of 2012 over fears that he would be extradited to the United States. Assange was originally arrested in the UK because he faced charges in Sweden over sexual assault-related crimes, but those charges have since been dropped.
Assange's lawyer, Jen Robinson, tweeted that Assange wasn't just arrested for jumping bail on the Swedish case. She explained that he also faces extradition to the U.S., something that Assange was trying to avoid all along.
The UK Metropolitan Police released a statement on its website explaining that they had executed a warrant for Assange's arrest.
Julian Assange, 47, (03.07.71) has today, Thursday 11 April, been arrested by officers from the Metropolitan Police Service (MPS) at the Embassy of Ecuador, Hans Crescent, SW1 on a warrant issued by Westminster Magistrates' Court on 29 June 2012, for failing to surrender to the court.

He has been taken into custody at a central London police station where he will remain, before being presented before Westminster Magistrates' Court as soon as is possible.

The MPS had a duty to execute the warrant, on behalf of Westminster Magistrates' Court, and was invited into the embassy by the Ambassador, following the Ecuadorian government's withdrawal of asylum.
Met Police posted an update to include the fact that Assange had been "arrested on behalf of the United States authorities."
The UK Home Office released a short statement online that confirmed Assange was arrested so that he can be extradited to the U.S. for "computer related" offenses:
We can confirm that Julian Assange was arrested in relation to a provisional extradition request from the United States of America.

He is accused in the United States of America of computer related offences.
The relationship between Assange and his host country of Ecuador has been hostile over the past couple of years, to say the least. President Moreno even recently accused Assange of leaking his private messages and photos.
"Mr. Assange has violated the agreement we reached with him and his legal counsel too many times," Moreno said earlier this month.
Moreno posted a video to Twitter this morning stating that while Ecuador has protected Assange's human rights, and "provided for his everyday needs," the country had decided to revoke his asylum claim. Moreno insisted that he had been assured that Assange would not be extradited anywhere where he would face the death penalty. The United States is considered unique in the developed world for having the death penalty, unlike the vast majority of European countries.
"In line with our strong commitment to human rights and international law, I requested Great Britain guarantee that Mr. Assange would not be extradited to a country where he could face torture or the death penalty," Moreno said in his video message.
"The British government has confirmed it in writing, in accordance with its own rules," Moreno said.
Moreno claims in the video that Assange "installed electronic and distortion equipment" that wasn't allowed and somehow blocked security cameras at the embassy. Those claims couldn't be independently verified.
"He has confronted and mistreated the guards," Moreno said during his video. "He had accessed the security files of our embassy without permission. He claimed to be isolated and rejected the internet connection offered by the embassy, and yet he had a mobile phone with which he communicated with the outside world."
In January of 2018, President Moreno called Assange a "nuisance" and an "inherited problem," due to the fact that it was the previous president who granted the WikiLeaks founder asylum.
"If President Moreno wants to illegally terminate a refugee publisher's asylum to cover up an offshore corruption scandal, history will not be kind," WikiLeaks said in a statement earlier this month to the Associated Press.
Assange had previously promised to leave the embassy of his own free will if Chelsea Manning was pardoned. Manning, who provided WikiLeaks with more than 725,000 classified U.S. government documents in 2010, was granted clemency by President Barack Obama shortly before he left office in January of 2017, but Assange insisted that it was only to make the WikiLeaks founder look like a liar. Manning currently sits in prison for her refusal to testify to a grand jury and was reportedly suffering under solitary confinement until she was later moved to the prison's general population.
Assange's mother took to Twitter to explain what the likely next steps for her son might be:
Journalist James Ball reports that Assange's cat, which had become a minor media celebrity while Assange was in the embassy, was given to an animal shelter by the Ecuadorian embassy "ages ago."
Assange appeared to be carrying a copy of Gore Vidal's book History of the National Security State as he was dragged from the embassy.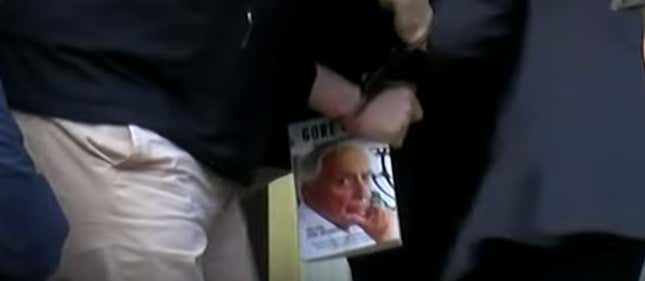 Actress and activist Pamela Anderson, who has visited Assange in the embassy over the years and is rumored to have had a romantic relationship with the WikiLeaks founder, lashed out on Twitter, calling the UK, "America's bitch" and insisting that this was "a diversion from your idiotic Brexit bullshit."

"And the USA ? This toxic coward of a President, He needs to rally his base?" Anderson tweeted. "You are selfish and cruel. You have taken the entire world backwards. You are devils and liars and thieves. And you will ROTT And WE WILL RISE"
WikiLeaks will have a press conference after Assange's hearing is completed and countless reporters have staked out the building where Assange is being held. NBC News has a livestream on YouTube where protesters can be heard chanting to "free Assange" and "don't shoot the messenger."
The formal charges against Assange can be read here.