Horror movies bring people together. Cuddling on the couch during the jump scares. Getting accidentally married for real on the set of your gothic horror film. Wait, is that last one not normal?
Keanu Reeves and Winona Ryder, two gothic darlings of the '90s who have experienced independent career resurgences lately, took a turn together in 1992's guilty pleasure Bram Stoker's Dracula, where Francis Ford Coppola (of all people!) filmed them as victims of Dracula's (Gary Oldman) devious machinations. During the film, Reeves' Jonathan Harker and Ryder's Mina Harker get married in a scene set in Romania, and, well, apparently the whole production took it very seriously.
Talking to Entertainment Weekly, Ryder and Reeves, promoting their joint film Destination Wedding, reflected on the fact that maybe, uh, maybe that was a real wedding.
"We actually got married in Dracula. No, I swear to god I think we're married in real life," Ryder told EW. "In that scene, Francis [Ford Coppola] used a real Romanian priest[...]We shot the master and he did the whole thing. So I think we're married."
G/O Media may get a commission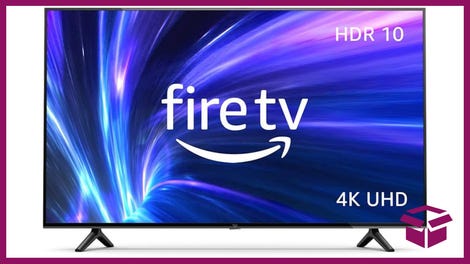 42% Off
Amazon Fire TV 50" 4K Smart TV
The best part of this possibility is Reeves' reaction. At first, he plays along as if it's a joke, saying in the interview, "It's lovely to see you again," playing on their long separation as a couple. But Ryder presses him.
"We said yes?" Reeves asks her.
"Don't you remember that? It was on Valentine's Day."
Which leaves Keanu, as EW tells it, with one final thing to say: "Oh my gosh, we're married."
I have no idea how marriage works in Romania, though some light research suggests that marriages without official civil documents behind them may not be recognized as binding. Still, this is an incredibly fun piece of trivia, and according to whatever religious order that priest belonged to, they might indeed be celebrating their 26th year of marriage.
Dracula, you old scoundrel. This was your plan all along, wasn't it? What a matchmaker. Whatever will you do next?