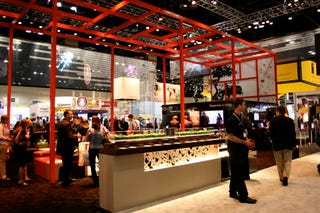 Kyocera had the classiest CTIA booth around, composed of faux grass, wood, river-washed stones, and red structural beams. But their phones are kind of irrelevant — they need a real flagship phone. And the S-hinged clamshell, the E5000, possibly their best of show, won't cut it. (Jump for a photo and specs.) This CTIA, so far, has been all about Sony Ericsson, Samsung Upstage, Helio's Ocean, and the HTC Shift.


Nice looking, but a 1.3 MP camera? Exactly.


Kyocera E5000
This elegant, slim handset features an iconic, patent-pending sculpted "S" hinge design made of stainless steel that is certain to stand out amongst a crowd. With a superior entertainment experience that includes high-speed 1xEV-DO for music and video on demand* (MOD/VOD) and a 1.3 megapixel camera with video recorder, Kyocera's E5000 is that "must have" device for pop culture junkies and fashionistas alike. Audiophiles will love the dedicated, touch-sensitive external controls for the integrated music player and stereo Bluetooth (A2DP) capability. To ensure space for a large collection of media files, the E5000 includes a microSD™ memory expansion slot for storing up to 2GB of extra music, pictures or movies.

While E5000's technical capabilities impress, the "S" factor and sheer beauty of this handset set it apart. Extensively tested for durability and strength, the innovative "S" hinge strikes the perfect balance between style and usability. Leaving no detail unchecked, the hinge also influences other design elements of the phone including the number pad and rounded edges of the handset.

"When I tell people what I do, I constantly get asked what the next revolutionary design element is going to be for mobile phones," said Tyneski. "With E5000, I truly believe that we have conceived an iconic, revolutionary look that will be immediately recognizable and instantly equated with high fashion and style."

A dual-band digital handset with a 2-inch QCIF+ internal TFT display, Kyocera E5000 will be available from global CDMA carriers in Fall 2007.

CTIA 07 [Gizmodo]