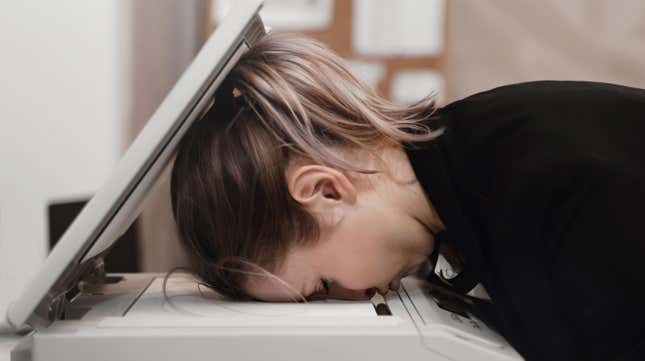 Windows 10 seems to hate the idea of physical print, though it's not like Microsoft's OS is trying to save on paper. Users have reported that the latest automatic Windows 10 update has borked certain printer brands, while others claim the update has caused further issues with unresponsive desktop icons or issues with File Explorer, taskbar, and Task Manager.
How to Hide Your Sensitive Images in Google Photos
WindowsLatest first spotted the long list of Reddit users who said the KB5025221 update released over a week ago was interfering with their printer's document scanner. The Windows 10 user was trying to get a Brother-brand printer to scan, but only when they uninstalled the latest Windows update did it actually work. Another redditor said the update caused issues on their Canon-brand printer.
Gizmodo could not independently verify any of the printer issues with Canon or Brother printers. The KB5025221 page does not currently list any of the issues users are ascribing to the update. The update was supposed to fix Windows incorrectly labeling USB printers as multimedia devices, but it seems to have caused further issues with some other brands.
In response to Gizmodo's inquiry, a Microsoft spokesperson said that the company was aware of the posts and feedback, and the Windows team is looking into the issue.
Users on Windows own forums mentioned that the printer wouldn't show up under connected devices as long as the latest updates were enabled on their PC. The Brother printer had been working until their computer automatically installed the update, though they said they managed to get it working by completely uninstalling and redownloading the printer drivers. It's a time-consuming process and less than ideal. Though it may be better than uninstalling the latest Windows patch, as that would also roll back the latest security update.
Other than printers, some users have also reported problems installing the update. WindowsCentral also noted the update has some additional reports of Windows Security app issues, unresponsive desktop icons, and issues with File Explorer. This writer has not experienced any of these issues with my own copy of Windows 10, but that doesn't mean others haven't run into problems.
Back in 2021, users reported that Windows 10 would crash when sending a command to certain printers by brands like Kyocera, Ricoh, and Zebra. The "CRITICAL PROCESS DIED" code appears when Windows detects there's incompatible hardware drivers installed.
These modern printer problems seem unrelated and are much less severe of a problem. Hopefully, Microsoft can offer more info on what the issue is and if a fix is incoming sometime soon.
Update 4/24/23 at 9:26 a.m. ET: This post was updated to include a comment from Microsoft.
---
Want more of Gizmodo's consumer electronics picks? Check out our guides to the best phones, best laptops, best cameras, best televisions, best printers, and best tablets. And if you want to learn about the next big thing, see our guide to everything we know about the iPhone 15.