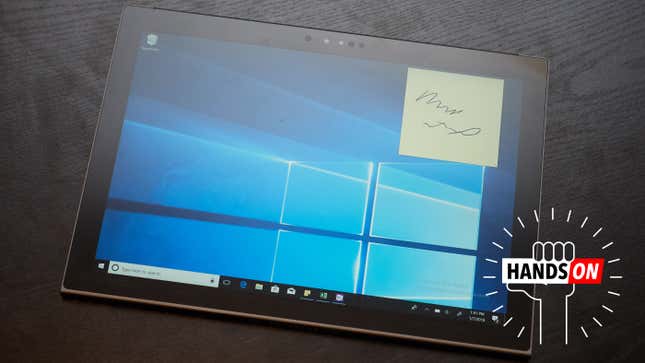 There's a question I get way too often from a coworker. "When are we getting Snapdragon Surface devices?" The answer continues to be "I have no idea." But today Lenovo's announced the next best thing—a detachable two-in-one Windows 10 device with Snapdragon inside.
Meet Microsoft's New Surface Laptops
Yeah, it's basically a Snapdragon Surface.
HP previously announced the Envy X2, which has a similar design, but the Lenovo Miix 630, which also has a Qualcomm Snapdragon 835 processor inside, looks a little more like you'd expect a Surface to. The processor's the same one that powers top-of-the-line smartphones like the Samsung Galaxy S8. It starts at 4GB of RAM and can max out at 8GB. The cheapest variant has 64GB of storage, but can be kitted with up to 256GB. The 12.3-inch display has a max resolution of 1920 x 1280.
While Lenovo wouldn't give details on how fast this guy is, previous estimates of Windows 10 on a Snapdragon 835 processor have suggested performance comparable to a 7th-Gen Intel i3 processor. That's not great speed for a device that starts at $800, but the Miix 630 has one thing definitely in its favor: Lenovo claims it gets up to 20 hours of battery life.

And because its powered by a mobile processor, it's also perfectly suited for 4G LTE and supports both a physical SIM slot and eSIM. Lenovo says it will work with all major US carriers.
What impressed me, besides holding a Windows device powered by a Qualcomm processor, was how sturdy the Miix 630 feels. The keyboard itself has decent key travel. I banged out a love letter to dogs on the thing with nary a shake. It didn't feel like I was typing on a Surface clone.

The folio's big hang up is the goofy slot to pop the included pen in. The pen feels nice enough—but a physical pen holder over a magnet feels way too 2007 for such a sleek device.

The Lenovo Miix 630 will start at $800, but comes with Windows 10 S instead of the full Windows 10, so be sure to set aside some extra cash to upgrade the operating system. The device is expected to launch in early Q2 2018—so late March or early April. We will absolutely be testing this thing out to see if the battery life really is as good as Lenovo claims, and to see if Snapdragon processors are truly ready to power a Windows device.
We're live on the ground in Las Vegas at CES 2018! Click here to read our complete coverage.