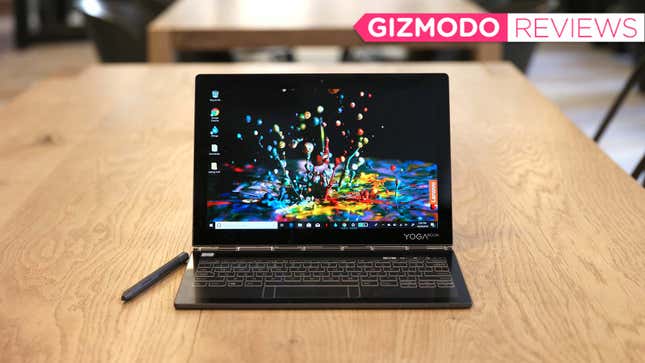 Laptops haven't changed much since 2012. Sure, they're a bit sleeker, more powerful, and have slightly better battery lives. But after Microsoft conjured up the original Surface with its kickstand and detachable keyboard in 2012, it's largely been five plus years of iterative improvements. That doesn't mean companies aren't trying though, because if you've been paying to systems like Apple's MacBook Pro with Touch Bar or Asus' ZenBook Pro 15 with Screenpad, all these companies are working towards the same thing: a dual-screen laptop. But even when considering Apple and Asus' efforts, the company that's currently the closest to achieving this is Lenovo, and with the new Yoga Book C930, it feels like Lenovo is so close to a breakthrough.
Meet Microsoft's New Surface Laptops
The Yoga Book C930—which should have been called the Yoga Book 2 if it weren't for Lenovo's recently updated naming scheme—is the company's second go at making a laptop without a physical keyboard. However, unlike its predecessor, the Yoga Book C930 uses a touch-sensitive e-ink screen instead of the impractical Halo keyboard.
This offers several advantages. Now, when you want to use that second surface to draw or sketch, you don't need to awkwardly setup a physical pen and paper pad like you did on the original Yoga Book, you can just grab the Yoga Book C930's included stylus and draw right on the e-ink display. And if you want, you can even cut or select things directly from those drawings, and paste them directly into Windows docs. Alternatively, you can also use the the e-ink screen much like a typical ereader, with normal Windows stuff happening on the main screen, while you open up a PDF down on the bottom. This is simply a level of multitasking that you don't get in a typical laptop.
And of course, the e-ink screen is also where the Yoga Book C930's keyboard lives. I'm not going to dance around it and say it's perfect, it's not. But in some ways I prefer typing on the C930's flat surface more than the super stiff and shallow keyboard you'd get on a MacBook. Since there isn't any expectation that Lenovo's faux keyboard offers any give or bounce, you instinctively type in a softer, more gentle manner. Meanwhile, to help improve accuracy, Lenovo developed new AI-powered software that identifies patterns about how you type, so it knows if you tend to miss wide right or wide left and then attempts to adjust things accordingly.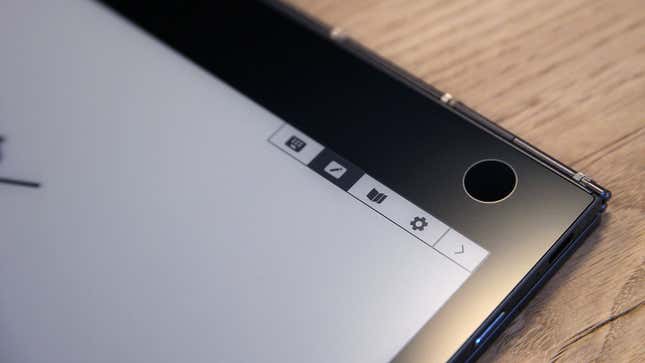 While this isn't a foolproof solution for keeping your hands centered on the keyboard, it does ensure that even with its imperfections, the C930's touch keyboard stops short of being the infuriating deal breaker that people might imagine. In short bursts while writing messaging or typing things into a search box, I often forgot it was there. However when I tackled longer pieces, like portions of this review, that's when the rough edges around a touch-based typing experience became more pronounced. (One note: When it's cold, typing on the C930 is a bit more fatiguing.) Even after I found my rhythm, I was still left with an overall decrease in typing speed. On a regular keyboard, I usually sit between 75 and 80 words per minute, but on the Yoga Book C930, I topped out at 65 wpm, with about 3 times the number of typos (from two to six per minute).
However, what the C930's keyboard lacks in tactility, it makes up for in adaptability. Since everything is based in software, you can switch between 28 different keyboard languages with a couple simple taps. You can also adjust the look of the keyboard between classic and modern styles with black or white keys. You can also adjust the sensitivity of the keypress vibration between several different levels, although because the rumble you get after hitting a key feels quite nebulous, it doesn't really help deliver the localized physical feedback you might want.
But my biggest issue with the Yoga Book C930 isn't the keyboard, it's the touchpad. Because Lenovo uses dual 10.8-inch screens on top and bottom, the e-ink touchpad below the keyboard feels cramped. So to increase vertical mousing area, Lenovo moved the left and right mouse buttons over to each end of the touchpad. This takes a fair bit if getting used to. On top of that, there's an option to make the keys a little bigger by opting for Lenovo's "Modern" layout. But if you opt that route, the touchpad is then forced to compete for room with the space bar. Now this isn't as big of a deal as it might be for a physical keyboard, since the C930 can alternate between displaying the space bar and touchpad as you need it, but both of these issues could have been avoided if Lenovo had simple fitted the Yoga Book with larger screens from the start.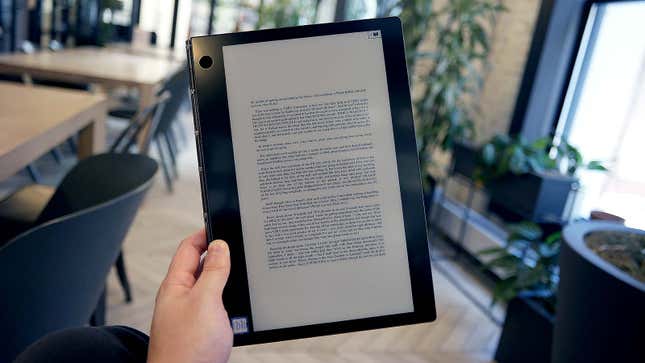 Actually, if the whole system was based around larger screens, I think the Yoga Book C930 could have been a much better machine. Bigger displays would allow for more fancy keyboard tricks and possibly a more forgiving typing experience. And while I absolutely love the C930's sleek, minimalist design, it's super thin chassis doesn't offer much room for connectivity. You only get two USB-C 3.1 ports (one on either side of the system), and a microSD card slot hidden behind a smartphone-style tray that needs a pin to eject. There's no headphone jack or USB-A, and while the latter is forgivable, a slightly larger body could have given Lenovo a little more room to work with.
The Yoga Book's battery also feels a bit undersized, as it only lasted 6 hours and 43 minutes on our rundown test, which is about an hour and 15 minutes shorter than Microsoft's Surface Go. On the flipside, sporting an Intel Core i5-7Y54 CPU, the Yoga book C930 is also 30 to 50 percent more powerful than Pentium 4415Y CPU-equipped Surface Go, which is a huge upgrade considering the original Yoga Book often felt a little anemic in the performance department.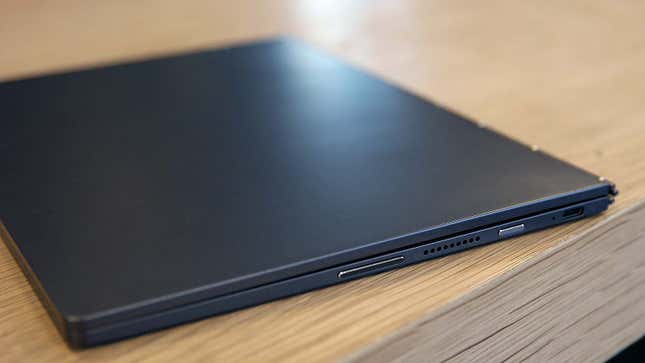 There are also other nagging issues like the e-ink screen's lack of a backlight and its ability to only read standard PDFs. After getting our review unit for testing, I quickly realized that outside of product manuals and press releases, I don't really own any fun—to-read PDF anymore, all of my ebooks are tied to proprietary formats from Google and Amazon, which the C930 can't open. This led me plumbing the depths of Project Gutenberg for content, which worked just fine this time. Thankfully, Lenovo says it will add support for ePub, Mobi, and TXT files in 2019, but what would make the Yoga Book even better is tighter integration with Windows so you could do things like open the Kindle or Kobo Windows app on that e-ink screen.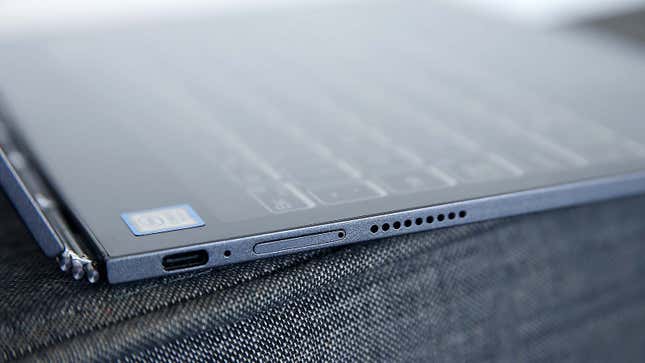 But what might be the most impressive thing about the Yoga Book C930 is that with a state price of $1,000, it's actually a decent competitor to Microsoft's Surface Go, once you factor in the extra money you need to shell out for a Surface keyboard, pen, and extra storage which makes Microsoft's device cost nearly $800. And in a weird turn of events, the Yoga Book C930's design makes Surfaces seem old fashioned.
Now that doesn't mean I think you should get one, because as an everyday device, you need to consider things like the Yoga Book's keyboard, shortage of ports, and weak battery before making a decision. But as a vision of the future, the Yoga Book might be 2018's most interesting laptop. And if Lenovo can swap out the e-ink screen for a full on second display and work with Microsoft on better OS integration, suddenly things get even more exciting. And while you can't just hand wave big things like that away, the Yoga Book C930 still feels like its damn close to breaking ground on a new era of laptops.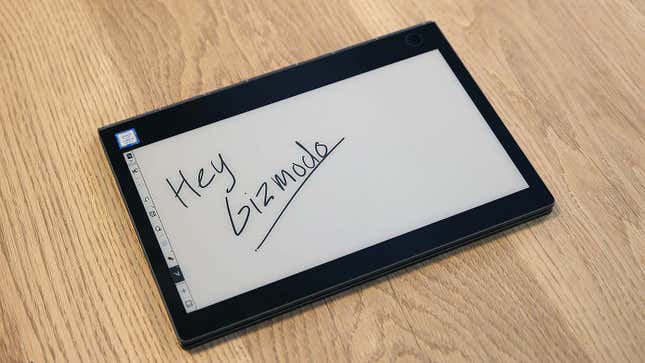 README
I wish the e-ink screen was better integrated. Being able to read PDFs is nice, but the ability to use things like the Kindle app or other Windows programs would be even better.

This thing is super sleek. When closed, it's thinner than the bottom half of a MacBook Pro.

The Yoga Book C930's connectivity is somewhat limited. You only get two USB-C 3.1 ports, and while there is a microSD card reader, it's hidden behind one of those smartphone-type trays that requires a pin to remove.

It doesn't have a headphone jack, and it doesn't come with a dongle for audio or USB-A. It's battery life is also pretty short.

The whole system seems like it would be better with dual 12 or 13-inch screens instead of 10.8-inch ones.

The Yoga Book C930 is the best example yet of why people would even want a dual-screen laptop, but it does need more refining.

SPEC DUMP
Windows 10 Home • Intel Core i5-7Y54 CPU • 4GB DD3 RAM • 128GB SSD • 10.8-inch 2560 x 1600 main display • 10.8-inch 1920 x 1080 e-ink display • 2-MP front camera • built-in fingerprint reader • 35.8 Wh batter • 2x USB 3.1 Type-C ports • microSD card reader • 802.11a/b/g/n/ac wifi • Bluetooth 4.2 • 7.1 x 10.25 x 0.39 inches • 1.71 pounds • stylus comes included