North Koreans are still crying hysterically because Kim's dead, baby, Kim's dead. I want to believe that soldiers behind the TV cameras are aiming at these mourners with AK-47s. But just in case, let's yang that yin by laughing at him.
I don't know about you, but I love the idea of knowing that this ugly dictator—a cruel clown who abused and killed his own people, drowning an entire country into an sad shithole equipped with atomic weapons—is finally dead. Not that this will change a lot in that poor country, but at least another bastard bit the dust.
So here you are, the best 10 Photoshops of Kim Clown-Il:
G/O Media may get a commission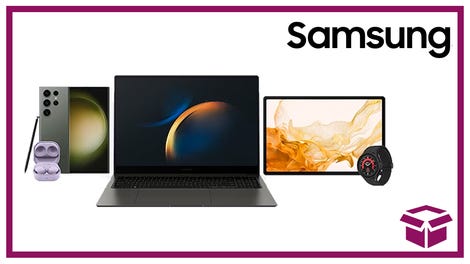 24 hour deals
Discover Samsung - Daily Deal
Many people wonder how Kim Jong-Il kept his hairdo in place. Here you can see him at the beauty salon, with his son on his lap. On the left, the family dog, Billy.
Being a devoted fan of Elmo, he secretly imported a doll from the United States. This was kept secret for a long time. People in his inner circle recently revealed he was his biggest confident. Reportedly, Elmo helped Kim Jong-Il to set his international policy.
As part of his propaganda duties, the dear leader became Santa Kim once a year for most of his life as head of the North Korean state. He had to stop in 2008 because of health problems.
Little is known about this toast. The leader's face miraculously appeared on it after jumping out of one of the three toasters in the Asian country.
Kim Jong-Il was also a well known rollercoaster fan.
An early photo of the leader's younger years (by Nick Dwyer).
Kim Jong-Il wasn't only a Stalinist but a Foxist as well (by Dave Corrasa).
A classic photo, Kim chilling out.
This is a little known fact, but of course everyone suspected Kim Jong-Il was a firm defender of gay marriage rights (by T. Baxter).
One of the six examples of great art in North Korea.