The Republican Party, and conservatives more generally, are upping their attacks on sites like Twitter, Facebook, and Google over unfounded claims of bias. To date, that's included cooking up doctored evidence Google blacklisted Donald Trump's speeches, a string of Trump tweets about fictitious censorship and non-existent "shadow bans," xenophobic paranoia about Latino voter turnout efforts, and numerous threats of federal investigations.

On Wednesday, far-right website Breitbart threw more red meat on the pile by releasing a leaked video of top executives from Google and its parent company Alphabet discussing Trump's 2016 victory at an all-hands session shortly after the election. In the hour-long clip, Google CEO Sundar Pichai, co-founder Sergey Brin, Alphabet chief financial officer Ruth Porat, and other members of management including Kent Walker and Eileen Noughton all relayed their reaction at the time, and it is not enthusiastic.
The executives' reactions ranged from the emotional to the philosophical to the purely pragmatic. Porat appeared near tears in discussing her open support for Hillary Clinton and her father, who was a refugee. Walker discussed global political trends toward nationalism, populism and xenophobia. Pichai noted that the company was already "thoughtfully engaging" with Trump's transition team.

"As an immigrant and a refugee, I certainly find this election deeply offensive and I know many of you do too," Brin said in opening the meeting. "I think it's a very stressful time. It conflicts with many of our values. It's a good time to reflect on that."
According to Variety, Porat also cited sentiments from Hillary Clinton's concession speech:
"'Please never stop believing that fighting for what is right is worth it.' And that is critical. We all have an obligation to fight for what is right. And that is one of the many things I think that makes this company so beautiful."

She continues, "Our values are strong. We will fight to protect them, and we will use the great strength and resources that we have to continue to advance really important values."
G/O Media may get a commission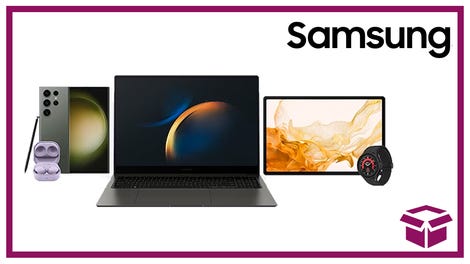 24 hour deals
Discover Samsung - Daily Deal
Let's be very clear: This is a natural reaction that millions of Americans had to Trump's victory. Pichai and Brin are both immigrants, and Brin is also a refugee. These are both groups that Trump expressed naked hostility in no uncertain terms towards during the campaign. As anyone could have foreseen, he has become even more openly virulent in his bigotry since and chafed against democratic restrictions on his authority.
Neither is this some sort of secret conspiracy. Brin later joined protests against Trump's noxious immigration orders, and Pichai was also outspoken in his opposition. They were joined by many of their staff. So to the extent that this is a "LEAKED VIDEO," as Breitbart characterized it, it reveals very little that anyone didn't already know.
Nowhere in the video does anyone suggest Google respond by modifying their search results to suppress conservatives. In fact, as the Guardian noted, Pichai said they were already attempting to engage the inbound administration. Brin stated that he understood the way the election went as a backlash to the system, saying "It feels kind of good to just like give DC a big kick when you vote… I can kind of get that."
Walker, who works on Google's global affairs and serves as its chief legal officer, said the election was fair and noted that politics works in "cycles," Variety wrote:
Walker frames Trump's victory as a response to fears of globalization and the rising tide of nationalism and populism, but he doesn't doubt that the election was a "fair and democratic process."

"There are cycles of these things, that can last five, 10 years before people feel that they have had a chance to vent that anger," he says. "And yet, we do feel that history is on our side, in a profound and important way."
Noughton, a vice president of people operations, also told the employees, "Diversity also means diversity of opinion and political persuasion." She added that some conservatives had reported feeling uncomfortable at the company and staff should respond by being "tolerant" and "inclusive."
As Business Insider noted, mostly the managers make clear that they "believe in the democratic system and in the rule of law."
Google spokesperson Riva Sciuto told the New York Times that the meeting was regularly scheduled and some staff "expressed their own personal views in the aftermath of a long and divisive election season... Nothing was said at that meeting, or any other meeting, to suggest that any political bias ever influences the way we build or operate our products."
Numerous other bad-faith concerns raised in the video Breitbart dredged up include an interlude about "misinformation," "fake news," and "low-information voters," to which Pichai responded that "investments in machine learning and AI are a big opportunity here." The staffer is clearly referring to the outcome of the election. But Pichai's answer is best understood as an offhand reference to limiting the number of outright hoaxes that appear in Google results (such as the moves the company took to limit the spread of mass shooting conspiracy theories), not a call for mass partisan censorship.
There are more than enough legitimate reasons to be skeptical of companies like Google, Facebook, Twitter, and Amazon, which hold immense power over the internet and everyone's personal data while offering little transparency and exhibiting monopolistic behavior. Upcoming Federal Trade Commission hearings about competition in the tech industry are about just that. But Trump and crew are not trying to build a fairer internet economy, as evidenced by virtually every policy they've pursued or advocated. They're trying to hijack the levers of power to selectively build outrage against perceived opponents for the sole purpose of strong-arming them.