Just because President Trump's baseless accusations of bias in Google search results are likely another sideshow doesn't mean the search giant doesn't have real political troubles.
On Thursday, Senator Orin Hatch asked the Federal Trade Commission to take another look at whether Google is guilty of antitrust violations and unfair competitive practices.
The president is always in search of a new enemy to spar with, and this week he started laying into Google, saying that it only provides negative news about him when you search his name and that it failed to promote his State of the Union addresses on its homepage the way it did for President Obama. Google denied the first accusation and smacked down the second with evidence. But the thing about Trump's bluster is that it can make others feel like they have an opening to legitimately go after his targets. Cue Senator Hatch, whose letter on Thursday rattled off a series of factual reasons that the FTC might want to go after Google again.
Hatch addressed the letter to FTC Chairman Joseph Simons and reminded him that he and the other new commissioners said when they were being vetted at confirmation hearings in February they would support taking another look at previous FTC rulings. He explained that a series of developments raise questions over whether the FTC made the right decision when it chose not to file a complaint against Google when it concluded a previous investigation in 2013.
Hatch's worries include:
G/O Media may get a commission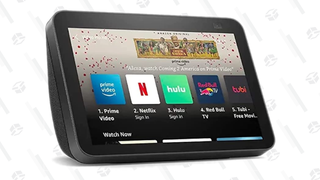 Hatch also alluded to some other damning reports that he didn't specify in detail. "In light of all these changes, I respectfully request that the FTC consider the competitive effects of Google's conduct in search and advertising," Hatch concluded in his message.
We've asked Google for comment on the senator's letter and will update this post when we receive a reply.
Like most conservatives, Hatch isn't a big fan of regulations or restraining big businesses from becoming far bigger businesses. But he's still shown himself to be capable of pushing back against tech giants in the past. The longest-serving Republican in the Senate, Hatch chaired the committee that oversaw antitrust hearings against Microsoft in the late '90s—a fact he brought up when questioning Facebook's Mark Zuckerberg in April. Also in April, he raised the possibility that the FTC should take a look at the antitrust case in the European Union that resulted in Google being slapped with a record $5 billion fine.
The political environment is clearly turning against Google in recent weeks, and the company knows it. CNN reported yesterday evening that Google's parent company, Alphabet, has not offered any of its top executives to attend a Senate hearing next week on election security. Twitter CEO Jack Dorsey and Facebook COO Sheryl Sandberg have confirmed they will be present at the hearing. Senator Mark Warner said Google is making a "grave mistake," and Senator Richard Burr told reporters that he's considering putting an empty chair in Google's place.